Traditional Kashmiri Wazwan cuisine a must in wedding menu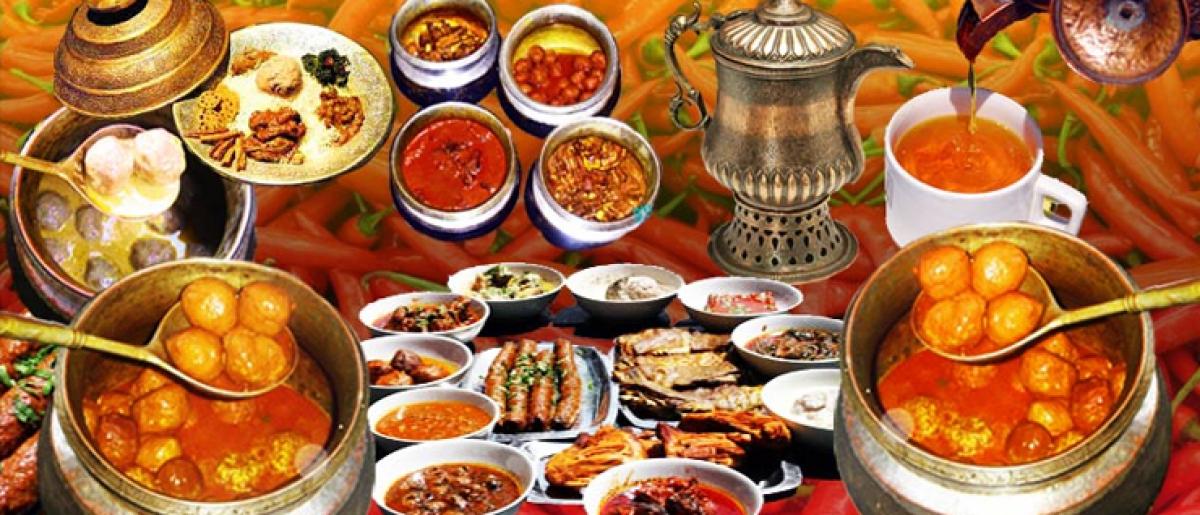 Highlights
As the marriage season peaks in Kashmir this autumn, the traditional Kashmiri Wazwan cuisine is being savoured at marriage parties with gusto these days.
As the marriage season peaks in Kashmir this autumn, the traditional Kashmiri Wazwan cuisine is being savoured at marriage parties with gusto these days.
Traditional local chefs, called Wazas, who specialize in cooking this extended, predominantly mutton-based feast, are in high demand.
"It is in fact the availability of the Waza that determines the marriage schedule in Srinagar city these days," Bashir Ahmad, 54, who had to defer his son's marriage by a fortnight because the chef of his choice was engaged somewhere else, told IANS.
"As the children of traditional Wazas take to other professions, there are just a few families who still earn their livelihood by cooking the Wazwan during marriage ceremonies", Ahmad added.
Ghulam Nabi, 52, is president of the local Wazas union and has been moving from one marriage venue to another these days supervising his team of over a dozen junior chefs who assist him in cooking the feast.
"I am completely booked till the end of November. I had to politely decline some of my old customers who had fixed marriage schedules without consulting me", he said.
"I cannot pass on a customer to some lesser known chef who I fear might not be able to give the traditional flavour and quality to Wazwan. You don't only need the best quality mutton, spices and rice, but the Waza must know how to bring the feast to its mouthwatering magic", he claimed.
There are more than a dozen mutton dishes, besides vegetables and cheese-based dishes that are served as part of the Wazwan.
At a marriage feast, four people sit around a large nickel-plated copper plate which is laid before them on a neat white cloth or 'dastarkhan' .
When these copper plates, called tramis, are laid before the guests, who normally number between 50 to 100 at the groom's reception party, the flavour of the highly spicy Wazwan fills the air.
On the top of carefully cooked rice are laid two large chickens, while two deep fried ribs or tabak maaz, two kababs, a large single piece of lamb mutton or dani phol, small pieces of lamb viscera cooked with thick gravy called methi maaz decorate the two sides of the trami.
These are just the starters for the extended Wazwan that follows.
Wearing newly tailored white clothes the Waza brings in other dishes one after the other and pours them on to each Trami.
Balls of minced mutton with spicy red gravy called ristas are followed by rogan josh, mirchi korma, Aab gosht and lahabi kababs - and finally large balls of minced mutton cooked in curds and spices called the gustaba. The serving of the gustaba is the formal announcement by the Waza that the feast has finally come to an end.
Other dishes like cheese, queen's apple, spinach and mutton, apricots and shami kababs are also part of the extended marriage feast.
Pulaw made of special quality basmati rice is also served to the guests.
There are at least six to eight kinds of chutneys that are served to the guests during the course of the Wazwan.
In addition to bottles of mineral water, cola-based drinks have also become a part of the Wazwan and these are served in willow wicker baskets also containing glasses, napkins, tissue paper, chewing gum and washing soap.
After the guests are through with the entire course that takes more than an hour to finish, ice cream, halwa and phirnis are served to the guests as deserts.
The eating of the Wazwan might take just an hour or so, but its cooking takes more than 10 hours.
"You have to cut the right size of the mutton for each dish. The mutton has to be beaten for kababs, and minced for ristas and gustabas. One has to be very careful that these are brought to right consistency during cooking," said Ghulam Nabi, adding he hasn't had a full night's sleep for the last fortnight as he keeps up with his busy cooking schedule.
"We need special quality spices including saffron, chillis, cardamoms, fennel seeds, salt, tamarind, turmeric, onions, cinnamon sticks and powder, bay leaves, cloves, black pepper and cumin seeds.
"If the spices are not of good quality, one is never sure the Wazwan would come to its right flavour and so there is no compromise on quality spices," he added.