Subway® India introduces subwraps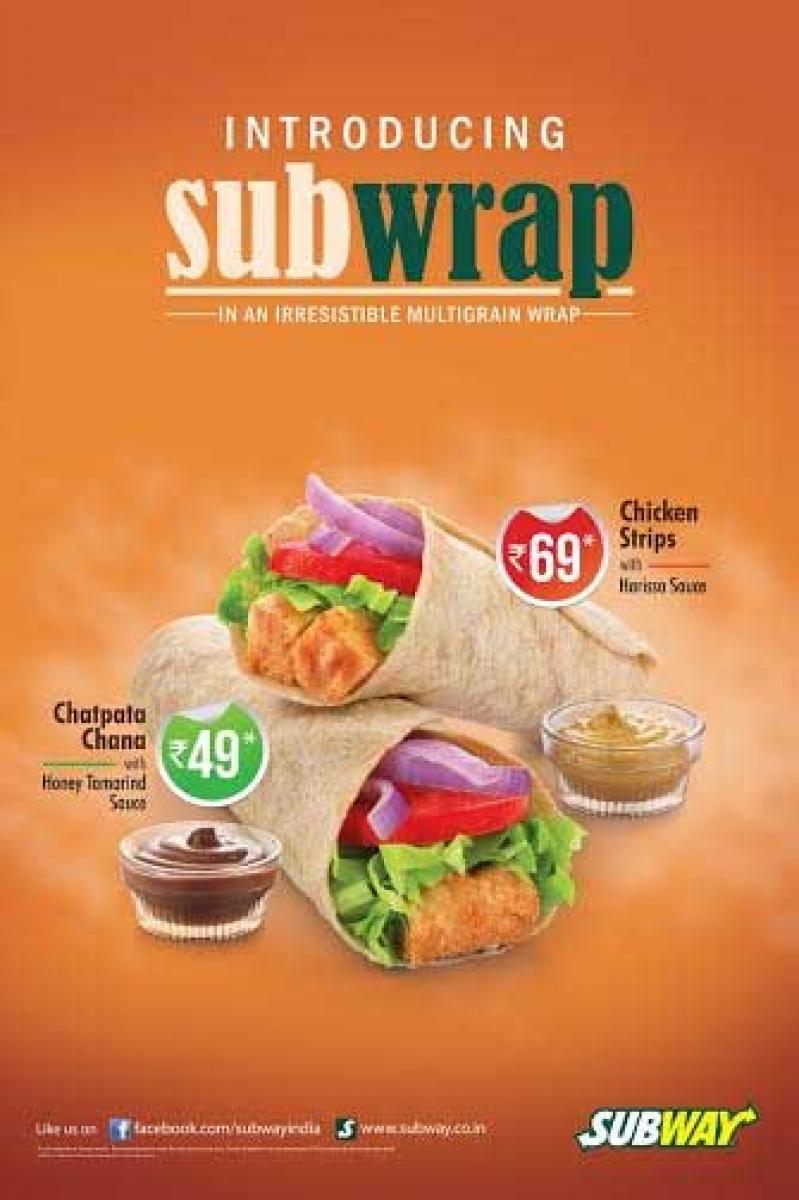 Highlights
Aims to indulge customers' taste buds with its new snacking product.SUBWAY®, the world's largest quick service restaurant chain has recently introduced SubWraps for its customers in India. Positioned as an appetizing snacking product at an attractive entry level price-point of Rs 49/69, SubWraps are being offered across all SUBWAY® restaurants in the country and are available in both vegetarian an
Aims to indulge customers' taste buds with its new snacking product.SUBWAY®, the world's largest quick service restaurant chain has recently introduced SubWraps for its customers in India. Positioned as an appetizing snacking product at an attractive entry level price-point of Rs 49/69, SubWraps are being offered across all SUBWAY® restaurants in the country and are available in both vegetarian and non-vegetarian variants.
SubWraps are made using multigrain tortilla wraps made with a healthy mix of whole Wheat, Soybean, Ragi, Oats, Maize, Barley and Black gram and two new sauces. The vegetarian Chatpata Chana wrap is served with tangy Honey Tamarind sauce while the non-vegetarian Chicken wrap is offered with spicy Harissa sauce.
A new television commercial promoting SubWraps is currently on air. It is being supported by a 360 degree marketing campaign comprising in-store collaterals, print advertisements, radio spots, out of home billboards and digital and social mediums.
Speaking about the new product, Mr Sanjiv Pandey, Marketing Manager, Subway Systems India Pvt. Ltd. said, "SUBWAY is committed to providing its customers with exciting new product choices while offering them a great value proposition. SubWraps will give another reason to our customers for treating themselves and their friends to a tasty snack anytime of the day."
SUBWAY® continues to be a popular choice for consumers looking for fresh yet tasty food options. Known for its customization and delectable low-fat submarine sandwiches (subs) and salads, SUBWAY® has been evolving its menu items to suit local tastes and preferences. "50 per cent of SUBWAY's menu for India is vegetarian with multiple subs and salad options available in this category. We have also opened fully-vegetarian SUBWAY restaurants at select locations in the country," added Mr Pandey.
SUBWAY® has a strong presence in all the major Indian metros and plans to widen its reach by exploring development opportunities in both metro and non-metro locations. The sandwich chain which celebrated its 50th anniversary in August 2015, presently operates 551 restaurants in India spread across more than 70 cities.