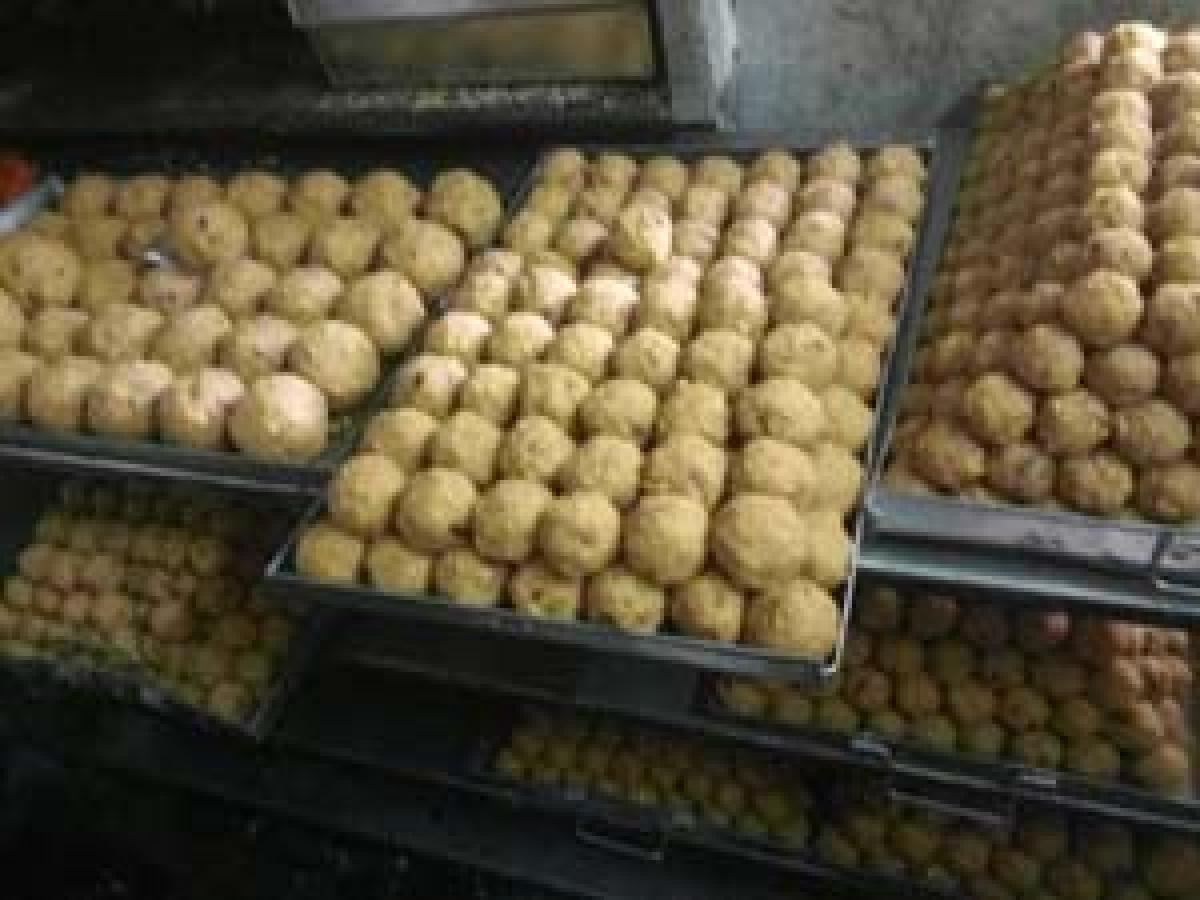 Highlights
Chirala is known for its handlooms in Andhra Pradesh and is also called mini Mumbai for cloth merchants. Legend says that the town got its name from...
Chirala is known for its handlooms in Andhra Pradesh and is also called mini Mumbai for cloth merchants. Legend says that the town got its name from the Telugu word 'Cheeralu' which means 'sarees'. In the past three decades, the town has been gaining popularity for its sweets.
The Sweet Samosa, made fresh every day by Muneer and the Laddoo made in Pattaabhi Sweet Shop in Vetapalem road brought a new identity to the town, and placed in foodies favorites list Andhra Pradesh and Telangana. Sweet Samosa It is not any ordinary triangular savory.
Though the outer crust is made with regular all purpose flour, the filling is mixed with large chunks of cashew, grated cononut and other dry fruits. The deeply fried Samosa takes a lavish dip in the jaggery syrup to add to become juicy and rich in sweetness.
The Sweet Samosa of Chirala was conceptualised by Muneer. 70- year-old Shaik Muneer spent his young days in Ongole. He sold bananas and other seasonal fruits in Nellore Bus Stand center in the district capital for more than a decade. As his financial problems did not subside, he moved to Chirala and started the Samosa business.
He added a twist to the regular Samosa by replacing the onion, mashed potato with cashew and other dry fruits. Muneer explains, "After a lot of suffering with the fruits business in Ongole, I came to Chirala and started the Samosa business about three decades ago. At that time, there were no Samosa makers in the town and everything went well.
But after few days, I received competition from others and tried to do something different with the available resources. After a lot of trials the present combination of the Sweet Samosa was developed." The unique formula of composition of ingredients made the Sweet Samosa a special sweet in the neighborhood.
Muneer and his wife prepares the snack in his house in the noon and shifts the readymade snacks on a pull cart near SBI ATM in Durbar Road by late afternoon. But he closes the business within just two to three hours of opening sales. Such is the demand for his Sweet Samosas.
Due to the secrecy in the composition of ingredients, no one is able to duplicate the Sweet Samosa of Muneer, which could be stored for more than one week without any added preservatives.
That's one reason Muneer's Sweet Samosa travellesthe world and some foodies request their friends and family members from Chirala to deliver the snack for them while their trains halt in Chirala. The quality of the snack at all times is bringing Muneer repeated customers though the price of it increased from Rs. 7 to 25 in all these years.
Muneer takes orders for supplying Sweet Samosa for functions and would be available on 9032235101 for orders. Pattaabhi Laddoo This Laddoo, made in Pattabhirama Sweets in Bose Nagar, Chirala looks like any other Laddoo but one can feel the difference only after tasting it. The Laddoo rich with extra cashew and sweetness is famous in the circle of foodies for the past few years.
Venkateswara Rao, owner of that sweetshop says, "Our Laddoo has a special place in the people's heart and we always try to keep it that way." Though Venkateswara Rao makes many other sweets, the demand for Laddoo is never ending and piles of Laddoos get sold out in just a few minutes on the racks. Venkateswara Rao could be reached at 9247474848 for orders and delivery of the special Laddoo.
By NARESH NANDAM/ SK KALESHA VALI
Subscribed Failed...
Subscribed Successfully...