SBI Jr Associates Main Examination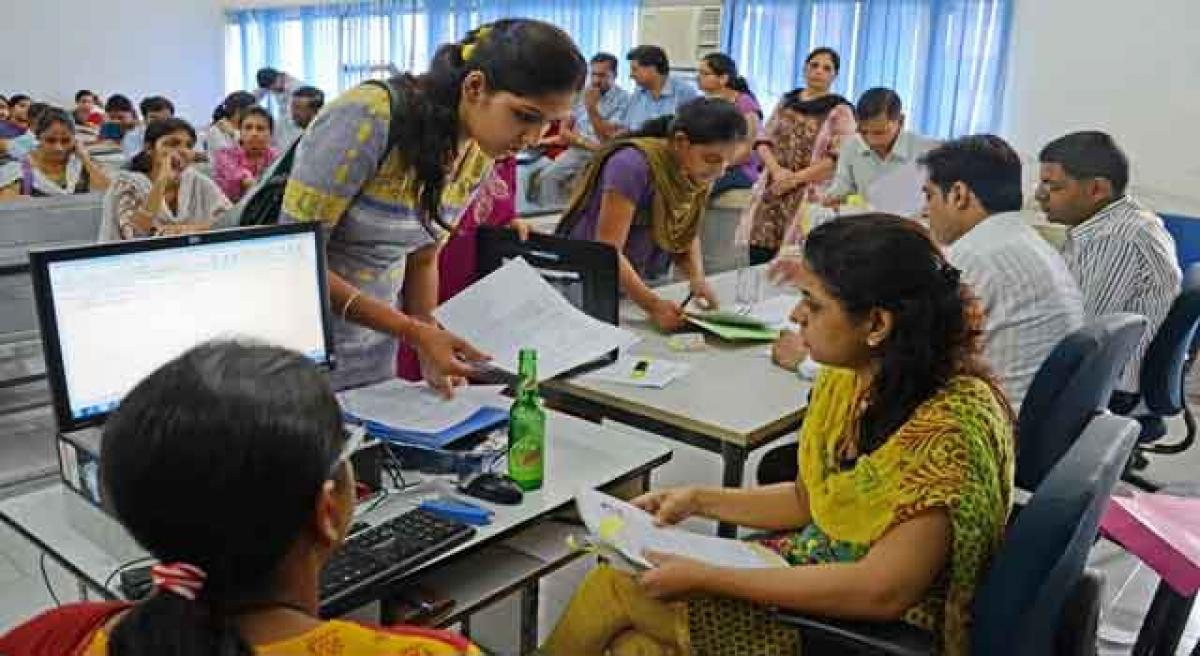 Highlights
SBI Jr Associate mains exam is all set to be conducted on 25 and 26 of this month and Young Hans brings you an exclusive understanding about the banking terminology which is very important for a to be banker
SBI Jr Associate mains exam is all set to be conducted on 25 and 26 of this month and Young Hans brings you an exclusive understanding about the banking terminology which is very important for a to be banker
Banking Terminology
Repo Rate: The rate at which the RBI lends money to commercial banks is called repo rate. It is an instrument of monetary policy. Whenever banks have any shortage of funds they can borrow from the RBI.
Bank Rate: Bank Rate is the rate of interest at which RBI provides loan to the scheduled Commercial banks for productive purpose and for long term period (more than 4 years)
CRR: Cash Reserve Ratio (CRR) is a specified minimum fraction of the total deposits of customers, which commercial banks have to hold as reserves either in cash or as deposits with the central bank. CRR is set according to the guidelines of the central bank.
SLR: Statutory liquidity ratio (SLR) is the Indian government term for reserve requirement that the commercial banks in India require to maintain in the form of gold, government approved securities before providing credit to the customers.
Deficit Financing: Deficit financing is a method of meeting government deficits through the creation of new money. The deficit is the gap caused by the excess of government expenditure over its receipts. The expenditure includes disbursement on revenue as well as on capital account.
Deposit Account: It is a bank account in which deposits earn interest, and withdrawal from it requires notice.
Savings Account: Savings account is meant for household saving and interest rate of this account is decided by the RBI. The savings account is also known as individual account.
Demand Deposit: The money which is kept in savings accounts is called as Demand Deposit.
Current Account: Current accounts are made for the business-class persons and account holders can make any number of transactions in a day. The current account attracts no interest rate and sometimes banks can charge some charges from this account.
Loan Accounts: There are two types of loan accounts in banking sector.
1. Short-term lending: Repayment period can be up to 4 years. Priority sector lending, consumer loans, vehicle loans and personal loans come under this category.
2. Long-term lending: Repayment period can be4 years and above. Industrial lending, housing loans, commercial lending and educational loans come under this category.
Priority Sector Lending (PSL)
As India is a democratic country, Government of India (GOI) has some social responsibilities and for this the GOI has set some priority sectors for disbursing loans. Those are – agriculture, minority education, animal husbandry, fisheries, agriculture-allied activities, small scale industries, cottage industries, handicrafts, houses for the poor etc.
The Bankers are bound to lend 40% of their total lending to priority sector and 18% of their total lending for agriculture sector. The PSL attracts very reduced or less interest rate.
SEZ: SEZ means Special Economic Zone is the one of the part of government's policies in India. A special Economic zone is a geographical region that economic laws which are more liberal than the usual economic laws in the country.
The basic motto behind this is to increase foreign investment, development of infrastructure, job opportunities and increase the income level of the people.
Non-Banking Financial Company (NBFC): Non-bank financial companies (NBFCs) are financial institutions that provide banking services without meeting the legal definition of a bank.
Aagriculture activity, industrial activity, purchase or sale of any goods (other than securities) or providing any services and sale/purchase/construction of immovable property are the activities of NBFC. A non-banking institution which is a company and has principal business of receiving deposits under any scheme of arrangement in one lump sum or in instalments by way of contributions or in any other manner, is also a non-banking financial company (Residuary non-banking company).
Cheque: Cheque is a negotiable instrument instructing a bank to pay a specific amount from a specific account held in the depositor's name with that Bank.
Demand Draft: A demand draft is an instrument used for effecting transfer of money. It is a negotiable instrument.
Basic Savings Bank Deposit Account (BSBDA): Under the guidelines issued on August 10, 2012 by RBI, any individual including poor or those from weaker sections of the society can open zero balance account in any bank.
These guidelines are applicable to all scheduled commercial banks in India including foreign banks having branches in India.
Fiscal Policy: Fiscal policy is the use of government spending and revenue collection to influence the economy.
These policies affect tax rates, interest rates and government spending, in an effort to control the economy.
Fiscal policy is an additional method to determine public revenue and public expenditure.
FII: FII (Foreign Institutional Investor) used to denote an investor, mostly in the form of an institution. An institution established outside India, which proposes to invest in Indian market, in other words buying Indian stocks.
FII's generally buy in large volumes which has an impact on the stock markets. Institutional Investors includes pension funds, mutual funds, Insurance Companies, Banks etc.
FDI: FDI (Foreign Direct Investment) occurs with the purchase of the "physical assets or a significant amount of ownership (stock) of a company in another country in order to gain a measure of management control" (Or) A foreign company having a stake in an Indian Company.
IPO: IPO is Initial Public Offering. This is the first offering of shares to the general public from a company wishing to list on the stock exchanges.
GDP: The Gross Domestic Product or GDP is a measure of all of the services and goods produced in a country over a specific period; usually a year.
GNP: Gross National Product is measured as GDP plus income of residents from investments made abroad minus income earned by foreigners in domestic market.
By: Sree Kumar Guntupalli