Riveting and action-packed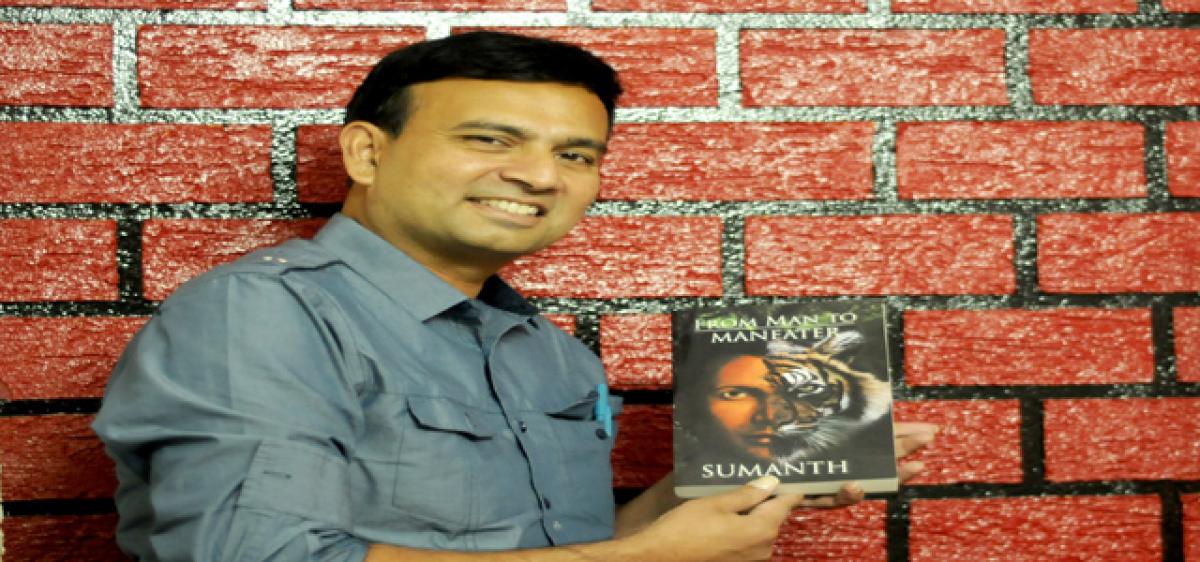 Highlights
Prithviraj called Amit Kumar into his office. Amit was a local Delhi boy who was recently hired into the CBI. It was at his wedding reception, where a Prithviraj had the hilarious altercation with Mrs. Arora, an incident he would never forget!
Prithviraj called Amit Kumar into his office. Amit was a local Delhi boy who was recently hired into the CBI. It was at his wedding reception, where a Prithviraj had the hilarious altercation with Mrs. Arora, an incident he would never forget!
"Sir," saluted Amit as he walked into Prithviraj's office.
Prithviraj looked at Lavelle. "Amit will be helping us with the investigation of the ManEater," said Prithviraj. "He is at your disposal."
"Good," said Lavelle. "Let us begin with the facts. We know the codename of this operative to be ManEater and that he is of Indian origin.
Now; that doesn't help much. However, intelligence reports claim that one of the security guards who was injured in the pipeline attack swore that he had heard one of the attackers speak in Hindi."
"Sir, but how would a Russian recognize Hindi?" asked Amit.
"Apparently, he saw Hindi movies," said Lavelle.
This seemed to satisfy Prithviraj. The legendary Raj Kapoor's 'Mera Naam Joker' was a huge hit in Russia in the 1970s itself Indian cinema has been and continues to find many loyal enthusiasts in Russia.
Prithviraj assessed the situation. He was practical and liked to work backwards. If an Indian had visited Siberia to blow up the pipeline, he would have had to enter Russia somewhere. The easiest method was to fly in, as Siberia was far and remote.
"Mr. Lavelle, can you grant us access to immigration records from all major Russian airports and road borders for at least one month before the date of the explosion—that is, from August 15, 2015?"
"Yes, I can," said Lavelle.
He picked up his phone and made a few calls. 'Amit, run a cross—check of all known criminals in CBI's database who have had links with Russia or with Andrei Osherov," ordered Prithviraj.
"Yes, sir," Amit snapped to attention and left the room.
Prithviraj laid out a map of the Russian Far East, including Khabarovsk and the surrounding area. Where could they have entered from? By road from China? Or Mongolia? There were still too many variables. He thought hard.
Lavelle was pacing up and down the room.
Prithviraj thought about the codename. Why ManEater? He had another idea. Maybe it was just intuition.
Prithviraj called his good friend, Vikram Sinha.
Vikram was an Assistant SP of police, in the Indian Police Service. Vikram was posted in eastern Uttarakhand, in the town of Ascot, in the Kumaon region. Vikram and Prithviraj were family friends, and had grown up together in Dehradun.
"Vikram, mere bhai," greeted Prithviraj.
"Kiya haal hai yaar, Prithvi?" replied Vikram warmly.
"Yaar, I need a favor."
"Bhaiyya, CBI ke liye, we are always ready," said Vikram. He always looked up to Prithviraj, like an elder brother.
"We are looking for an international criminal whose codename is ManEater. INTERPOL is with me. We are both familiar with Kumaon and its fascination for man-eating tigers. Do you know of any terrorist or naxalite organizations in Uttarakhand—if any of their leaders have such a codename?"asked Prithviraj.
"Well, yaar, not at the top of my head, but if I do, I will get back to you."
"Theek hai, buddy, thanks for your help."
"How are Naina bhabhi and the kids?"
'All good," replied Prithvi.
Vikram was 34 years old, fair, good-looking, and still single. Being an IPS officer, he was hot property in the marriage market. However, he rejected all proposals and insisted on falling in love and getting married, like Prithviraj.
Naina was always bugging Prithviraj about getting her younger sister, Prerna, hooked up with Vikram.
Maybe Vikram was the Chubal Pandey Mrs. Arora was looking for. He should probably introduce the two of them, Prithviraj thought with a naughty smile. Now, they would make a good couple! Ha, ha!
"One more thing, Vikram," said Prithviraj, bringing his thoughts back. "If anything suspicious goes on in your area, give me a call."
"Sure, Prithvi. Chalo, bye," said Vikram and hung up.
The afternoon dragged on. Lavelle was busy on the phone with INTERPOL headquarters in Lyon. It wasn't easy to gain access to Russian immigration records, but he eventually got through.
"Prithvi, in the past year, Moscow airport alone received 45,000 visitors of Indian origin. If you add other major Russian cities like St. Petersburg, and Vladivostok you could be looking at over 60,000 visitors."
"Okay. How many visitors arrived from August 1, 2015, till today?"
"Since August is the peak of the summer tourist season in Russia, there would be at least 10,000 visitors," said Lavelle.
"Let us go inside and take a look at the file," said Prithviraj.
Amit Kumar sat at a computer terminal, scrolling through the list of Russian immigration records, with Prithvi and Lavelle standing behind him.
"Sir, if we narrow down the search to starting from September 1, two weeks before the explosion, the list shrinks to about 4,500 records," said Amit.
"Okay, Amit, now cross-check the immigration arrival records with departure records. How many of these 4,500 people have arrival records but do not have departure records?" said Prithviraj.
"Why do that?" asked Lavelle.
"Mr. Lavelle. It is a long shot, but worth a try. Think about it. You're entering a country to commit a crime. Why would you risk an illegal entry into the country? You still have not committed the crime right?
With a valid entry, even if you were stopped by police to have your papers checked, you would be okay to pose as tourists, till you commit the crime. But, 0nce you have committed the crime, it's a different story.
You know the heat will be on and you want to exit the country as quickly as possible. Police would most probably be looking for you, so there is no way you would risk a legal exit through immigration," explained Prithviraj.
Lavelle agreed. "After all, they had blown up the pipeline, so Russian Police would be looking for them everywhere. Amit, run the search."
Amit typed in some commands and ran the cross-check search. "Sir, there are still about 250 records."
"It could also be that some of these people arrived last month and still did not leave Russia," said Lavelle.
-Extract from the book
'From Man to ManEater' by Sumanth,
Publisher Partridge, `599