Regency College of Hotel Management celebrates Fresher's Day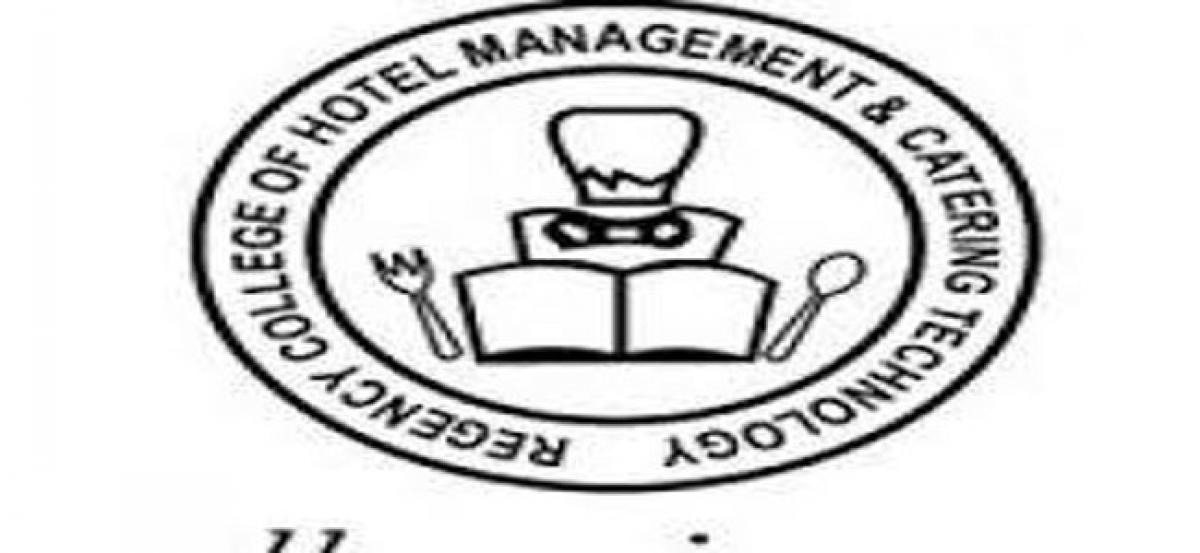 Highlights
Regency College of Hotel Management and Catering Technology a 24yr Old renowned institution affiliated to Osmania University, hosted its Freshers Party 2018 in welcome of the fresh batch of Bachelors degree in Hotel Mgt students on 4th Aug at Moksh Banquet Hall Necklace Road
Hyderabad: Regency College of Hotel Management and Catering Technology a 24yr Old renowned institution affiliated to Osmania University, hosted its Fresher's Party 2018 in welcome of the fresh batch of Bachelors degree in Hotel Mgt students on 4th Aug at Moksh Banquet Hall Necklace Road
All the juniors were welcomed in style, with the seniors dressed in Theme of Women in Red and Men in Black Attire.
ROBUST Regents was the theme, means energetic, excited, attracting attention, seniors showing the power of elegance and formality was the ambience of RED&BLACK. The ambience of the place was beautiful and so welcoming. A One in its kind of events organized by the seniors, and the legacy is not leaving something for juniors it's leaving memories and instilling the mantra of excellence in them, which paves a way for successful career and all the students getting on the "Wall of Fame" of Regency with their great career growth in Hospitality Industry.
The senior students hosted a grand gala of cultural activities. The Fun and Frolic Games where the seniors engaged their juniors play them, lot of cheers and moments of joy thronged the whole place, the paper dance, breaking the balloon, making a pop corn garland and big list of witty activities were organized. The senior's rocked the stage to entertain the juniors, there were various programs and games which were conducted, made the fresher's come forward and participate and win.
The most highlighting event of the afternoon was the fresher's picking up the most Popular Senior,,, and celebrating FRIENDSHIP DAY a day dedicated to all those valuable friends who play a mighty role in our lives, Regents took this moment of nurturing the new entrants will care abc affection, this was really a great moment that every junior found their favorite senior and tied a Friendship Band to them, and those who got the highest number of bands was the most popular senior.
Ramesh Kumar Reddy the Principal of the College addressed the students that "It can be a Life changing Journey for you all and we wish each fresher to leave an impression of victory and success on the walls of Regency". Students made the banquet hall resonate with their dances, the function was ended up with a Cake cutting Ceremony wishing Good Luck and Success for their Learning journey @Regency.
BY P Ramesh Kumar Reddy

Subscribed Failed...
Subscribed Successfully...