A school where values are more important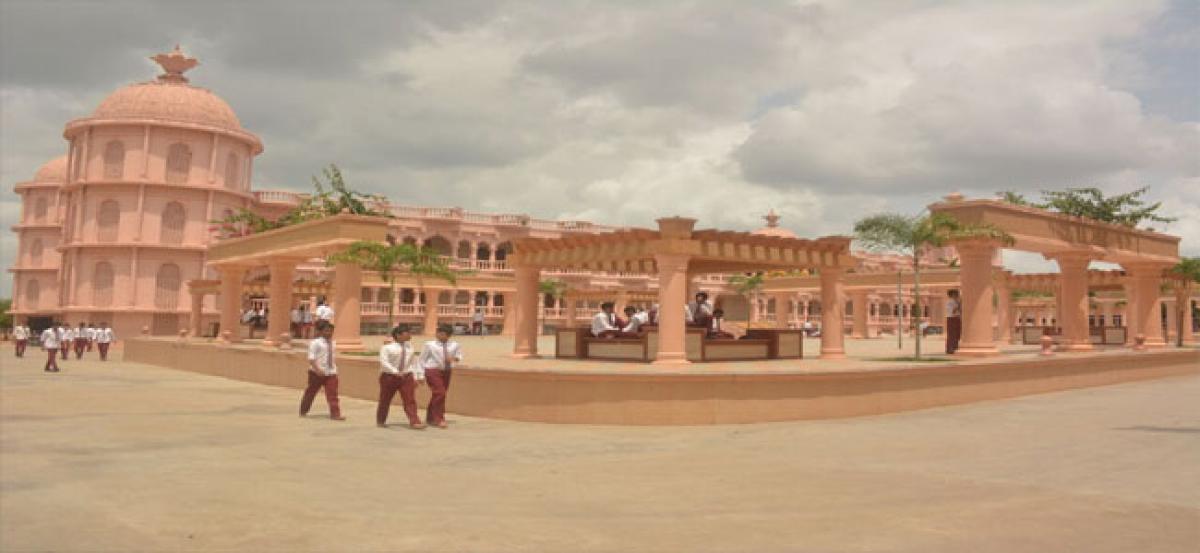 Highlights
Stressing on the importance of teaching children about their culture, tradition and spiritual values to face the modern world with a more balanced personality, Shree Swaminarayan Gurukul, Hyderabad Head Shuk Vallabh Das Swamy and Chief Principal Rajan Philip in conversation with the Young Hans shared how the school
Stressing on the importance of teaching children about their culture, tradition and spiritual values to face the modern world with a more balanced personality, Shree Swaminarayan Gurukul, Hyderabad Head Shuk Vallabh Das Swamy and Chief Principal Rajan Philip in conversation with the Young Hans shared how the school with its long tradition has been making tireless efforts to impart value based, culture and traditional education to equip them with the best in their Gurukul Education System. Sharing their journey Chief Principal Rajan Phillip shares.
When was the school started?
We started this school in Jadcherla, another at Zaheerabad and one more in Vijayawada in Andhra Pradesh. Besides, we have other branches in 11 places like Gulbarga, Bangaluru, Sholapur, Nagpur, Navi Mumbai, and Vidyanagar in Gujarat. In addition, there are many in Gujarat. The first school was started at Rajkot in 1948. The local devotees, including Gujarati's and Marwari's, had invited the Swamiji and requested him to start a school. This is the first and the only English school started out of Gujarat. After starting of the Hyderabad school, now, we have 11 branches under this school located in different parts of the country.
Tell us about your students?
We have around 1,500-day scholars and 900 hostlers with nearly 135 teachers working. Except for Jammu and Kashmir, we get students for the residential school from 28 states in the country. The day scholars are from the surrounding areas.
What attracts students from different states?
First thing was our focus on imparting culture and tradition. Parents feel that their children are drifting away from their tradition and culture. They are not able to handle it due to their daily routines in the modern age compulsion. The Swaminarayan Gurukul tradition considers Gurukul is not a building but its students. The student has to go out and stand out as a role model for others as a good citizen making a positive contribution to the society at a lager. Many students are changing their behaviour after joining the school. One more reason is that it is not a donation institution and education is made affordable and even the residential school's fee is found within the reach of people. Also, it is a school run with CBSE syllabus.
What is the daily routine of the students?
The day scholars come at 8.30 AM and their school hours last till 3.30 PM. In the case of residential students, their day starts at 5 AM. They will have spiritual activities for 45 minutes after completing their bath. After that, they get half-an-hour time for cleaning then to study. After the breakfast at 7 AM, they would reach to the assembly by 7.45 AM. Their school hours last till 3 PM and after an hour of remedial classes, they will have time to play and then go to the hostel for refreshments. After that, they will spend an hour in Puja and Harati. Juniors are allowed to study till 9 PM after their dinner at 8 PM and senior students can study till 11 PM with the permission of the hostel wardens.
How is the response from parents?
Nearly 98 per cent of the parents are satisfied with the performance and visible changes in their children after joining in the school. However, few would drop out. Because, some of the children who are accustomed to certain facilities at home are not able to cope up with things like washing their own plates after lunch and dinner, cleaning their cupboards etc. But, such practices are what make children learn how to take responsibility of their own things. If we don't have a positive response from the parents we would not be having such a good number of students joining the school.
What kind of facilities students have for sports?
For day scholars, three hours are given for sports and hostlers too will have daily sports period. There are several sports like cricket, volleyball, basketball, swimming for which, there are separate coaches. Besides, we conduct sports week twice in a year. This is in addition to holding inter-house, inter-school sports.
How is the pass percentage of the school?
Except on one or two occasions the pass percentage of the schools with A+ is 99 per cent or 98 per cent. The School has been awarded CBSE certificate of merit.
What about the poor and needy students?
We do take care of such students who could not afford even the low fee structure of the school. In all such cases, all the students will have to do is to write Swaminarayan Manthra Lekhan. It is like Rama Koti. For each class, the student will have to write a specific number of books. And, at the time of payment of a fee, he has to submit the books of the Manthra Lekahan to get full fee exemption. Such students will have to pay the only transportation fee. There are about 300 such students who are given full fee waivers for submitting the Manthra Lekhan. What are your future plans? There are plans to start one more school in Secunderabad next year and one more in Visakhapatnam and Delhi on a later date.

Interview of Shuk Vallabh Das Swamy