Why Adhyayan is good for your child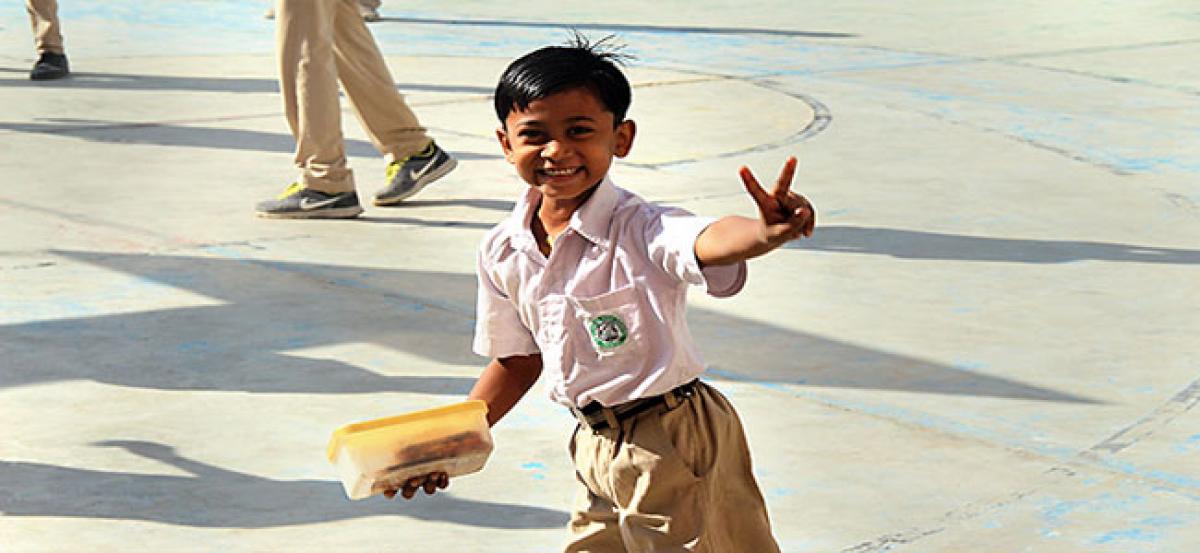 Highlights
Very often, defining a goal is the first step towards achieving it But what if you dont know what you want to achieveIts a question Kavita Anand, 55, asked herself after running Mumbais Shishuvan school for over a decade She had built up a good school and she saw many others that could be much better but simply did not know where the improvements needed to be
Very often, defining a goal is the first step towards achieving it. But what if you don't know what you want to achieve? It's a question Kavita Anand, 55, asked herself after running Mumbai's Shishuvan school for over a decade. She had built up a good school and she saw many others that could be much better but simply did not know where the improvements needed to be. That's when Anand met Spokey Wheeler (now her husband), who had headed three secondary schools in England and Germany, turned around a failing inner London secondary school and then set it up as a state school. Building on their objective to improve the quality of schools, in 2011, Wheeler and Anand started a company to introduce standards for Indian schools as a social enterprise.
The Adhyayan Quality Standard is a measure of quality for schools irrespective of their board affiliation, socio-economic status and geographical location. Now available in 11 languages, it was recently engaged by the Delhi Commission for Protection of Child Rights to evaluate 5,600 schools in the capital. The Adhayayan (the word means 'study') model is based on self-review and is centred on the principle that the first step to solving a problem is recognising that there is one. "Most educators are not open to the idea of someone from the outside telling you this is wrong and needs to be changed. The realisation has to come from within," explains Anand.
Assuming that a school leader, founder or promoter feels that some qualitative changes are needed, Adhyayan provides a template to work with. The first step is the School Self-Review and Evaluation, which is founded on an internationally validated self-review diagnostic that helps a school recognise its current strengths and highlight the areas that need improvement. A scientific diagnostic kit looks at areas like leadership and management, teaching and learning, curriculum, infrastructure, resources and community reach. Anand says that heads of schools are so busy running and managing the institutions that rarely do they walk into a classroom to find out how the students are faring or what they want.
They seldom have the time or the bandwidth to attend to academic improvement or leadership or ask themselves questions like, 'Are my students actually learning? Do they enjoy the learning or is it just a drudgery? Are my teachers able to engage the students or have they lost their attention in the first five minutes?'
However, the Adhyayan review involves not only the school heads, but all stakeholders -- teachers, students, parents, alumni and so on. "Having students in the review process is a game changer as they have no reason to falsify facts," says Anand. Adhyayan helps schools measure themselves against local standards and when they feel they have met those, they can look beyond -- to state, national or even international standards. At last count, Adhyayan has worked with 388 schools across 20 states in India, primarily budget private schools and some government schools that are working in a PPP model with private agencies.

Says Anurag Kundu, member, Delhi Commission for Protection of Child Rights, "Schools often struggle to determine what is holding them back. Thanks to its rigorous evaluations and an outside view, Adhyayan helps with this understanding." The Delhi Commission for Protection of Child Rights, which is the statutory body for monitoring the implementation of Right to Education Act, has partnered with Adhyayan to develop a school evaluation tool to evaluate Delhi's schools on the themes of child safety and learning. Government schools, which have their own self-improvement system called Shala Siddhi, have had very mixed results so far.
Adhyayan recently made its first inroad into state schools with the Goa government agreeing to partner with them to improve their schools. This has given them access to 830 schools in the state. A senior official of the Goa government says that external evaluations are less effective as they are often perceived to be a 'finger pointing' exercise, whereas the self-review model works much better. Anand feels if they can make a success of working with Goa's schools it would give them a template to work in larger states where there are many more schools. Clearly, Adhyayan is already a 'study' in how a social enterprise can work towards raising the quality of schools in India.