Where is the Vision for Future of AYUSH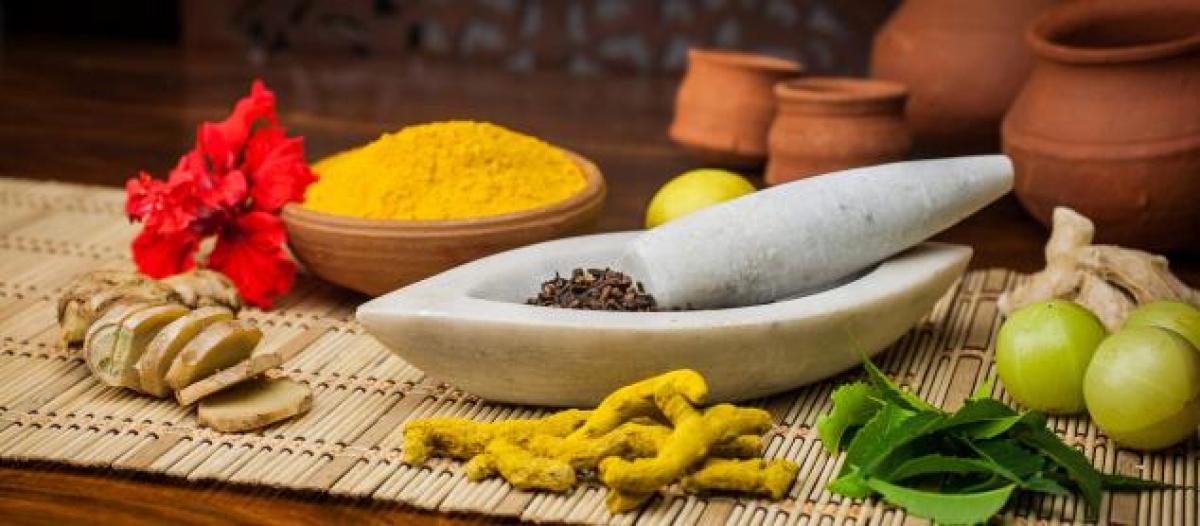 Highlights
The consumer health care industries are growing globally. Many consumer health products like Horlics, Boot, Maltova, Viva, Complan, Bournvita etc.,...
The consumer health care industries are growing globally. Many consumer health products like Horlics, Boot, Maltova, Viva, Complan, Bournvita etc., enjoys much bigger status than coffee and tea in Indian house hold. Similarly, the preferences of cosmetic products/ brand with herbal actives/Ayurveda claims are gaining popularity and acceptance.
The common similarity we can find among consumer health products and cosmetic products is the use of herbal/plant/Ayurveda claim.
Soya protein, wheat protein, almond, Tulsi, Neem, Bringraj, olive oil etc., are some of the common herbs/herbal ingredients/plant derivatives widely used, claimed and preferred.
The question is, when people in remotest village also chose herbal cosmetics or cosmetics with Ayurveda claim and prefer plant based health drinks, why they do not prefer AYUSH products for treating and curing their diseases? Why the survey of NSSO has revealed that 98% of people in rural and urban India prefer only allopathic drugs over AYUSH?
The under current appears to be clear. People both in rural and urban India associate and believe herbs and AYUSH largely for health, wellness and beauty purposes. Definitely people do not see, associate or believe AYUSH for treating and curing diseases.
May be, by knowing the above psychological instinct of people only, the personal care & toiletry products manufacturing companies and consumer health product industries use the 'buzz word' Ayurveda or herb to mesmerize the consumer instinct towards their products. Even floor cleaners and other tertiary products also have started to claim the benefits of herbs in them.
The contrast is amazing. The people when believe every benefit of herbs from cosmetics and health drinks and even from mass market products like soaps, why they do not accept the herbal/Ayurveda products as drugs for curing and treating diseases and prefer only allopathic drugs?
It means, the intelligence and awareness of people is quite high. They are clever and clear in their choices and understanding. For treatment and curing diseases, allopathic system of medicine stands top. It means, more than anyone, the people know well about the limitations and ineffectiveness of AYUSH/ herbal products/ system. They are not seeing AYUSH as system of medicine but only as wellness based paramedical system.
The big question is come people exerts such selective wisdom? They believe and associate AYUSH and herbal products to health, wellness and cosmetic benefits and not for treating or curing diseases? Even if someone chose AYUSH for treatment, such choice is limited only to palliative care for some non communicable diseases. AYUSH is used as adjuvant or paramedical products, while allopathic system remains the first and best line of treatment.
Two obvious reasons only would have contributed for the above situation.
Government is promoting and popularizing AYUSH since independence as system of medicine. Subsequent to that many AYUSH healers have started to make tall and bizarre claims on AYUSH products that they can cure AIDS, Cancer, Cerebral Palsy, H1N1, Diabetes etc.,
But in reality, none of the AYUSH products can ever offer any significant and perceivable relief to patients like allopathic drugs. The ordinary villager would have compared the effect of AYUSH products/system and would have experienced its limitation. Beyond that, the promise versus delivery of promise from AYUSH products also they would have ascertained.
This experiential knowledge only would have made people to go after scientifically proven allopathic drugs for treatment and cure. However, people are not totally negating some small effect of AYUSH products. They associate AYUSH system and its products largely for wellness, health and cosmetic/aesthetic value.
Time has come the Government of India must recognize this truth. We do not know why Government is unwilling to bite this bitter pill that AYUSH is meant only for wellness and paramedical benefits and is not system of medicine?
By promoting AYUSH as system of medicine and equating AYUSH along side the scientifically proven allopathic system, AYUSH will only get further degraded and down graded due to obvious comparison with scientifically proven allopathic system. That is why many ISM practitioners while prescribing ISM pain relieving products to their patients, take Paracetamol for treating own head ache.
If AYUSH is promoted and popularized for wellness and associated paramedical benefits, it will have great acceptance and value.
All systems under AYUSH had evolved only as therapy system. According to Merriam Webster Dictionary, therapy and therapist means, a person trained in method of treating illness without the use of drugs or surgery.
When drugs were not available, science was in nascent state, the cause for many diseases was not known and so was the diagnosis. Some wise men in the past would have assumed the role of 'natural healers' or 'therapist' to offer some solace and confidence to the ailing people. They had used many natural substances available in their respective areas. Most of such products would have given some relief to the patients mostly due to 'placebo' effects.
To retain their role, significance, dignity and uniqueness, they would have introduced some discipline in collection of raw materials, processing methods etc. But gradually such 'skill based approaches' were converted as 'science based/scientific approaches' and the ISM is then promoted as system of medicine.
Interestingly, the Government did not limit promoting AYUSH as system of medicine, it also brought the curriculum system for AYUSH namely BSMS, BAMS, BUMS etc., parallel to 5 ½ years MBBS degree.
Today AYUSH curriculum enjoys the status of professional course. Those who could join the Government service after completing the AYUSH professional course could fortunately find their life easy going.
But for those AYUSH professionals in private practice are left with no drugs to treat the patients but they are doctors as per law.
If they apply ISM diagnostic methods to diagnose the disease, patients may laugh at them and walk away. Hence many of the AYUSH doctors use the allopathic diagnostic terms such as Psoriasis, Vitiligo, Eczema, Dengue etc. To ensure their diagnosis accurate, many of the ISM private practitioners refer the patients quietly to nearby dermatologists/allopathic doctors and get the diagnosis done correctly.
Who has done such injustice to AYUSH? Should we not promote AYUSH more meaningfully than what we are doing now? Should it not be wise to promote AYUSH as paramedical wellness system?
Why Government should not declare ISM as wellness based paramedical system and create opportunity for ISM graduates to offer palliative, preventive and post medical care in our society. The ISM healers can be annexed with allopathic doctors for offering paramedical services like massage therapy etc?
It is not ego or false dignity in keeping stethoscope around the neck or self boasting as doctor, the AYUSH doctors should follow, but how to make AYUSH relevant and meaningful to our society should be the priority.
Promoting AYUSH as drug based medical system AYUSH cannot serve anything nor can stand near even the shadow of scientifically proven allopathic system. Accept its enormous paramedical and health care value and promote it as wellness based paramedical system. Once such repositioning is done, the ISM products can be taxed evenly throughout India. Government can certainly generate huge revenue from such tax system. Further, exporting ISM products become easy once they are declared and licensed as health/paramedical products.
ISM healers should remember the fact that they will be respected by our society not for the title 'Doctor' but for the value they create for people.
The sacred AYUSH really need a push not as system of medicine but as paramedical science.
Subscribed Failed...
Subscribed Successfully...