Infamous 'Chor Bazaar' losses gleam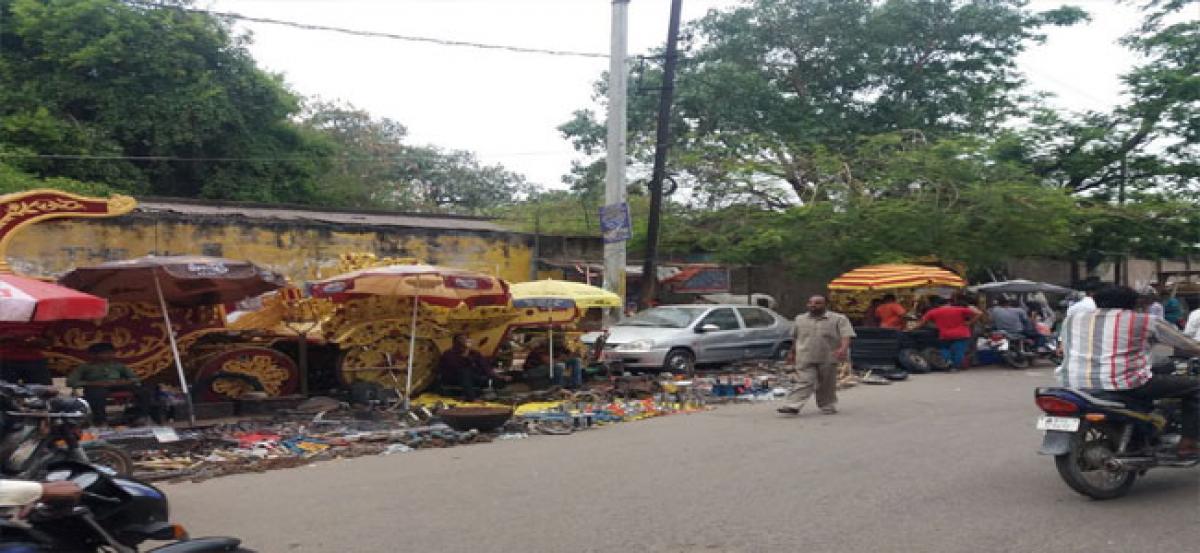 Highlights
One of the oldest markets in Hyderabad, which is best known for selling used goods and antiques, is slowly losing its sheen due to the mushrooming of...
Dhoolpet: One of the oldest markets in Hyderabad, which is best known for selling used goods and antiques, is slowly losing its sheen due to the mushrooming of local markets in new localities, impact of e-commerce and lack of interest among people in age-old flea markets.
Vendors of the market, who set up stalls every Thursday, say that the decrease in customer footfall has affected their business dearly and allege that reason behind the fall is the impact of online selling portals
There was a time when Jummerat Bazaar or Chor Bazaar was bustling with hundreds of vendors who vied for space but now the market has reduced to about 300 vendors, who compete amongst themselves to grab the attention of the visitor. Around two decades ago, youngsters who preferred second hand products, some of which including stolen goods which found its way into the market, are now opting for various online platforms offering second hand goods at low prices. This historic roadside market which is located beside Muslim Jung Bridge was used to selling used goods of royals and also a wide range of articles on Jummerat (Thursday) and later became notorious known as 'Chor Bazaar'.
This unique bazaar opens every Thursday at 5:00 am and closes by 3:00 pm. Catering to the changing times, the vendors now sell old as well as new items like electronic goods, steel and wooden furniture, old currency, body building equipment, shoes, clothes, construction materials, hardware material, old motor parts, tires and etc. Due to its close proximity to Begum Bazaar, the vendors also sell plastic household goods for a fixed rate ranging between Rs 10 and Rs 150. One vendor Md Abdullah, a resident of Talab Katta, for the last 40-years had been selling chargers, earphones, radio, DVD players, TV sets and other electronic goods.
K Malleshwari, a vendor of Jiyaguda said that she had been selling her products for the last 25-year and the second generation of the family continues the business. Her products include all steel and iron kitchen items, new and old for a less margin of profit. However, she said that the Jummerat Bazaar was losing its charm. "The situation here had changed a lot for the past few years, as footfall appears to have gone down," she added.
Another vendor Md Haneef, who sells gem stones, old currency and coins for the last two decades, said that given the demand particularly among the youth to keep old currency for themselves some of them turn up to buy at the market. "Many people purchase these old coins as are antiques and many of the coins are foreign currency. Indian currency old notes including Re one and Rs two are sold for Rs 20. While Rs 10 and Ra 20 notes are sold for Rs 50 and the coins of both Indian and other countries are sold depending upon their value," he said.
However, the residents of one of the populous localities between Muslim Jung Bridge and Puranapul continue to remain furious over the trouble this market causes every Thursday. R Arvind, who resides in the area, feels that because of this market traffic jams are seen throughout the day. "People park their vehicles haphazardly and cause inconvenience to the commuters during rush hours on the entire stretch," he alleged.
BY M M Farooqui
Subscribed Failed...
Subscribed Successfully...