Police conduct awareness meet with 390 sarpanches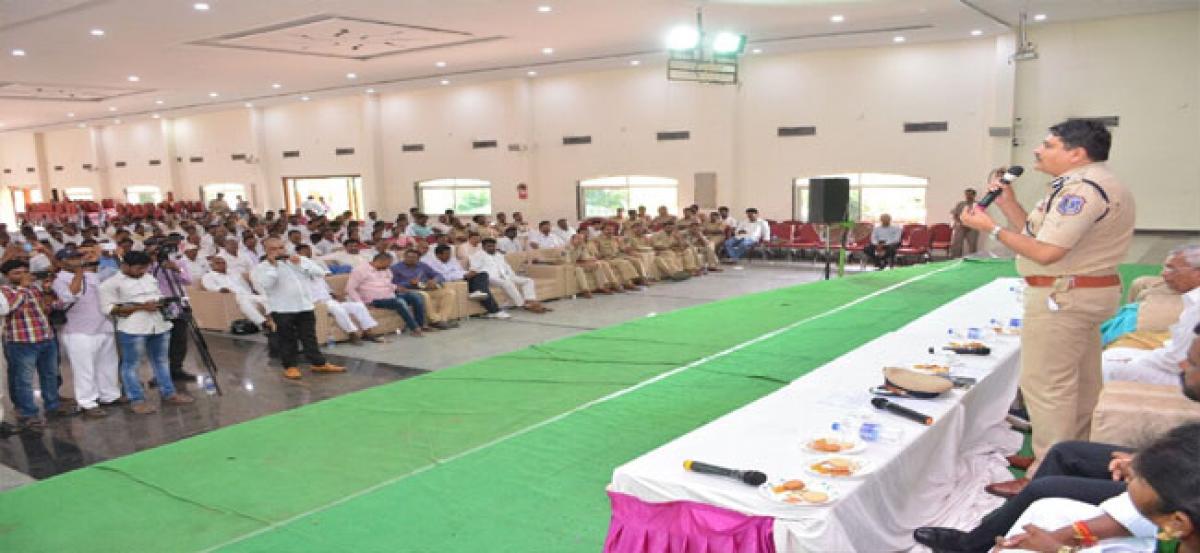 Highlights
To put an end to the rising attacks on innocent strangers, the Bhongir zone police held a meeting with 390 sarpanches of Bhuvangiri Yadadri district under the aegis of CP Rachakonda.  District Collector Yadadri, MLC E Krishna Reddy said, "People should act more responsibly and not get carried away by what floats on WhattsApp and Facebook. One should not take law into their hands."
Bhongir: To put an end to the rising attacks on innocent strangers, the Bhongir zone police held a meeting with 390 sarpanches of Bhuvangiri Yadadri district under the aegis of CP Rachakonda. District Collector Yadadri, MLC E Krishna Reddy said, "People should act more responsibly and not get carried away by what floats on WhattsApp and Facebook. One should not take law into their hands."
In the meeting held at Bhongir town, police officials sensitised the sarpanches to take a lead and spread the message that peop0le should not react to fake news. There are several chaddi and criminal gangs pertaining to different states.
About 500 public representatives including sarpanches, MPTC, MPP, ZPTC and municipal councillors attended the programme. Mahesh M Bhagawat, Commissioner of Police, Rachakonda commissionarate, Anitha Ramchandran, district Collector Yadadri, Bhongir dist, joint collector Ravi Naik, Alimineti Krishna Reddy MLC Bhongir, K Ramchandra Reddy DCP, Bhongir, explained the steps to reduce crime rates in each locality, about the operations and movements of criminal gangs and rampant incidents of cyber-crimes through social media platform like Whatsapp & Facebook.
Subscribed Failed...
Subscribed Successfully...