Exhibition on archives of Quit India Movement concludes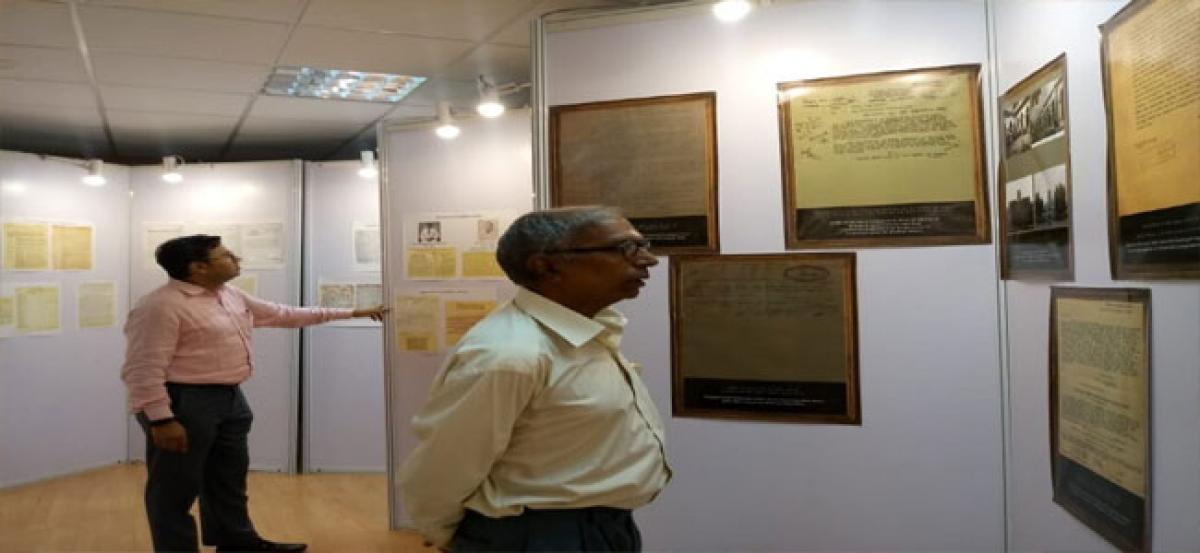 Highlights
The threeday exhibition Archives from the Quit India Movement held at Dr MCR HRD Institute concluded on Thursday The National Archives Exhibition which started in 1919, is being held for the 62nd time in the country
ADVERTISEMENT
Hyderabad: The three-day exhibition - 'Archives from the Quit India Movement' held at Dr MCR HRD Institute concluded on Thursday. The National Archives Exhibition which started in 1919, is being held for the 62nd time in the country. "This exhibition is being organised for second time in city. The first exhibition was held in 1954 during the reign of Nizam," said MA Raqeeb, Assisant Director Telangana State Archives and Research Institute.
The exhibition brings together rare set of documents, confidential agreements and important articles during the struggle. The exhibition accounts repositioned documents arranged in timeline are tied together by Indian Historical Records Commission (IHRC) and Telangana State Archives and Research Institute. The pictorial exhibition frames the documents across times in the themes of history beginning from the 'Quit India Movement' It highlights the cut-out articles from renowned newspapers of British India. Escorted by the glimpses of underground movement 1942 including information about the transmission of secret radio used by revolutionaries.
The timeline forming Indian National army with the verses of Abdul Kalam Azad reading 'Azadi-e-Hindustan, nai Zindagi ka Karwan' are also being exhibited with a map drawing the travel route of Subhas Chandra Bose from India to border of Soviet Union. Roles of each state during the 1942-44 struggle is identified and highlighted. The handwritten slogan 'Do or Die' and an essay on Tagore's view of freedom is also mentioned apart from these selected documents of states Haryana, Odisha and Assam during the movement are also displayed.
The oldest document in the room illuminates the city by presenting one of the oldest Persian farman from a Bahamani king in 1406. An 1872 document reading arrangement between British Government and Hyderabad city sealed by the Governor General of India is also on display. Nitin Goel, from Rajashani Bhasha Sahitya and Sanskriti Academy, said, "The exhibition brings together the rarest and vital collection from the repository of national and state archives.
By bringing together the documents from different states is like reunion of cultures who fought together during struggle. Exhibition also highlights the documents which were drafted to form parallel governments across the states." M A Raqeeb said "A great percentage of archived documents in the state are either Persian or Urdu since language Telugu was not very prominent during those ages. And yet the documents constitute a great deal of information."