GHMC officials hold 'silent protest' in front of hotels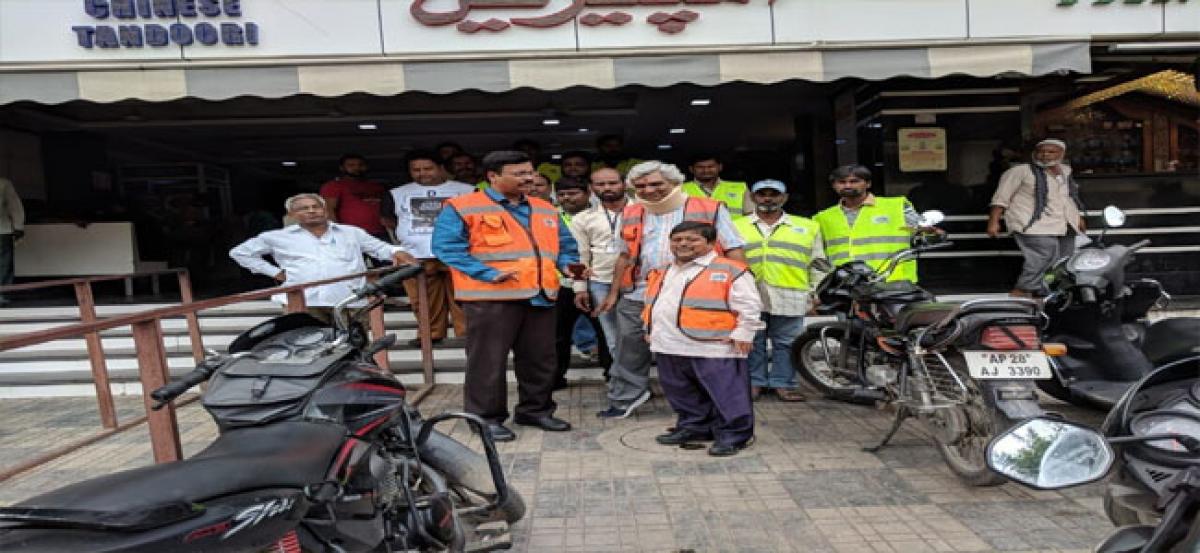 Highlights
In a novel initiative to bring pressure on restaurateurs, the GHMC officials on Wednesday staged silent protest in front of the major hotels and restaurants in the city The officials sat down in front of the BGGs Bulk Garbage Generators to showcase the protest and to send a strong message that if they do not adhere to norms their brand name would be tarnished
Hyderabad: In a novel initiative to bring pressure on restaurateurs, the GHMC officials on Wednesday staged silent protest in front of the major hotels and restaurants in the city. The officials sat down in front of the BGGs (Bulk Garbage Generators) to showcase the protest and to send a strong message that if they do not adhere to norms their brand name would be tarnished.
These restaurants have failed to practice 'onsite composting' or have not given their consent or acceptance to practice onsite composting even after serving several notices to them. As per the Solid Waste management Rules, 2016, all the BGGs producing 50 or more kgs of waste per day have to install composting machines in their premises to process the wet waste. According to GHMC officials they have recognised hotels, restaurants, function halls, kalyana mandapams and banquet halls across the city, generating above 50 kgs of waste per day, as commercial BGGs.
"Earlier GHMC had also conducted several meetings with the management of these businesses and also served several notices to them and also published numerous news articles to install on-site compost machines in their premises and now as per the instructions of Commissioner, GHMC has set the dead line as August 15, for all the BGGs to install them," informed the officials.
GHMC has continuously promoted the need for better sanitation and solid waste management in the city, and to further it GHMC has taken up a unique initiative to encourage the Hotels & Restaurants to practice onsite composting of the wet waste, on their premises. The initiative has drawn a huge positive response from Hotels & Restaurants and many of them also came forward to install compost machines in their premises, added the officials.

GHMC has now decided to set deadline till August 15 for all the BGGs to procure and install the compost machines. In case any BGG fails to implement the same within specified period of time, GHMC will enforce and take necessary action against them without any prior intimation, cautioned the GHMC Commissioner, B Janardhan Reddy "As GHMC is continuously striving to achieve better sanitation & solid waste management in the city, it is expected from all the BGGs to co-operate and undertake immediate required action in implementing the same. The compost produced can be utilized for gardening purposes in the premises of BGG or given to nurseries", he added.
Interested in blogging for thehansindia.com? We will be happy to have you on board as a blogger.