Pervious concrete to help recharge groundwater at Durgam Cheruvu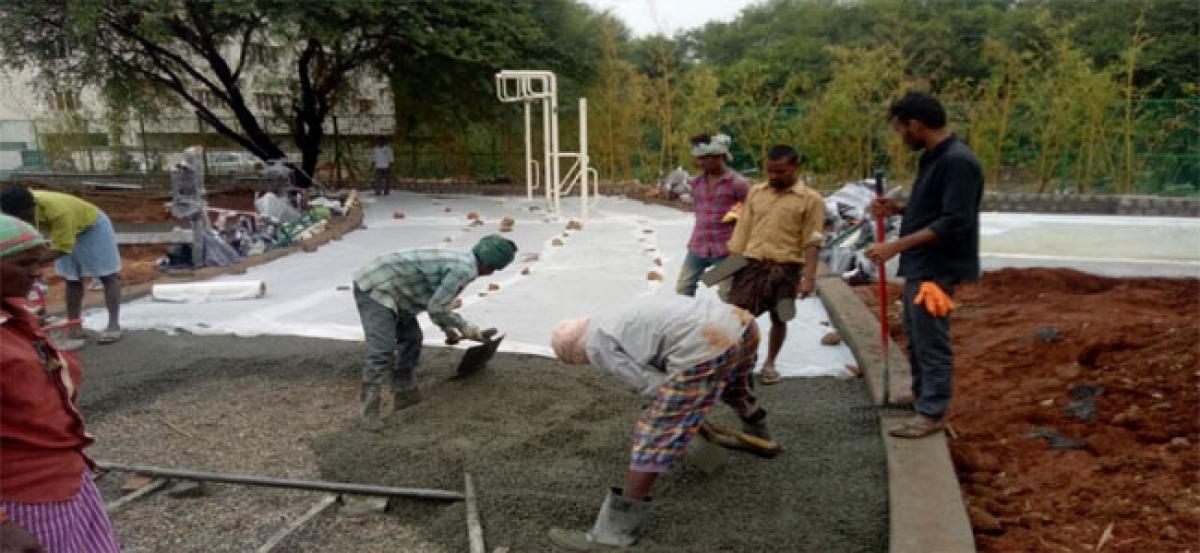 Highlights
The beautification of Durgam Cheruvu is on the top priority of the civic body and K Raheja Corporation that has taken up the makeover,
Durgam Cheruvu: The beautification of Durgam Cheruvu is on the top priority of the civic body and K Raheja Corporation that has taken up the makeover. One aspect that is catching everyone's attention is the eco-friendly measure for flooring. Pervious Concrete, also called as porous concrete, permeable concrete, and permeable pavement laid at the Durgam Cheruvu Lake is a special type of concrete with a high porosity used for concrete flatwork applications.
Pervious concrete pavement is an effective means to address important environmental issues and support green, sustainable growth. It allows the transfer of both water and air to root systems allowing trees to flourish even in urban areas. During a storm, runoff flows over the impervious pavement, picking up pollutants such as dirt, grease and oil, and carries these contaminants to streams and storm sewer systems. Previous concrete reduces such runoffs and decreases the need for separate storm water infrastructure and allows the use of smaller capacity storm sewers. It acts as a natural stormwater filter that can reduce pollutant loads entering into streams, ponds and rivers.
First used in the 1800s in Europe as pavement surfacing and load bearing walls, it gained acceptance again in 1920s and continued until the 1970s. It was in the early 2000s that it became popular in India and now gaining importance to address ecological and urban drainage issues. Apart from Mandala Art that is adding to the aesthetic beauty of the place, the floor of play areas and outdoor gym area is recognised as one of the best management practices by the U S Environmental Protection Agency (EPA) for providing flush pollution control and storm water management.
By capturing storm water and allowing it to seep into the ground it is instrumental in recharging precious groundwater supplies locally thereby also meeting U.S. Environmental Protection Agency (EPA) stormwater regulations. All of these benefits lead to a more effective land use and allows property owners to develop a larger area of available property at a lower cost. It also maintains on-road traction while wet, and reduces muddy water splashes from moving vehicles, and cuts download roadway noise, that will make Durgam Cheruvu Lake a serene lakefront to visit for onlookers and tourists.
It is traditionally used in parking areas at residential and commercial properties, areas with light traffic, streets, lanes, parking lots, pedestrian walkways, bike paths, and emergency access lanes. Since it is a durable material, with proper maintenance, including regular vacuuming of the surface to prevent clogging by sediment, pervious concrete can last for 20-40 years. The installation of Pervious Concrete may come at a higher cost but considering the use of an unstable petroleum-based product such as asphalt, the ecological cost of Pervious Concrete as a stable product that promotes pollutant removal is much lower.
Hari Chandana, West Zone Municipal Commissioner, Greater Hyderabad Municipal Corporation (GHMC), on the development said, "Our aim is not just to create a site that looks attractive and appealing to the onlookers but to go beyond the usual. With the implementation of Pervious Concrete in the premises of Durgam Cheruvu Lake, we ensure visitors that this will be a place to feel rejuvenated and be peaceful. We sincerely thank K Raheja Corp for implementing such technology and undertaking this project."
"One needs to think and go beyond visual appeal for a site like Durgam Cheruvu Lake. Use of Previous Concrete comes with many benefits that a lake visitor does not notice but it is our responsibility as developers to think and incorporate such environment-friendly concepts in our projects," says Shrawan Kumar Gone, Director K Raheja Corporation.
BY Mohammed Hussain

Subscribed Failed...
Subscribed Successfully...