Murgi Chowk traders worried over space allotments at New Market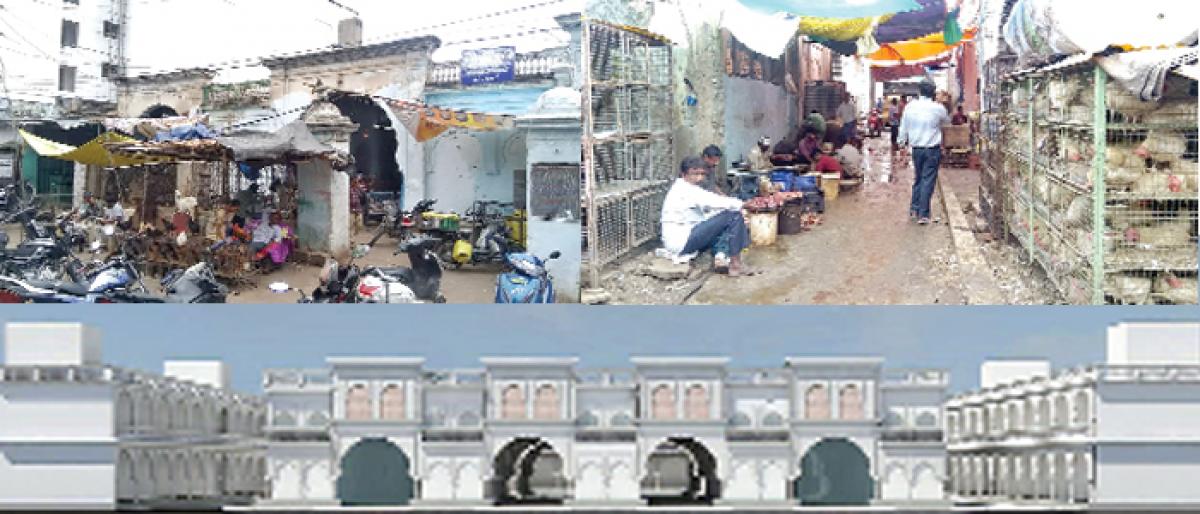 Highlights
Ever since the State government has issued orders giving administrative sanction to reconstruct Mahboob Chowk also known as Murgi Chowk at Laad Bazar, the decision is giving nightmares to the traders in the existing market
Charminar: Ever since the State government has issued orders giving administrative sanction to reconstruct Mahboob Chowk also known as Murgi Chowk at Laad Bazar, the decision is giving nightmares to the traders in the existing market.
They remain apprehensive about their future, as the modern market may not provide them space to continue their business and they are reluctant to discuss the matter with anyone.
With slowly unfolding of the developments like the GHMC coming up with a new design in this direction, the Mahboob Chowk Market Association has started requesting the authorities to rather renovate the entire historic chowk, as part of beautification project.
While describing this as the oldest market in the city of this kind, since Nizam's era, they explained that the development would also mean restoration of the existing structures similar to European countries.
"Even though a GHMC official visited and assured to allot the shops at the same location, we do not believe their words, as they may allot to new persons," said a trader, on condition of anonymity.
The association members said that all shops in the existing market were running for about 80 years and most of the traders were from the second or third generation.
"Ours is a third generation in the business and similar to us most of them are running shops in this Mahboob Chowk. This is our family business apart from this business there is no other business we do, and the overnight decision of reconstruction has shook us.
Even if it means complete renovation or rebuilding, the business during the time would be completely shutdown till the works are completed," said another trader.
The traders are now requesting the government to show some temporary space to continue their businesses during the meantime.
They informed that they approach to Asaduddin Owaisi, MP and said about the development of Mahboob Chowk to which Owaisi gave assurance about allocation to existing businessmen.
According to GHMC officials, after conducting a detailed structural assessment, they have come up with a new design with the help of a conservation architect who conducted surveyed.
The Conservation Architect prepared a detailed condition mapping an inventory of 292 shops present in the building along with name of the owner or tenant, present condition of space and structure etc.
It was assessed by Conservation Architect and noted that the structure is weak and requires comprehensive structural strengthening.
Alternative proposals including a proposal of additional floor with structural strengthening and conservation methods are proposed to rejuvenate and reuse the structure in the Old city context, the officials said.