Syrian family with valid US visa turned back in Philadelphia in shock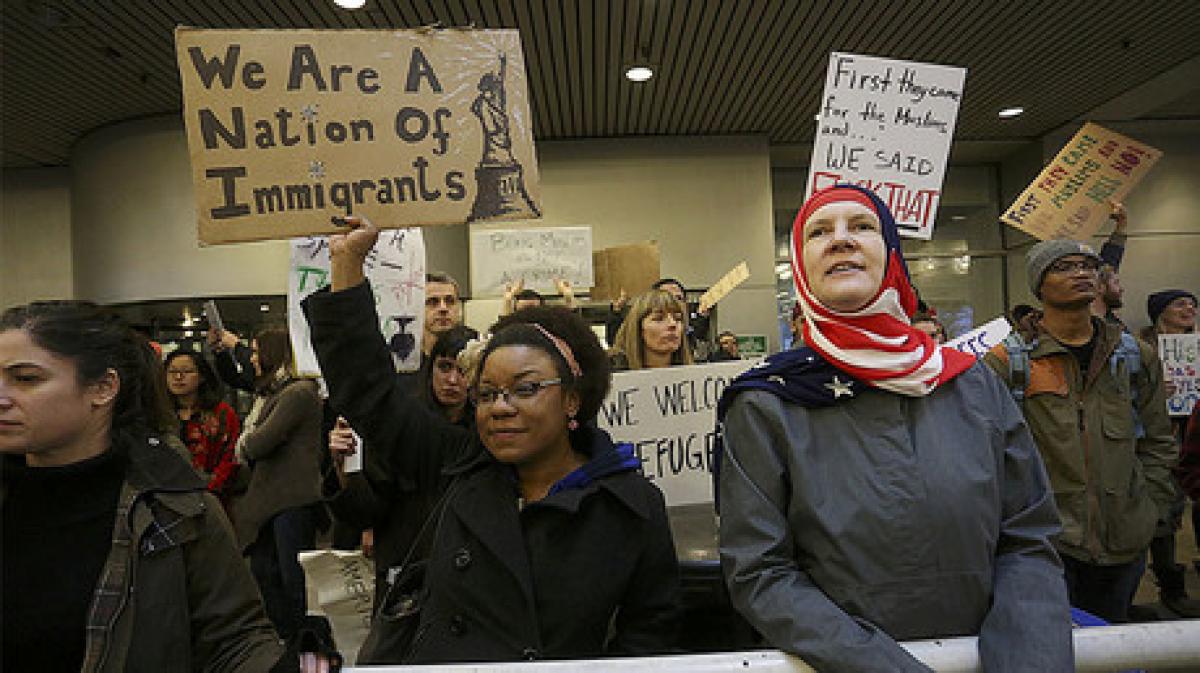 Highlights
A Syrian man who was detained with his family upon arrival in Philadelphia and forced to board a plane back home because of Donald Trump's executive...
A Syrian man who was detained with his family upon arrival in Philadelphia and forced to board a plane back home because of Donald Trump's executive order said Wednesday he is still in shock but that he will apply for another US visa and try again.
Bassam Abu Assali's family, including four adults and two children, was turned back over the weekend despite having a valid U.S. visa — simply because they are Syrian.
They initially applied for immigration in 2003, and received the visas in mid-December.
Abu Assali said he was just visiting America this time, but his brother had planned to leave Syria for good and settle in Allentown, where family members who are U.S. citizens had sponsored them and bought a home for them.
Back in Damascus, Abu Assali told The Associated Press he would never have made the journey if he had known he would be humiliated this way.
Sitting inside his dimly-lit oriental ornaments shop in the Syrian capital, he described emerging from the airplane on Saturday after an exhausting trip that took them from Damascus to Beirut, then to Philadelphia via Doha, Qatar, to find two policemen who asked for their papers and then took them in for interrogation.
An officer then informed them that their visa was now considered annulled and they were no longer eligible to enter America.
Trump's order, which halts entry for 90 days to citizens of Iraq, Syria, Iran, Sudan, Libya, Somalia and Yemen, was signed on Friday. It also includes a suspension of refugee admissions for 120 days, and bans Syrian refugees from entering indefinitely.
Abu Assali's family was stunned.
The immigration officer "gave us two options, either we return on the same flight or we wait for the next flight and spend the night in prison," he said.
Emotional scenes followed — exhausted from their long trip, the family begged to make a phone call to their relatives in the US who were waiting for them, but were not allowed. Abu Assali's brother and wife, whose son is studying in the US and whom they hadn't seen in three years, broke down in tears.
"My brother's wife begged them, she told them, 'Just let me see him, touch him ... he is few meters away'," he said. Their answer was "no."
"What did we do wrong," he asked. "Was it our mistake that we got (approval to) immigrate to America, the country that best safeguards human rights?"
In the end, they chose to return on the same flight rather than spend the night in jail.
"We were shocked, shocked ... We didn't have a bite to eat from the time we left Philadelphia until we reached Damascus, not a single bite," he said.
The American Civil Liberties Union of Pennsylvania has filed a federal lawsuit on behalf of the family.
Still, the 62-year-old Abu Assali said he would like to live in the United States if he is allowed, adding that he still believes "America has democracy, freedoms and human rights" — despite what happened.
"I consider what happened to be an individual act, not an act by a government," he said.
Subscribed Failed...
Subscribed Successfully...