Donald Trump, Japanese PM Shinzo Abe Pledge Deeper Trade And Security Ties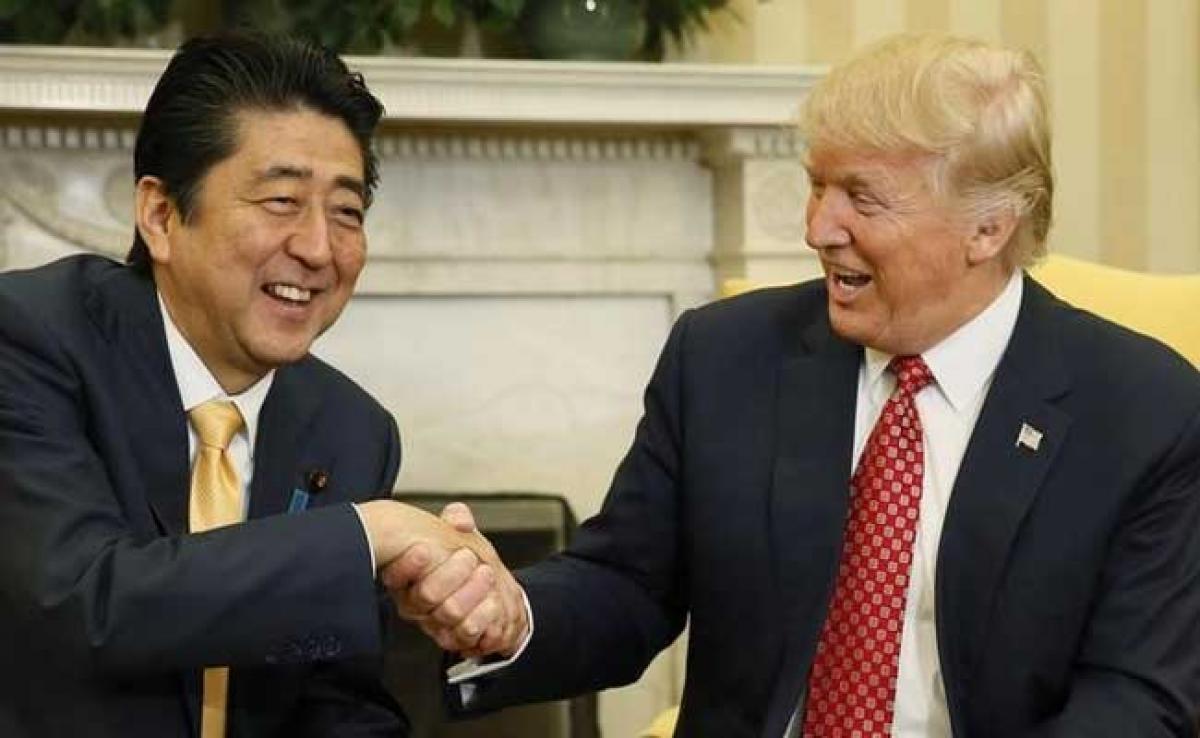 Highlights
US President Donald Trump and Japanese Prime Minister Shinzo Abe pledged closer security and trade ties on Friday after a White House meeting featuring brotherly hugs, jokes and plenty of words of mutual admiration. The Japanese leader flew into Washington hoping to mend ties strained by Mr Trump\'s willingness to question long-standing defense commitments and his rejection of a trans-Pacific trade
US President Donald Trump and Japanese Prime Minister Shinzo Abe pledged closer security and trade ties on Friday after a White House meeting featuring brotherly hugs, jokes and plenty of words of mutual admiration. The Japanese leader flew into Washington hoping to mend ties strained by Mr Trump's willingness to question long-standing defense commitments and his rejection of a trans-Pacific trade deal backed by Tokyo.
Addressing a joint news conference after their talks, Mr Trump signalled that he too was looking to cement ties between the two countries.
"We're committed to the security of Japan," Mr Trump said.
"The bond between our two nations and the friendship between our two peoples runs very, very deep. This administration is committed to bringing those ties even closer."
Both leaders also moved to smooth over tensions caused by Mr Trump's rejection of the Trans-Pacific Partnership -considered dead as a result.
Trade relations, they agreed, should benefit both nations, an issue set to feature on the agenda and their upcoming working lunch.
"On the economy, we will seek a trading relationship that is free, fair, and reciprocal," Mr Trump said.

Washington has a hefty trade deficit with Tokyo - its second largest after China - something the US president views unfavorably.
Mr Abe, meanwhile, said that Tokyo and Washington should take on a "leadership" role in creating a fair market "based on rules."
Earlier on Friday, Mr Abe told business leaders that US-Japanese commerce had been "win-win" as he highlighted the hundreds of thousands of American jobs created by Japanese investments.
The two leaders - who head later on Friday to Mr Trump's Mar-a-Lago estate in Florida for a day of golf - were also expected to find common cause on the issue of China.
Tokyo was often concerned about president Barack Obama's willingness to work with Beijing, and Mr Trump has been expected to take a tougher line.
The US president sought to reassure Mr Abe that Japan should not feel threatened by what he described as a "very warm" conversation he had with China's Xi Jinping a day earlier in which he vowed to respect the "One China" policy.
"We had a very, very good talk last night, and discussed a lot of subjects. It was a long talk," Mr Trump said, adding that he and Xi were "in the process of getting along very well, and I think it will be very much of a benefit to Japan."