Across US, Eateries Close To Show Support For Immigrants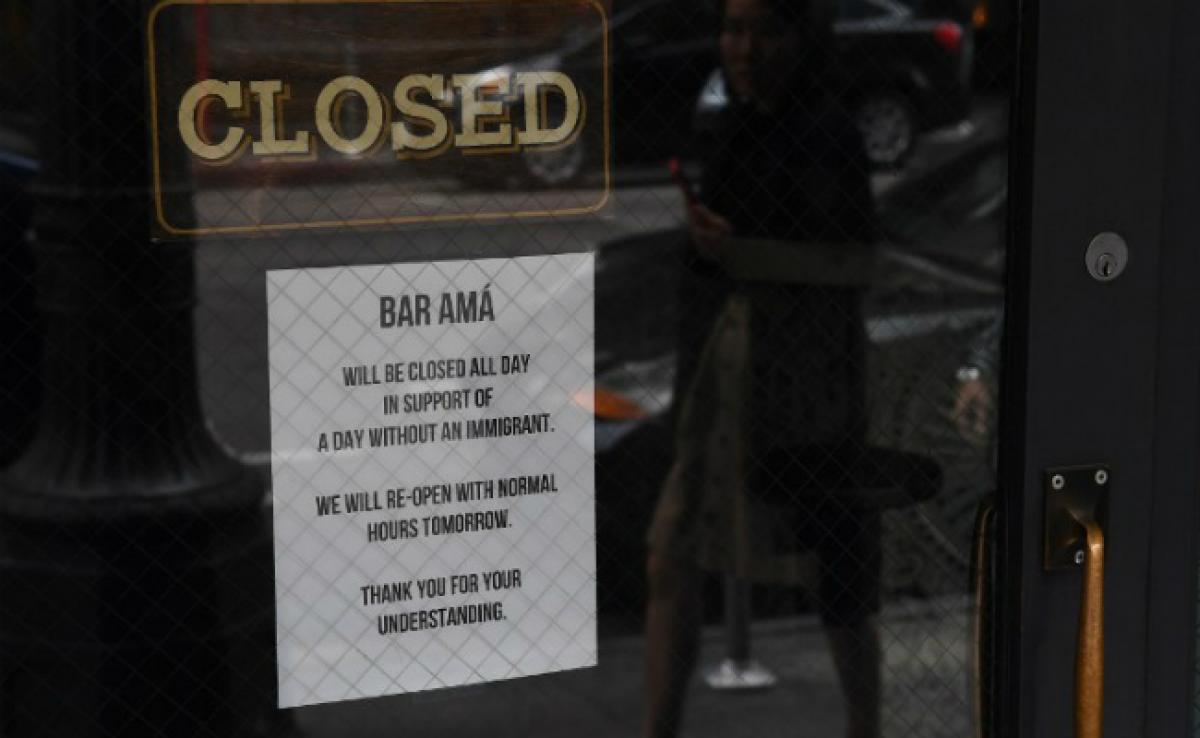 Highlights
From burger joints to posh eateries, scores of Washington restaurants shut down Thursday as part of a protest with echoes across the United States against President Donald Trump\'s treatment of immigrants.
From burger joints to posh eateries, scores of Washington restaurants shut down Thursday as part of a protest with echoes across the United States against President Donald Trump's treatment of immigrants.
Some restaurants on the "Day Without Immigrants" closed out of solidarity with the largely low-earning people who staff them, a strike meant to show how important foreign born workers are to the economy. Others shuttered because not enough staff showed up to work in the immigrant-dominated restaurant industry.
And it wasn't just food establishments.
From New York to Los Angeles, immigrants stayed home from work, kept their kids out of school, avoided buying gas and otherwise tried to illustrate the cost to America of going a day without them. One museum in Massachusetts removed all artworks created or donated by immigrants.
A sign on a shuttered salad shop called Sweetgreen, a short walk from the White House, explained what it is all about. All 18 Sweetgreen shops in Washington closed for the day.
"The three of us are sons of immigrants," the trio of co-founders wrote. "We respect our team members' right to exercise their voice in our democracy."
Edward Burger, 84, a retired doctor, stood reading that sign and said the protest was a great idea.
"This question of immigrants and the hospitality of the United States is terribly important, both for them and for us," said Burger.
Trump has just taken up residence in a staunchly Democratic town: Hillary Clinton won more than 90 percent of the votes in the presidential election.
The mix of protest, boycott and strike comes as acute fear spreads mainly in Latino communities across the United States because of raids that have led to the arrest of hundreds of people without legal status to live in the US.
Some have been summarily deported as Trump says he is making good on a campaign promise to get rid of unauthorized immigrants.
Anger also remains over his now-suspended ban on entry of all refugees and people from seven mainly Muslim countries.
The immigration raids prompted the idea of a protest, which spread quickly by word of mouth in the nation's capital.
Altogether, some 70 restaurants closed in Washington -- from fast food joints in a Pentagon food court to restaurants in mainly Hispanic neighbourhoods to chic shopping streets near the White House and Capitol Hill.

"We are closed to support our Hispanic community," read a sign on a shop in the Mount Pleasant district, home to many Latinos.
Undocumented immigrants make up about nine percent of employees in the hotel and restaurant industry in 2014, according to the Pew Research Center.
At least 11 million people are living in the US illegally, most of them Latinos.
Living in fear
DC-based Jose Andres -- an immigrant from Spain who became an award-winning celebrity chef and built a restaurant empire -- closed five of his establishments to show support for workers.
Doors at at least one of his restaurants, China Chilcano, remained open to customers and offered work to employees who did not wish to protest.
The support of Andres was key to establishing momentum for the protests in Washington. He has more than 460,000 followers on Twitter.
Andres is also in a legal battle with Trump that came after the chef pulled out of plans to open a restaurant in the real estate mogul's Washington hotel. Andres cited the Republican's anti-immigrant comments on the campaign trail as his reason for backing out.
Protesters said these are scary times for them.
"We the undocumented all live in fear of being deported," said Marvin Gomez, a Honduran construction worker who has been in the US illegally for 10 years. He pays taxes, and sends money home to his mother.
"A group of us, 10 or 12 co-workers, agreed not to go to work today. This is something we all have to do," Gomez said. "The bosses can fire us, but it does not matter."
Iris Mata, a 38 year old registrar at a school in Mount Pleasant, said the message of the protest was important.
"We want people to hear us, and feel the weight of a day without immigrants," she said while taking part in a march of several dozen people toward the White House.
Mata added: "We are worried about the consequences of the president's decisions."