Indian Community looking for answers over Shootings in Kansas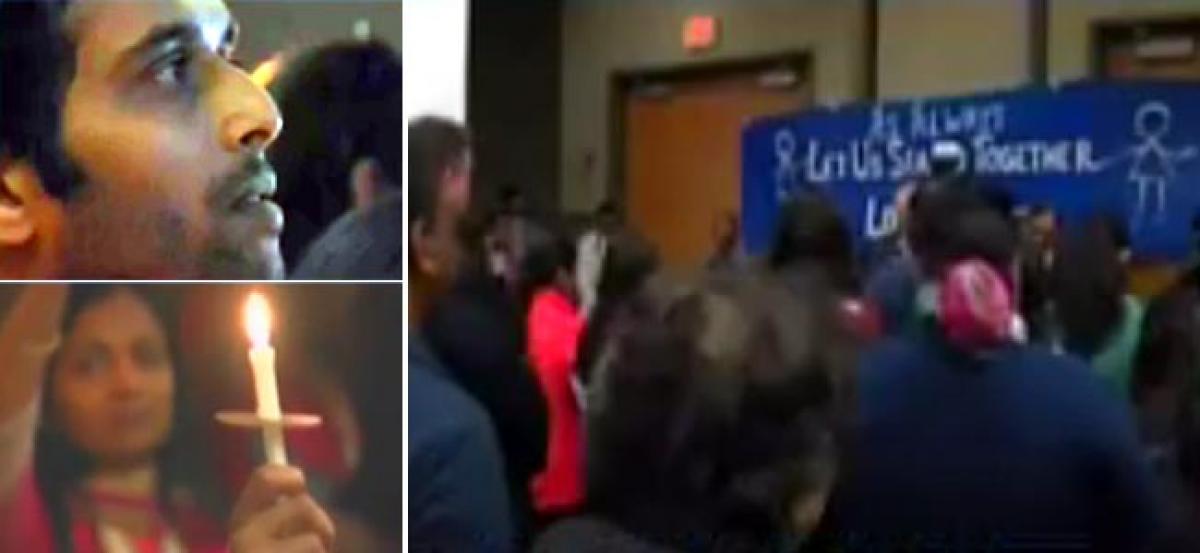 Highlights
The Indian community in US is still in shock as the news of the shocking incident in Olathe, Kansas City started to spread and people are unable to
The Indian community in US is still in shock as the news of the shocking incident in Olathe, Kansas City started to spread and people are unable to comprehend what actually is going on and why this has happened and they are searching for answers and some coming to conclusions. This incident could possibly be a hate crime or crime by someone with mental disorder. In either case, it is not something that is right.

Our condolences and heart goes out to the families of the Kansas incident where two Indian people and one American are shot in a cold blooded manner. In this incident, one person (Srinivas Kuchibohotla - Age 32) is killed, one (Alok Madasani - Age 32) is in critical condition and one other (Ian Grillot – Age 24) is recovering. One of them who is recovering is an American who happened to.be the good Samaritan who jumped on the culprit risking his life and is being hailed as hero.

This incident only reminds us we need to be cautious of our surroundings and when in confrontation, always seek help from police. Whether it is a hate crime or an action of someone with mental problems ultimately the lives are lost and families are hurting.

Looking back to time around 9/11 when we were just students at University of Dayton, I remember a time when we faced some of the same anger outside the University campus as we were doing our laundry at an outside location. Some of the people with couple of trucks started hurling racist comments and guzzling their trucks by revving up their engines as if they want to ram their trucks into us as we watched them from inside the laundromat. We were so innocent and did not even comprehend originally what was going on but eventually understood they were really mad at us. Although this was one bad experience. I can say that most people in the city and the university were very supportive.

America is great for its values and still the best country in the world and best democracy. While it goes thru a phase where there is a deep divide in the country on political lines one thing everyone has to remember is that vast majority of people still values democracy and democratic values.

While coming out of this takes time like any traumatic experience, most people in India and here need to not come to conclusions immediately as the justice will be served effectively and efficiently in this country.
By Avinash Puli