Fearing escalation of tension on Korean peninsula with THAAD, China asks North Korea to stop nuclear tests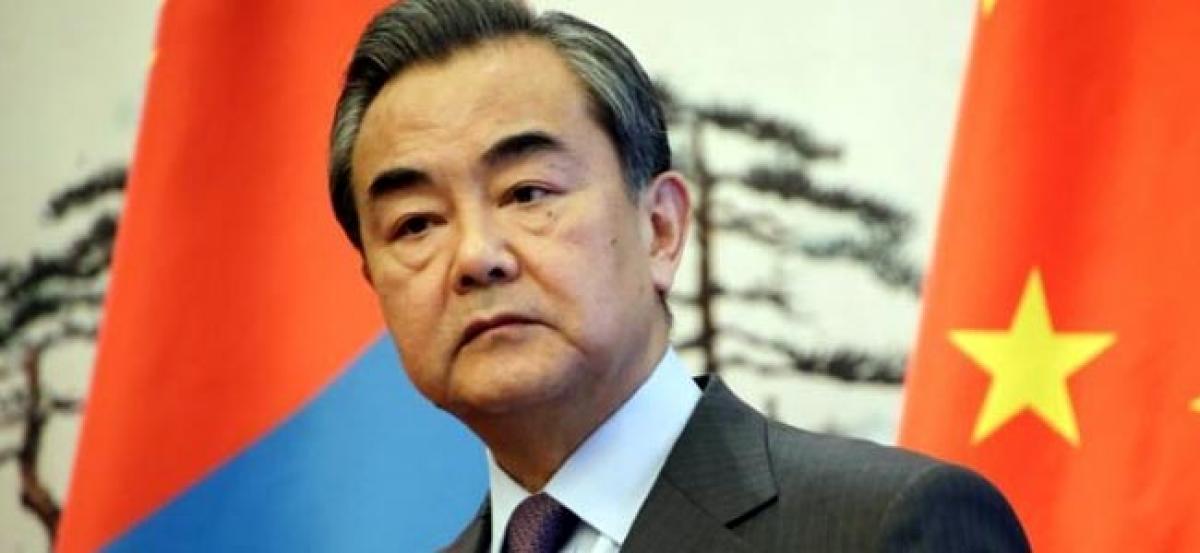 Highlights
China, fearing a rapid escalation of tension on the Korean peninsula, called on North Korea on Wednesday to stop its nuclear and missile tests and for South Korea and the United States to stop joint military drills and seek talks instead.
Beijing: China, fearing a rapid escalation of tension on the Korean peninsula, called on North Korea on Wednesday to stop its nuclear and missile tests and for South Korea and the United States to stop joint military drills and seek talks instead.
North Korea launched four ballistic missiles on Monday in response to the joint US-South Korea military exercises, which it regards as preparation for war. Chinese Foreign Minister Wang Yi said the tests by the North and the joint drills across the border in South Korea were causing tension to increase like two "accelerating trains coming toward each other".
"China's suggestion is, as a first step, for North Korea to suspend nuclear and missile activities, and for the US and South Korea to also suspend large-scale military drills," Wang said at his annual news conference on the sidelines of the meeting of China's parliament in Beijing.
Such a "dual suspension" would allow all sides to return to the negotiating table, Wang said.
North Korea fired the four missiles into the sea off Japan's northwest coast on Monday, angering South Korea and Japan with the latest in a series of ballistic missile and nuclear tests in defiance of UN resolutions in recent months. "Holding nuclear weapons won't bring security, using military force won't be a way out," Wang said. "There remains a chance of resuming talks, there is still hope for peace."
His comments came a day after the US military started to deploy the first elements of its advanced Terminal High Altitude Area Defense (THAAD) anti-missile system to South Korea.
That deployment added to the complexity of the tensions between South Korea and China, which opposes the THAAD deployment that it says destroys the regional security balance.
Wang reiterated those concerns on Wednesday, describing its deployment as a mistake. China says as part of its objection that the system's far-reaching radar can penetrate into its territory. In turn, South Korea and the United States have said the missile system is aimed only at defending against any North Korean missiles.
Deepening Row
The diplomatic standoff between Beijing and Seoul has deepened over the past week, with Chinese authorities closing nearly two dozen retail stores of South Korea's Lotte Group, which approved a land swap with the military last week to allow it to install the anti-missile system.
Lee Hyun-jae, chairman of the ruling Liberty Korea Party's policy committee, said on Tuesday South Korea would actively consider filing a complaint to the World Trade Organization over what it considers trade retaliation.
Since the THAAD deployment was announced, South Korean companies in China have reported cyber attacks, store closures and fines. State-controlled media in China has called for a boycott of South Korean goods and services.
China is also isolated North Korea's most important supporter, but China has been angered by its repeated missile and nuclear tests and has signed up for increasingly severe UN sanctions against Pyongyang, including suspending coal imports.
However, China has also rejected accusations from US President Donald Trump that it could be doing more, saying the problem was ultimately between the United States and North Korea.
Trump spoke with Japanese Prime Minister Shinzo Abe and acting South Korean President Hwang Kyo-ahn after Monday's missile tests, with Abe later saying the threat from North Korea had "entered a new phase".
North Korea's missile and nuclear tests are seen as a growing test of resolve for Trump, who had vowed to get tough on Pyongyang, and his aides are pressing to complete a strategy review of how to counter the threats.
North Korea remained typically defiant. North Korean diplomat Ju Yong Choi told the UN-backed Conference on Disarmament in Geneva on Tuesday that the annual US-South Korean drills were "a major cause of escalation of tension that might turn into actual war".
North Korea is mired in a separate row with Malaysia over the murder of leader Kim Jong Un's estranged half-brother at Kuala Lumpur international airport last month.
Malaysia and North Korea have expelled each other's ambassadors and announced tit-for-tat bans on departures of their nationals, sharply escalating tension between two countries that, until the killing of Kim Jong Nam, had maintained rare close ties.
On Wednesday, Malaysian Prime Minister Najib Razak sounded a more conciliatory tone, saying there were no plans to cut diplomatic ties as he attempts to secure the release of 11 Malaysians stuck in North Korea. Police say King Jong Nam's attackers used VX nerve agent, a super-toxic chemical listed by the United Nations as a weapon of mass destruction, to kill him.