US to lead Security Council talks on Iran in late September: Nikki Haley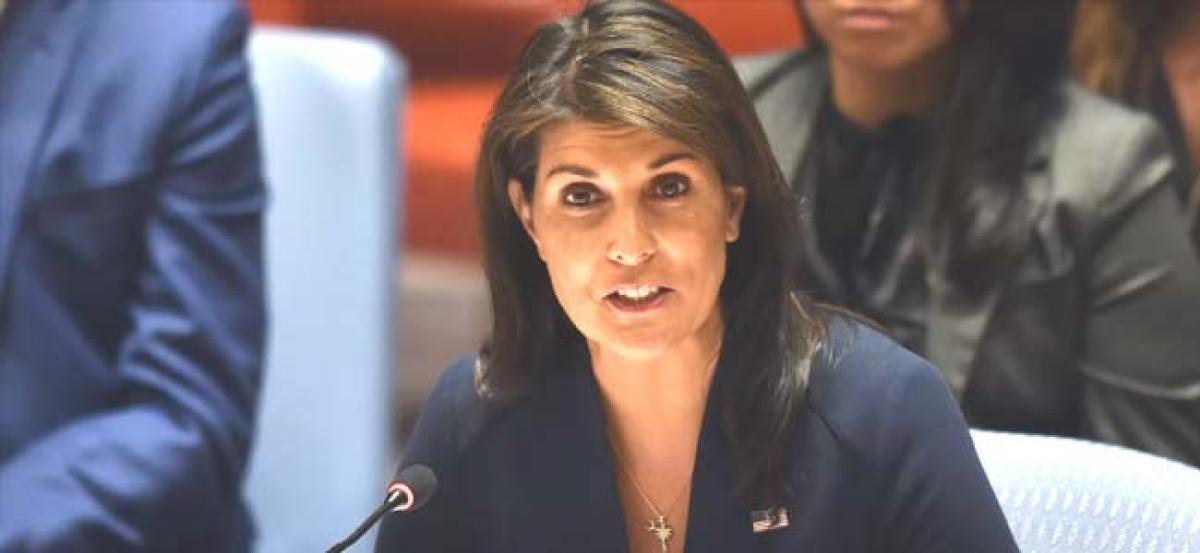 Highlights
US President Donald Trump plans to lead a meeting of the heads of state of the United Nations Security Council on Iran in late September, his envoy Nikki Haley announced Tuesday
United Nations: US President Donald Trump plans to lead a meeting of the heads of state of the United Nations Security Council on Iran in late September, his envoy Nikki Haley announced Tuesday.
With the United States now holding the presidency of the Security Council, Haley said the aim is to put further pressure on Tehran over its alleged violations of council resolutions.

"President Trump is very adamant that we have to start making sure that Iran is falling in line with international order," Haley told reporters.
"If you continue to look at the spread Iran has had in supporting terrorism, if you continue to look at the ballistic missile testing that they are doing, if you continue to look at the sales of weapons we see with the Huthis in Yemen -- these are all violations of security council resolutions.
"These are all threats to the region, and these are all things that the international community needs to talk about," she added.
Washington has sought to build up international pressure on Iran after reimposing tough, unilateral sanctions on August 7 and setting a November 5 deadline for halting Iran's oil exports.
Those moves came after the United States decided in May to pull out of the Iran nuclear deal, saying it failed to put enough pressure on the Tehran regime to halt its nuclear weapons and ballistic missile program.
In reaction to the reimposition of sanctions, Iran demanded in The Hague that the top UN court suspend the unilateral US sanctions.
Europe has resisted joining the US sanctions move, but earlier this week Japanese media said Tokyo had agreed to suspend crude imports from Iran.
Haley denied the United States was seeking regime change in Iran, saying the US effort is aimed at supporting the desires of the "Iranian people."
"We are going to stand with the Iranian people. They have every right to be heard in their government and they have every right to change it," she said.
But Russia's deputy ambassador to the UN Dmitry Polyanskiy pushed back, emphasizing that any meeting on Iran should also discuss the consequences of the US withdrawal from the deal.
Beyond Iran, the US presidency of the Security Council for the month of September is likely to generate numerous controversies for the body's 14 other members.
Among these is Washington's decision to hold a meeting Wednesday on the bloody anti-government protests in Nicaragua, drawing criticism from Russia, Bolivia and China, which said the unrest there does not threaten international security and peace.