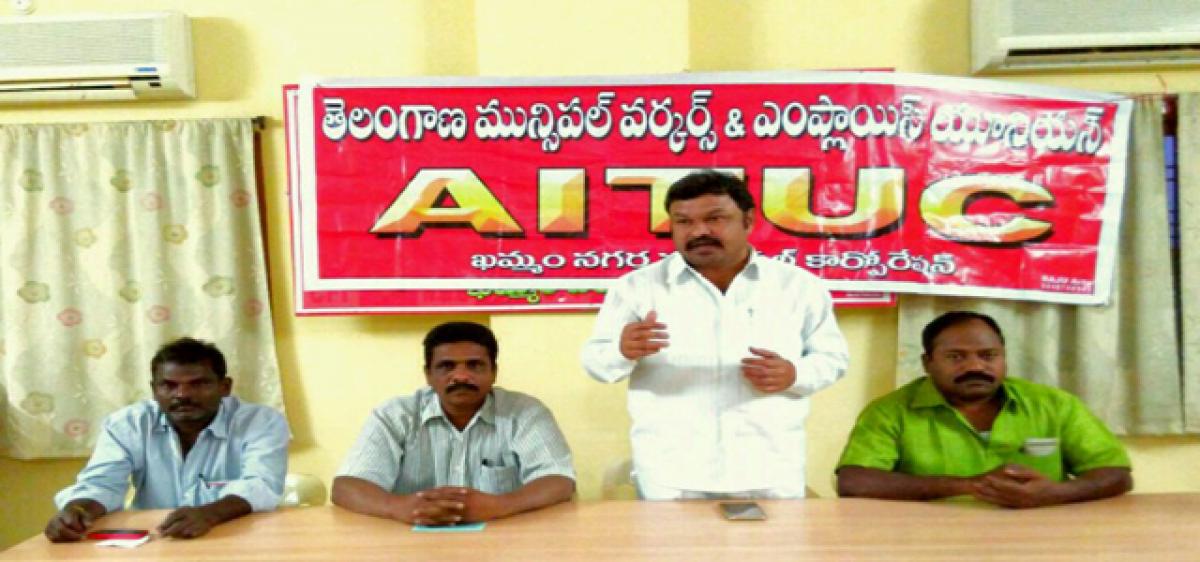 Highlights
In a meeting here on Friday, CPI town secretary Sk Janimiya said that over the years KMC has been indifferent towards the issues faced by the workers
Khammam: The All India Trade Union Congress (AITUC) accused the Khammam Municipal Corporation (KMC) of ignoring the problems faced by the outsourcing municipal workers.
In a meeting here on Friday, CPI town secretary Sk Janimiya said that over the years KMC has been indifferent towards the issues faced by the workers.
"Though it was mandatory, the workers have not been provided with the protective gear such as gloves and masks," he said, criticising the civic body for ignoring the safety norms as envisaged in the Labour Act. As a result, the workers were exposed to health hazards, he lamented.
AITUC Municipal Workers Union Khammam district secretary Manda Venkateswarlu also criticised the civic body for not ensuring prompt payment of salaries.
He found fault with the KMC functionaries for harassing municipal workers to go for biometric attendance four times a day. Stating that some workers are yet to get their ESI cards, he demanded the authorities to issue them at the earliest.Senior leaders Gade Laxminarayana, Uppara Narsaiah, Krishna Birra, Vijaya Shobha, Hymavathy, Venkanna and Srinu were among others present.