ICUs in state-run hospitals soon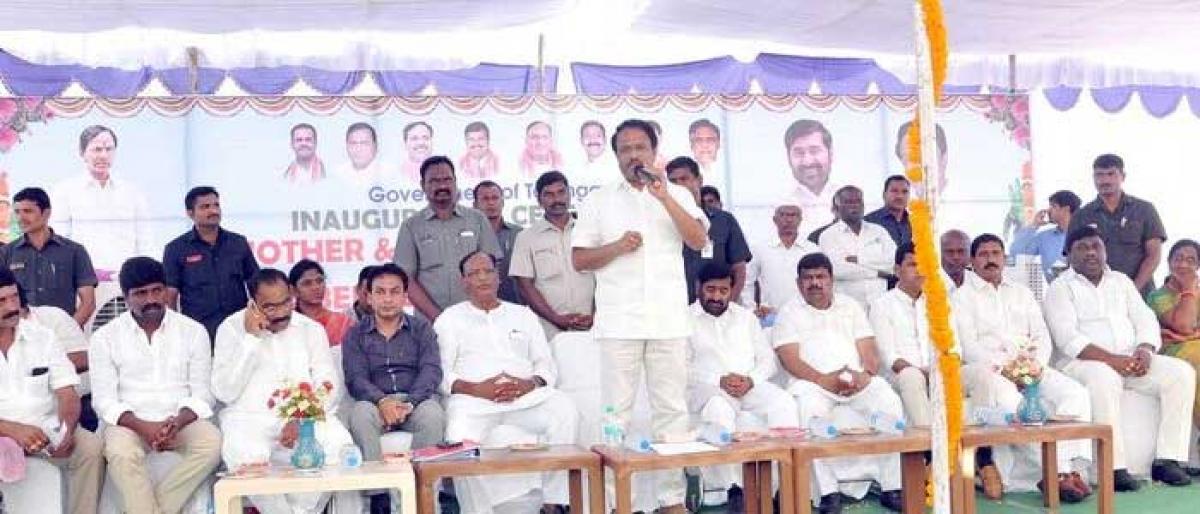 Highlights
Health Minister Dr C Laxma Reddy stated that creating a healthy Telangana was government's priority and in this regard the government was striving to...
Nalgonda: Health Minister Dr C Laxma Reddy stated that creating a healthy Telangana was government's priority and in this regard the government was striving to provide medical facilities on par with corporate ones in all state-run hospitals.
Along with Energy Minister G Jagadish Reddy and MP Gutha Sukender Reddy, the Health Minister inaugurates the 150-bedded mother and childcare centre and 150-bedded new block of district government hospital in Nalgonda on Tuesday.
Addressing the gathering on the occasion, Laxma Reddy stated that the situation in government hospitals has completely changed in the last three-and-a-half years and peoples' confidence in government hospitals too enhanced due to the prolonged improvement steps taken by the government.
Informing that they were planning to establish Intensive Care Units (ICU) in all district and area hospitals, he said government had provided a 60-bedded ICU unit in Gandhi hospital in Hyderabad which received appreciation from all quarters including that of Governor ESL Narasimhan.
Adding that as many as 40 dialysis centres would be started for the benefit of kidney patients, the Health Minister said the dialysis centre in Nalgonda district hospital would start functioning in a month.
Stating that KCR Kits has successfully helped in increasing the institutional deliveries in government hospitals, he advised doctors, ANMs and Asha workers to work hard to enhance the image of government hospitals and assured them of incentives.
"The falling of Infant Mortality Rate from 30 per cent to 31 per cent is an indicator of State's improved health status," he asserted, adding that the government was going to purchase as many as 145 "108" ambulances in addition to existing 145 vehicles.
Similarly, as many as 200 "102" vehicles for carrying pregnant women would also be bought.
He further informed that government was providing separate vehicles in the government hospitals to help the poor take the dead bodies of their dear ones to their homes at free of cost.
"For the welfare of government employees, retired employees and journalists, government has been establishing wellness centres in all district headquarter hospitals," he added, informing that Chief Minister K Chandrashekar Rao has agreed to recruit as many as 8,000 doctors and notification in this regard would be issued soon after completion of all formalities.
Laxma Reddy assured that he would try his level best to sanction medical college to Nalgonda and promised to take up the matter with the Chief Minister.
Collector Gaurav Uppal, ZP Chairman Balu Naik, MLAs K Prabhakar Reddy, V Veeresham and G Kishore, MLC P Ravinder, District Library Chairman Rekala Badaradri, District Medical and Health Officer Bhanu Naik, Revenue Divisional Officer Venkatachary, Hospital Superintendent Dr Narsinga rao, ICDS regional coordinator Shranya Reddy, TSFDC Chairman Banda Narender Reddy, TRS Nalgonda Constituency In-charge Dubbaka Narsimha Reddy and others attended the programme.
Subscribed Failed...
Subscribed Successfully...