Peddlers sell Ganja by rolling into cigarettes, arrested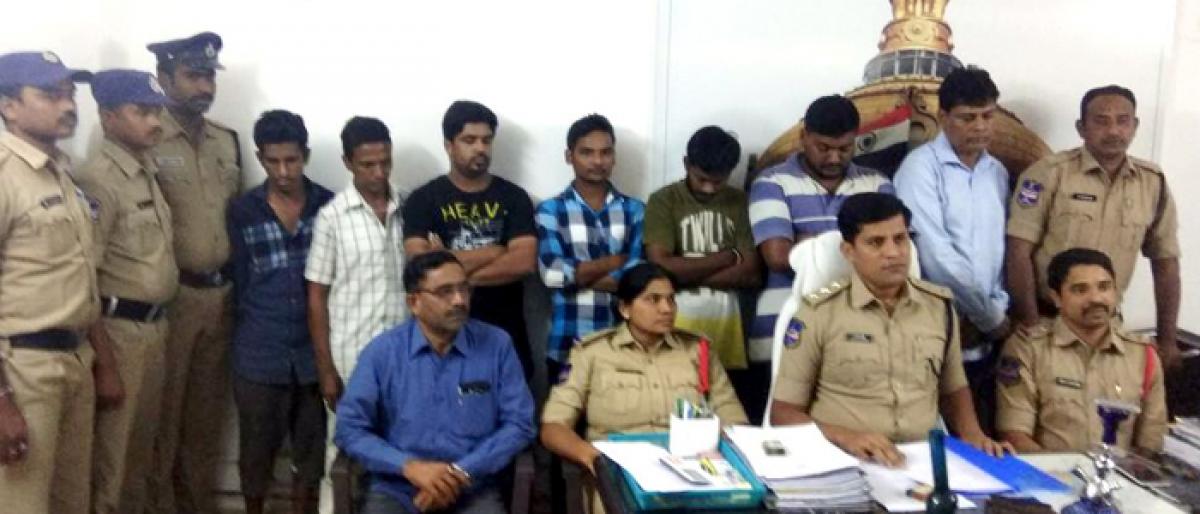 Highlights
The Kodad police have busted a Ganja racket that been selling the weed stuffed in cigarettes. The police recovered the contraband and hookahs. According to Kodad town CI Rajitha, on a tip off local police raided a hotel on Friday and caught seven persons redhandedly while consuming Ganga cigarettes
Suryapet: The Kodad police have busted a Ganja racket that been selling the weed stuffed in cigarettes. The police recovered the contraband and hookahs. According to Kodad town CI Rajitha, on a tip off local police raided a hotel on Friday and caught seven persons redhandedly while consuming Ganga cigarettes
The arrested were identified as Mohammad Manzur Kaleem, Mohammad Ansar Ali and Mohammad Khaleel of Hyderabad, Avidi Jayaram of Khammam and Dandala Saidireddy, Shaik Abdul Raheem and Mohammad Abdul Faheem of Kodad town. On thorough checking of hotel, it was found that the arrested were selling Ganja and other tobacco products to innocent people.
Presenting the accused before the media, Deputy Superintendent of Police Ramana Rao informed that Mohammad Manzur Kaleem, who previously worked as Editor of Civil Defence Weekly, recently opened a hotel in Kodad town. While Dandala Saidireddy was working as supervisor, Shaik Abdul Raheem was working as tea master and Mohammad Ansar Ali and Mohammad Kaleel were selling pans. Avidi Jayaram and Mohammad Abdul Faheem are his friends.
Kaleel who has been consuming Ganja for the last 12 years, purchased the weed and hookahs in Hyderabad and brought to his hotel. He was selling the Ganja to innocent customers in the form of cigarettes. He was selling each cigarette at Rs 50 with the help of his staff and friends.
On Friday, the police crackdown on the hotel exposed Kaleel's shady business. Town Circle Inspector Rajitha, Sub Inspectors Mahipal Reddy and Nazeeruddin and four police persons were part of the team that conducted the raids.