Gadwal lags in extending farm loans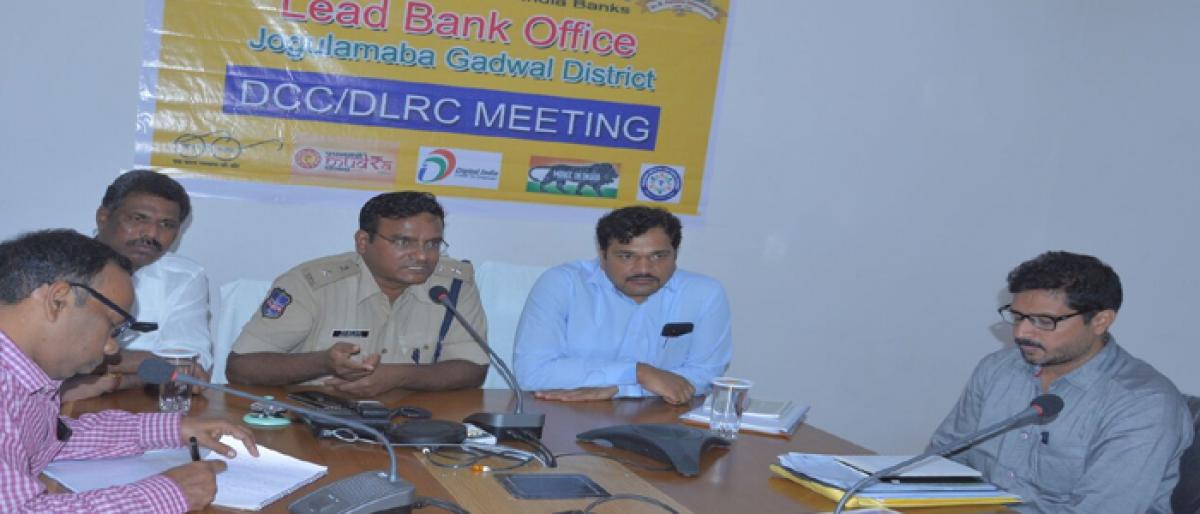 Highlights
The Jogulamba Gadwal district is lagging behind in disbursing bank loans for the year 2016-17. As against the target of Rs 801 crore to be distributed to farmers and small-scale industries, the banks could achieve only a target of Rs 438 crore. Expressing his displeasure over the way the bankers were disbursing loans, District Collector Rajat Kumar Saini sought to know the reason for the very poor
Gadwal: The Jogulamba Gadwal district is lagging behind in disbursing bank loans for the year 2016-17. As against the target of Rs 801 crore to be distributed to farmers and small-scale industries, the banks could achieve only a target of Rs 438 crore. Expressing his displeasure over the way the bankers were disbursing loans, District Collector Rajat Kumar Saini sought to know the reason for the very poor disbursement rate of loans.
"Gadwal is a backward district and it is high time the bankers give support for its economic growth. The co-operative and Grameena banks have emerged only to support the poor farmers and small and medium scale entrepreneurs, however it is ironic that these banks are not even able to disburse 50 per cent of targeted loans," the Collector expressed his anguish.
While speaking at a review meeting with the bankers, District Superintendent of Police Vijay Kumar said the Gadwal police have unearthed the fake passbook scam. "Till now, we have ceased as many as 6,500 fake passbooks. We are expecting that nearly 10,000 such fake land passbooks are there. The bankers need to verify the credentials of the customers and the documents submitted before giving them loans," said the SP.
He also asked the bankers to submit a detailed report of all the agriculture loan holders since 2009, so that it would help the police department to ascertain the number of fake land passbooks and at the same time contain such unscrupulous elements not to avail agriculture loans by mortgaging fake land documents.
Bhandari Bhaskar, Chairman of Zilla Parishad Mahbubnagar also urged the bankers to disburse loans liberally to Gadwal district and extend a helping hand to the grief-stricken farmers in the district.