Khammam Workers unions demand salary hike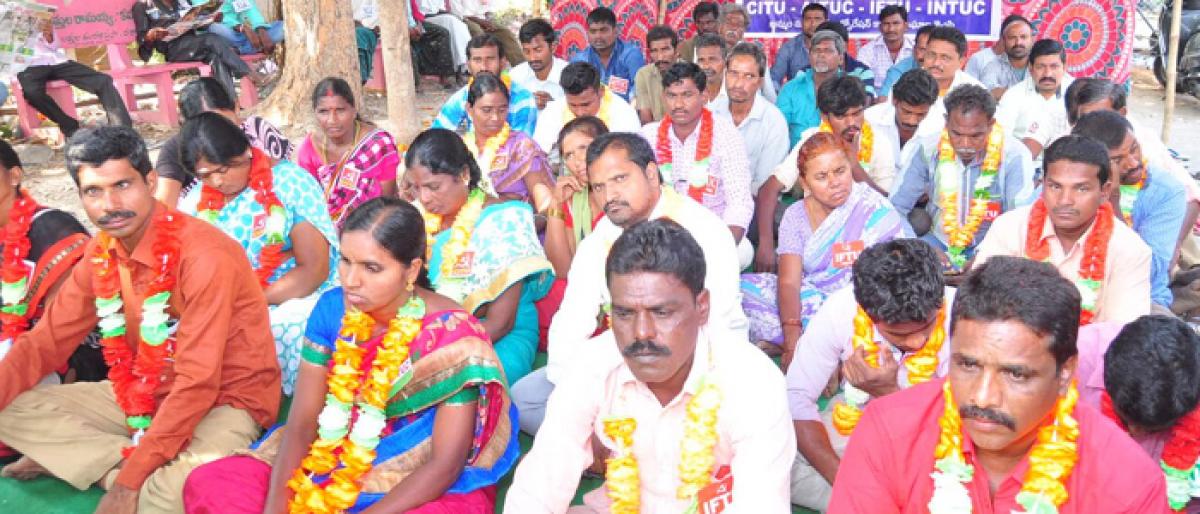 Highlights
The representatives of CITU, AITUC, IFTU and INTUC workers unions staged a relay hunger strike at Dharna Chowk in front of the Collectorate here on Monday, demanding that the government must increase the salaries of workers working in city municipal and corporation limits. Speaking on the occasion, CITU district secretary Narasinmha Rao said that many sanitary workers, working under city Municipal
Khammam: The representatives of CITU, AITUC, IFTU and INTUC workers unions staged a relay hunger strike at Dharna Chowk in front of the Collectorate here on Monday, demanding that the government must increase the salaries of workers working in city municipal and corporation limits. Speaking on the occasion, CITU district secretary Narasinmha Rao said that many sanitary workers, working under city Municipal and corporation limits, have been discharging their duties with less salaries since many years and were living in miserable conditions.
Municipal Minister K T Rama Rao had promised the workers that he would hike their salaries but failed to implement it till date. The government must release the GO increasing the salaries of city municipal and corporation workers immediately, he demanded. The agitations will be intensified in the coming up days in association with all working unions across the State if the government fail to meet their demand, he warned.
The district secretaries of AITUC, IFTU and INTUC Shingu Narasimha Rao, G Ramaiah and Md Pasha were present along with Ch Prasad, V Janakamma, H Swathi, M Venkateshwarlu, N Krishna, K Hanumanthu, T Nageshwar Rao, Ch Suryam Babu, T Ramulu, D Mahesh, M Latha, J Lakshkinarayana, Ch Viplav Kumar and M Jayamma were present along with others.