Governmentt working for Christians growth: Jagadish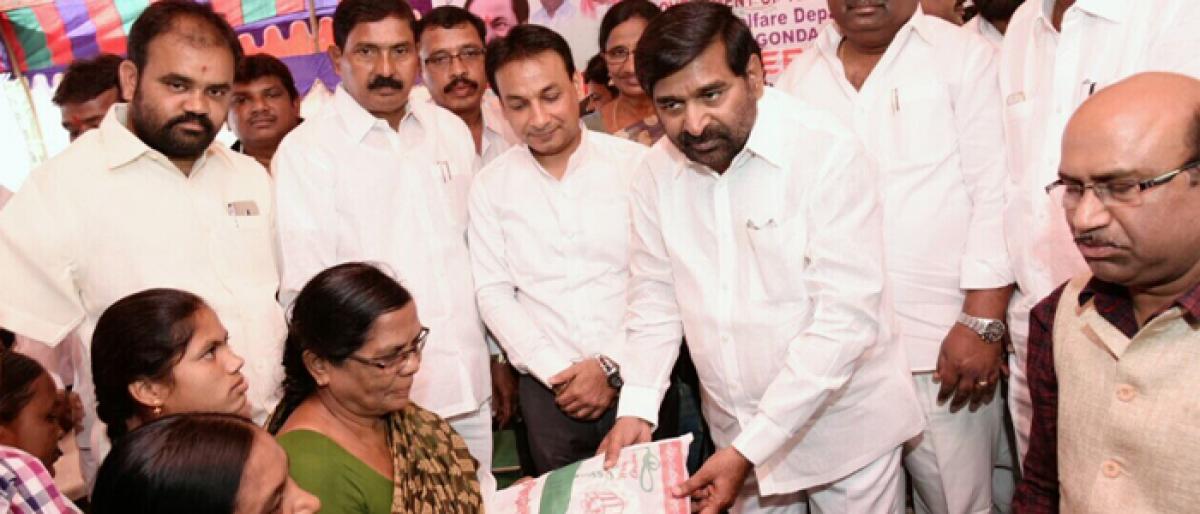 Highlights
Energy minister Gunthakandla Jagadishwar Reddy felt that Chief Minister K Chandrashekar Rao with his secular attitude achieved unity within a short span of three-and-a-half years. On Monday, the Minister took a whirlwind tour of Nalgonda and Suryapet districts and launched the clothes distribution programmes to poor Christians ahead of Christmas, in meetings held at Nalgonda, Halia, Huzurnag
Nalgonda: Energy minister Gunthakandla Jagadishwar Reddy felt that Chief Minister K Chandrashekar Rao with his secular attitude achieved unity within a short span of three-and-a-half years. On Monday, the Minister took a whirlwind tour of Nalgonda and Suryapet districts and launched the clothes distribution programmes to poor Christians ahead of Christmas, in meetings held at Nalgonda, Halia, Huzurnagar, Kodad and Suryapet.
Speaking on these occasions, the Minister said while on one hand the State government has been protecting the culture, traditions of all religions and all sections of people, on the other hand, irrespective of politics, it was developing all regions of the State on all fronts.
Stating that the efforts of Chief Minister has kept the State on top position in the country, he informed that the nation was looking up to Telangana when it came to introducing welfare schemes for the people. Government had announced two days holidays for Christmas and holiday on the eve of New year day for the convenience of Christain families to celebrate the festivals collectively.
Similarly, the government has been distributing the new clothes to poor Muslim minorities and Hindus on the occasion of Ramzan and State festival Bathukamma, he added.
Nalgonda and Suryapet District Collectors Gaurav Uppal and Surendra Mohan, TSFDC Chairman Banda Narender Reddy, MLC Poola Ravinder, RDOs and other local representatives and TRS leaders participated in the programmes.