Excursions and tours add value to education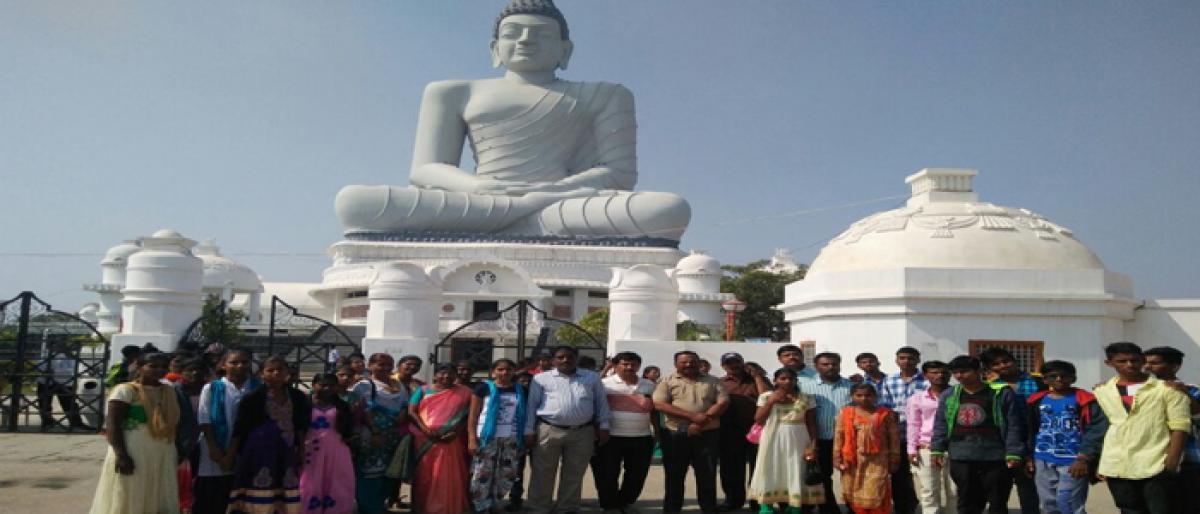 Highlights
Balalingaiah, a Senior Teacher from Zilla Parishad High School (Boys) Marikal said just giving book knowledge without making students experience and...
Mahbubnagar: Balalingaiah, a Senior Teacher from Zilla Parishad High School (Boys) Marikal said just giving book knowledge without making students experience and learn from real world, does not make a complete student. Whatever is taught in the class must be complimented with the outside world, he added.
He said that students must be taken on tours and excursions frequently in order to get them familiarised with the realistic world of historic, cultural and contemporary world to make them a complete learned citizen of this country.
Explain the importance of excursions and study tours as a part of school curriculum, Balangaiah says, "These days majority schools are not strictly following complete school curriculum and not showing much interest to take students on study tours or excursions. Because of this, students are confined to only theoretical knowledge and they may not understand the real subject what we teach in the class and what it exists in the outside world.
For instance, if we are teaching social and explaining about the importance of some historic places or if we are explaining a student about some dams, or some cultural and places of geographical importance, their knowledge is limited to only the teacher's ability to explain about that subject or it may confine only to the student's imagination. But if the same thing that is taught in the class has shown him physically, then the students will have a complete understanding that will remain forever in his mind."
Taking an initiative to help the students of ZPHS boys Marikal, Balalingaiah, along with other teachers recently had gone on an education tour and visited various places of historic and cultural significance in Telangana and Andhra Pradesh. "As part of our study tour we took 55 students of ZPHS boys Marikal students to Amaravati, where they got the firsthand knowledge of Buddhist Culture and visited a museum where they studied about the various artifacts, instruments and utensils used by Buddhist Scholars in those days.
Later, students were also taken to Vizag and visited RK beach and participated in Vishaka Utsav and later went to Burra Caves, which are naturally formed millions of years ago," said the Senior Teacher. Usually, excursions and study tours to government school students is a distance dream. However, Balalingaiah, a pro-active teacher from ZPHS Marikal has been in the forefront in ensuring that the students get complete knowledge about their surroundings apart from text book knowledge and had successfully conducted the five-day tour for the poor students.
The students of ZPHS were awe struck and realised that apart from text book knowledge there are many things which they need to know through such excursions and tours. As part of their five-day tour the students visited Kailash hill, Araku Valley in Vizag and also learned about the Dhavalesharam barrage constructed by British Civil Engineer Sir Arthur Cotton and visited the famous Bhadrachalam Temple in Khammam district of Telangana.
"Seeing and teaching is something a different experience. It gives a complete understanding of a place or nature. Explaining about the importance of dams, barrages, and canals had given firsthand experience to students. Usually we use to struggle in the class to explain about floods, canals and barrages theoretically, however by visiting these places the students could understand the real essence of their subject with complete understanding," said Madhusudhan Reddy, Head Master of ZPHS Marikal.
Subscribed Failed...
Subscribed Successfully...