Fighting communal elements is real tribute to Rohith: SFI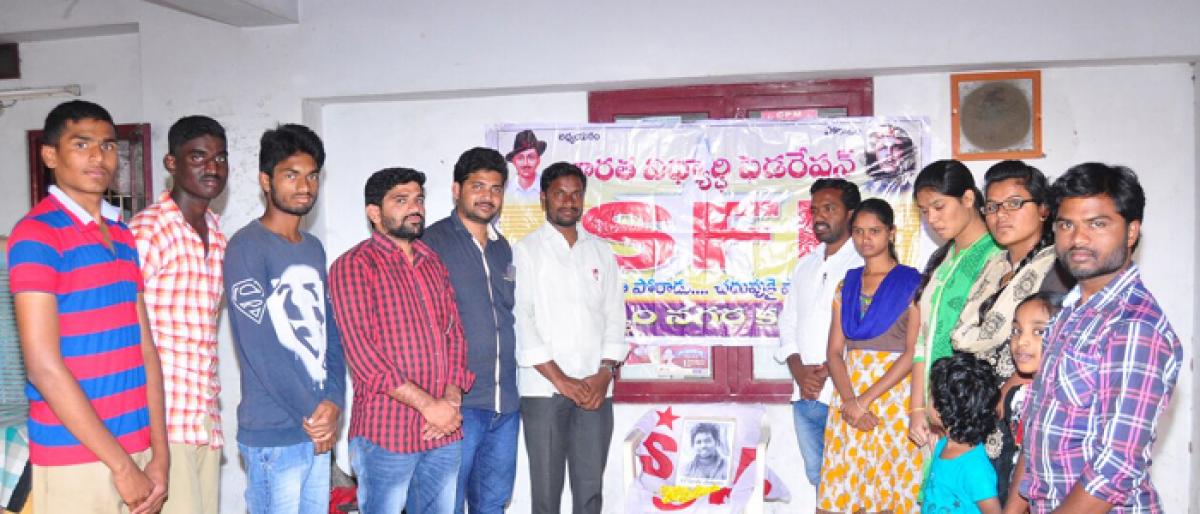 Highlights
Fight against communal elements is the real tribute to Rohith Vemula, said district secretary of Students Federation of India (SFI) T Naga Raju. Addressing the Rohith Vemula commemoration meet, organised in the SFI office here to mark his second anniversary, Raju blamed the 'BJP and ABVP conspiracy' for the research scholar's death. District unit president Ch Ramesh and joint secretary M Shanti Ku
Khammam: Fight against communal elements is the real tribute to Rohith Vemula, said district secretary of Students Federation of India (SFI) T Naga Raju. Addressing the Rohith Vemula commemoration meet, organised in the SFI office here to mark his second anniversary, Raju blamed the 'BJP and ABVP conspiracy' for the research scholar's death. District unit president Ch Ramesh and joint secretary M Shanti Kumar also spoke.
Citing the cases of Gauri Lankesh, a youth journalist in Tripura and many others, the SFI leaders alleged that after BJP came to power those questioning the party were being assassinated. "This amounts to crushing democracy in the country," they asserted, while calling for unity of all secular forces for protecting democratic norms.
The leaders pointed out that not only intellectuals, but even girl students of the Banaras Hindu University were being attacked by the BJP, RSS and ABVP activists. "Such attacks have increased," they stated, giving a call for a united fight by the student community against communal elements. Among those present were SFI district vice-president Hemanth, Bhavani, SFI city president B Sagar, vice-president Gayatri, leaders Naveen, Charles and Vinod.