TRS MLA welcomes Motkupally's comments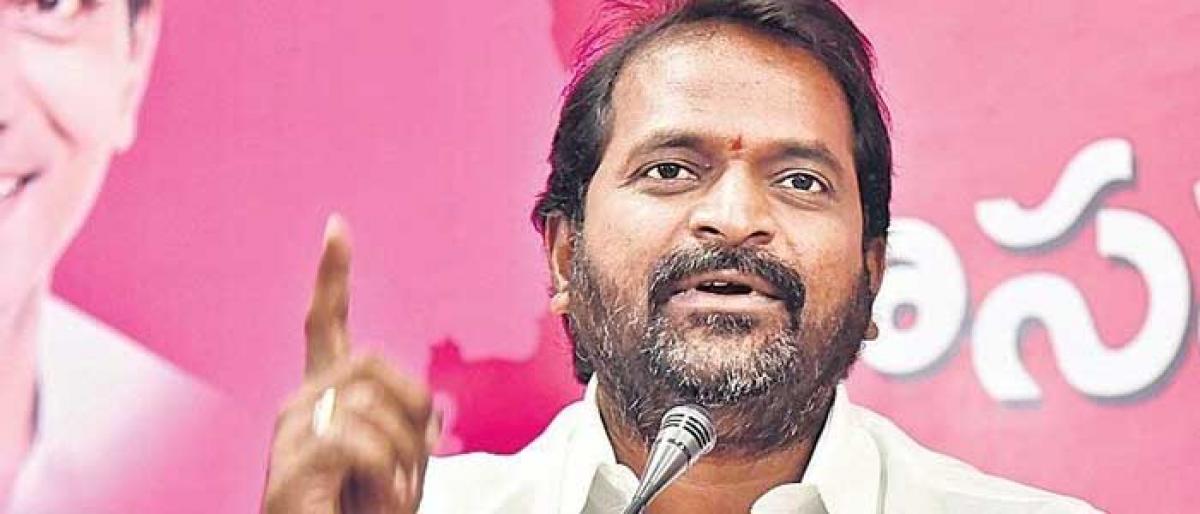 Highlights
MLA Srinivas Goud welcomed the comments of senior Telangana Telugu Desam Party (TDP) leader Motkupally, who had earlier commented on merging of the...
Mahbubnagar: MLA Srinivas Goud welcomed the comments of senior Telangana Telugu Desam Party (TDP) leader Motkupally, who had earlier commented on merging of the TDP in Telangana Rashtra Samithi (TRS) party on Thursday in Hyderabad.
While giving his opinion on Motkupally's comments, the Mahbubnagar MLA said that it was not just Motkupally, who is a staunch TDP leader attracted toward TRS by seeing its development activities in the State; but there are also many senior leaders in various other parties are showering praises at the quantum of development activities being taken up and the way they are being implemented in a time bound manner by Chief Minister of Telangana K Chandrashekar Rao.
"We are happy, that at least now the TDP senior leaders from Telangana are realising the importance of Telangana being carved as a separate State and expressing their satisfaction at the way the development activities are being taken up by Chie Minister K Chandrashekar Rao. The recent comments of Motkupally are an apt example, as it endorses KCR's development model in the State," said the MLA.
However, the MLA termed the decision of whether merging or not merging Telangana TDP party in to TRS is their own internal matter and TRS is nothing to do with the internal party affairs of the TDP.
Earlier, Srinivas Goud had expressed his displeasure over senior party leaders for not giving priority to leaders who worked hard during Telangana movement and said that those who opposed Telangana movement and created hurdles were given top positions in the government. However, he later said his comments were not against CM KCR's decisions to letting other party members join the party, but he was opposing at the way the new entrants were given priority over the party cadres who were active during Telangana movement.
The MLA also strongly refuted the recent comments of Rajiv Kumar, Vice President of NITI Ayog, who said that Telangana was developing only because of taxes paid by the Andhra Pradesh business men and the Andhra employees. The MLA said such irresponsible comments by a senior member of NITI Ayog do not augur well for his position. Being a Central government member of a policy making body his comments should have been more measured and should not be like creating more rifts between the two State governments.
"We strongly oppose such biased comments by members of a responsible body like NITI Ayog. They are unnecessarily creating rifts between the two sibling States. In fact, he should be reminded that even before formation of Telangana the Hyderabad State had a surplus budget and was far ahead in financial position compared to AP.
Hyderabad is a cosmopolitan city since decades and people from not only Andhra Pradesh, but also various other States had settled here and paid taxes to the local government. By seeing the development in Hyderabad, the then separated Andhra State from Madras was attracted toward Hyderabad and they merged with Telangana region. So it is not just AP people, people from various States had settled here and paid taxes and lend their hand in the development of this region," observed the MLA.
Subscribed Failed...
Subscribed Successfully...