Students told to make India a super power: ABVP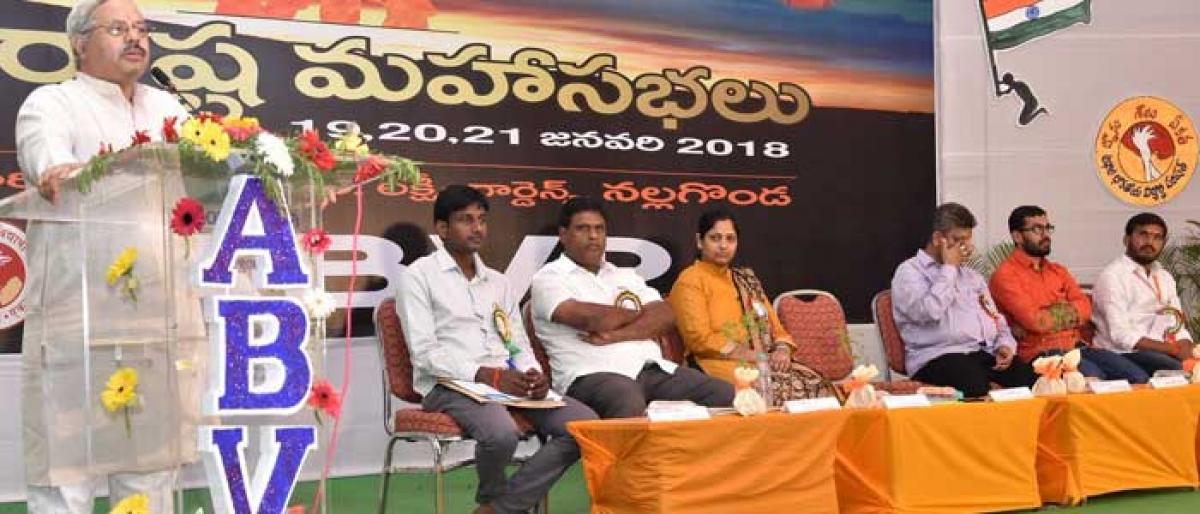 Highlights
Akhil Bharatiya Vidyarthi Parishad (ABVP) National General Secretary Sunil Ambekar stated that ABVP, the biggest student union in the world, has been inculcating patriotism among the students since its inception. Ambedkar participated as a chief guest to a meeting organised as part of Parishad's three-day state meetings in Nalgonda
Nalgonda: Akhil Bharatiya Vidyarthi Parishad (ABVP) National General Secretary Sunil Ambekar stated that ABVP, the biggest student union in the world, has been inculcating patriotism among the students since its inception. Ambedkar participated as a chief guest to a meeting organised as part of Parishad's three-day state meetings in Nalgonda on Friday. Addressing the gathering after hoisting the organisation's flag, he said some students' associations of Left parties have been dividing students in the name of caste and religion.
However, countering their move, ABVP has been working on all issues for the welfare of students in the country. Stating that ABVP had lost as many as 42 activists in the attacks by students of Left parties in Telangana state, he informed that deriving the spirit from committed Telangana ABVP activists, ABVP wings of Kerala and West Bengal are striving for the national integration and patriotism to make the country a super power internationally.
Parishad's zonal organising secretary Ram Mohan, leaders Mula Ramu, Shiva Kumar, Niranjan, Kanneboina Sridhar and large number of students across the State attended the meeting.