Harish reviews PRRLI works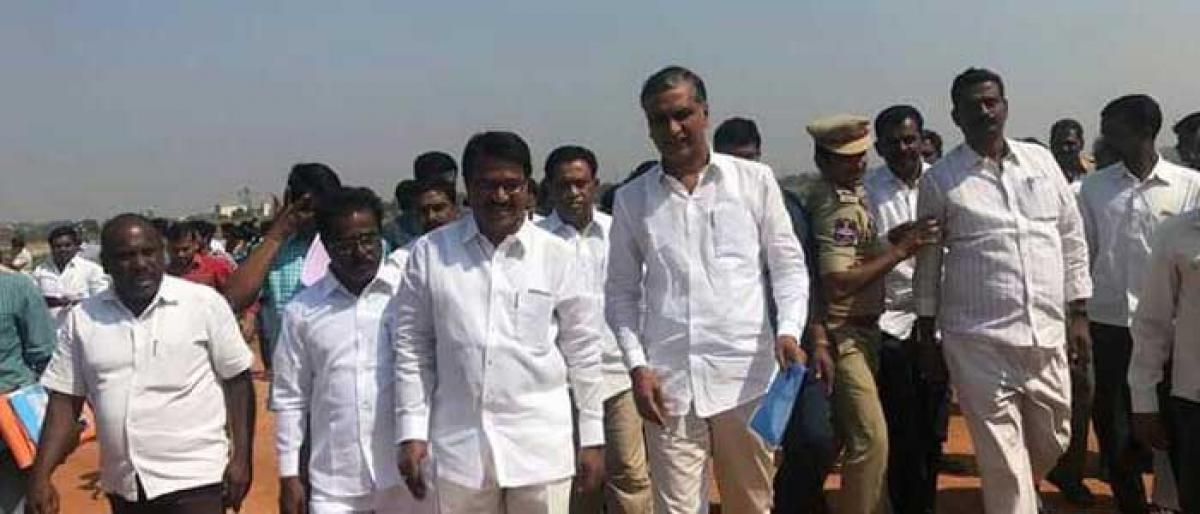 Highlights
After inspecting the Palamuru Ranga Reddy Lift Irrigation (PRRLI) works at Vattam village of Bijinepally on Monday, Irrigation Minister Harish Rao said "PRRLI is one of the largest irrigation projects in the country. At present the works are going on at a fast pace and I am confident that the project will be completed in the targeted period."
Nagarkurnool: After inspecting the Palamuru Ranga Reddy Lift Irrigation (PRRLI) works at Vattam village of Bijinepally on Monday, Irrigation Minister Harish Rao said "PRRLI is one of the largest irrigation projects in the country. At present the works are going on at a fast pace and I am confident that the project will be completed in the targeted period."
He reviewed PRRLI works and said the State government was committed to provide irrigation water to every acre in Nagarkurnool, Wanaparthy and Mahbubnagar districts. While explaining the uniqueness of the project, the Minister termed the project as one of the best projects constructed with minimum loss of forest land and with maximum water storage (TMC) capacity ever constructed in the country.
Harish took a jibe at Congress leaders and said the Congress was blocking the project by filing cases in court. He said the Congress leaders have no love towards the people of Palamuru district. They are creating hurdles by filing cases in the court in order to delay the project works, as they were afraid that they will have no future in the district if the project was completed on time. "But their cheap tactics cannot show any affect on us and will go ahead to complete the project at any cost," Harish Rao asserted.
The Minister said the government was ready to counter all the cases in the court and will soon get all the clearances from both forest and environment departments and will complete the project on time.