Temples reverberate with Siva chants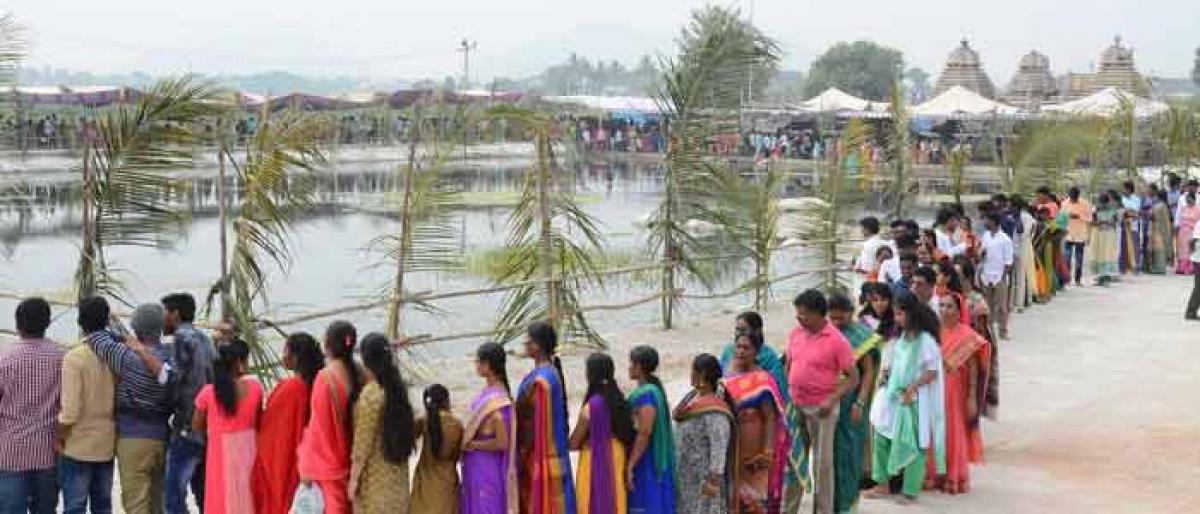 Highlights
Maha Sivaratri was celebrated with devotion and fervour in erstwhile Nalgonda district on Tuesday. Thousands of devotees thronged famous shiva temples in Wadapally, Cheruvugattu, Pangal, Eleshwaram and Nagarjunasagar in Nalgonda
Nalgonda: Maha Sivaratri was celebrated with devotion and fervour in erstwhile Nalgonda district on Tuesday. Thousands of devotees thronged famous shiva temples in Wadapally, Cheruvugattu, Pangal, Eleshwaram and Nagarjunasagar in Nalgonda district, Someshwaralyam of Kolanpaka, Bheema Lingam of Valigonda, Pacchalakatta Someshwaralyam of Bhongir in Yadadri district, Pillalamarri, Mellacheruvu, Burgulagadda, Nagulamapati Annaram and Somaram in Suryapet district.
On the occasion, devotees performed special pujas and Abhishekams to Lord Siva. Temples reverberated with Om Namah Sivaya chants. Respective temple authorities made elaborate arrangements for the convenience of devotees.
Police of respective districts took security measures at all famous temples. Department of Tourism ran ferries from Nagarjunasagar to Eleshwaram for the convenience of devotees and Nalgonda district administration along with police arranged boats and swimmers at Shiva temples located along the Krishna river belt.
Minister G Jagadish Reddy along with Miryalaguda MLA Bhaskar Rao visited Wadapally temple on the occasion and offered prayers. Telangana Pradesh Congress Committee N Uttam Kumar Reddy performed special puja at Mellacheruvu temple, TSFDC chairman Banda Narender Reddy and Nalgonda MLA Komatireddy Venkat Reddy had darshan at Cheruvugattu and Pangal temples, respectively.