Buyers, sellers told to become adept at new technologies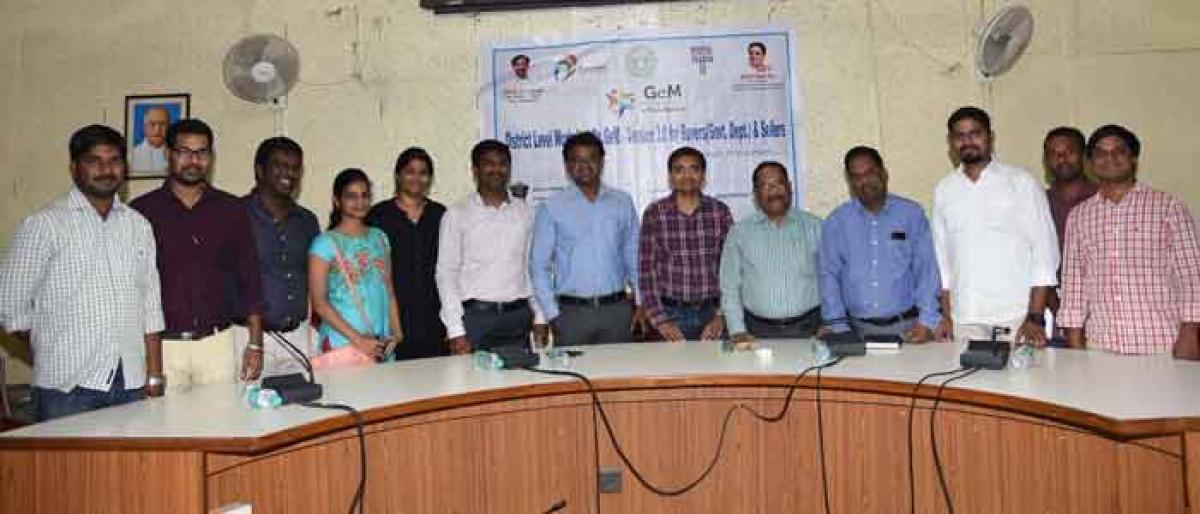 Highlights
Stressing that the customers and manufacturers in the district must utilise the e-marketing facilities provided by the government, in-charge Joint Collector Krishna Aditya said, "With changing marketing trends and increased globalisation, it is time that the product manufacturers, customers along with the government departments must fast catch up the new technologies and make the maximum out of th
Mahbubnagar: Stressing that the customers and manufacturers in the district must utilise the e-marketing facilities provided by the government, in-charge Joint Collector Krishna Aditya said, "With changing marketing trends and increased globalisation, it is time that the product manufacturers, customers along with the government departments must fast catch up the new technologies and make the maximum out of the e-marketing facilities provided by the government."
While taking part in the one-day district level workshop on the topic 'Gell Vision 3.0' conducted for the buyers, government departments and sellers, at a meeting at Revenue Meeting Hall on Tuesday, the In-charge Joint collector stressed that government officials, computer operators along with buyers, sellers and manufacturers must learn about the new and emerging technologies and must also get acquainted with the government's e-marketing procedures to get maximum benefit for the products through marketing online.
During the workshop, the computer operators, government officials, buyers, sellers and manufacturers were given training as to how to get registered in the e-marketing application of the government. They were also taught how to enter the details of the products being manufactured by the sellers, and the government officials were also given lessons as to how to help proceed with e-marketing in the district.
"The main objective of conducting this e-marketing one-day workshop is to help the product manufacturers and sellers to upload the product details in the government e-marketing website.
Using this new concept of e-marketing, now the government is able to know who is manufacturing what and where, and once their details are uploaded, within 48 hours the customer will get a verification message and will ask the customers to crosscheck and update the correct details of their products.
Once this is done, then the manufacturers, sellers and buyers will be able to access all these products online and can get easy marketed across the world," informed the Joint Collector.
He also added that very soon computer illiterates would be trained during March Seva week, where one person from a house would be taught about computers and its devices.
As the e-marketing is being introduced for the first time in Mahbubnagar on a pilot basis, the initial beginning will have problems. However, once it is launched, in the long run it will be very useful for the people, similar to e-seva, serving in the rural villages, said Krishna Aditya.