Villagers plagued by flies want officials to swat erring poultry farm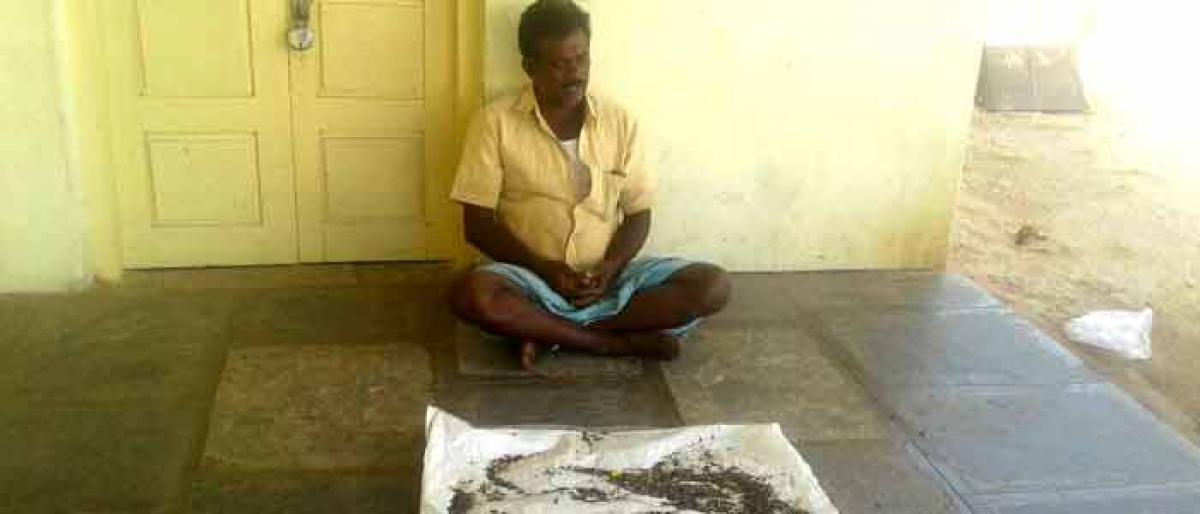 Highlights
It is a curious case of a poultry farm stirring a hornets' nest. Swarms of flies have been literally rendering sleepless nights to the residents of Ellikatte village of Chityal mandal in the district for quite some time. There seems to be no end to the fly menace in Ellikatte village as flies have been multiplying in appalling proportion after the establishment of a poultry farm on the outskirts o
Nalgonda: It is a curious case of a poultry farm stirring a hornets' nest. Swarms of flies have been literally rendering sleepless nights to the residents of Ellikatte village of Chityal mandal in the district for quite some time. There seems to be no end to the fly menace in Ellikatte village as flies have been multiplying in appalling proportion after the establishment of a poultry farm on the outskirts of the village.
According to sources, in 2015, a huge poultry farm, having a capacity of five lakh birds, was set up in 70 acres on the outskirts of the village. As per norms, several measures need to be taken before starting such a huge farm and hygiene should be maintained regularly in and around the farm.
However, despite objections, the management of the farm, allegedly by offering goodies to local body representatives and other leaders, secured necessary permission from the gram panchayat for setting up the farm.
During the course of time, the management of the farm failed to take measures for proper hygiene which led to surge in population of flies. According to a villager, Sandeep, the situation has turned from bad to worse in recent times where flies could be seen everywhere in the village and at homes.
People are forced to shut down doors of their houses to protect themselves from droning flies. Apart from Ellikatte, four other neighbouring villagers have also became victims to the menace. Further, the villagers have appealed to officials concerned to take necessary action against the poultry farm management and take mitigating measures. However, their pleas remain unaddressed.
"The entire village is facing the problem of flies due to the poultry farm. As per norms, management of the poultry farm must take several measures including regular cleaning of the farm, shifting of bird wastages to compost yards, spraying of chemicals to kill bacteria and the like. But not a single measure has been taken by the management so far," Sandeep said, adding that many villagers were falling sick due to the menace.
"Whenever villagers stage protests, the management sprays some chemical in the village for temporary relief," he added. Meanwhile, a couple of days ago, the irate villagers staged a dharna before the gram panchayath seeking closure of poultry farm. They threatened to intensify the protests if officials of gram panchayat and management of the poultry farm failed to address the issue within a week.