SFI pays tributes to Azad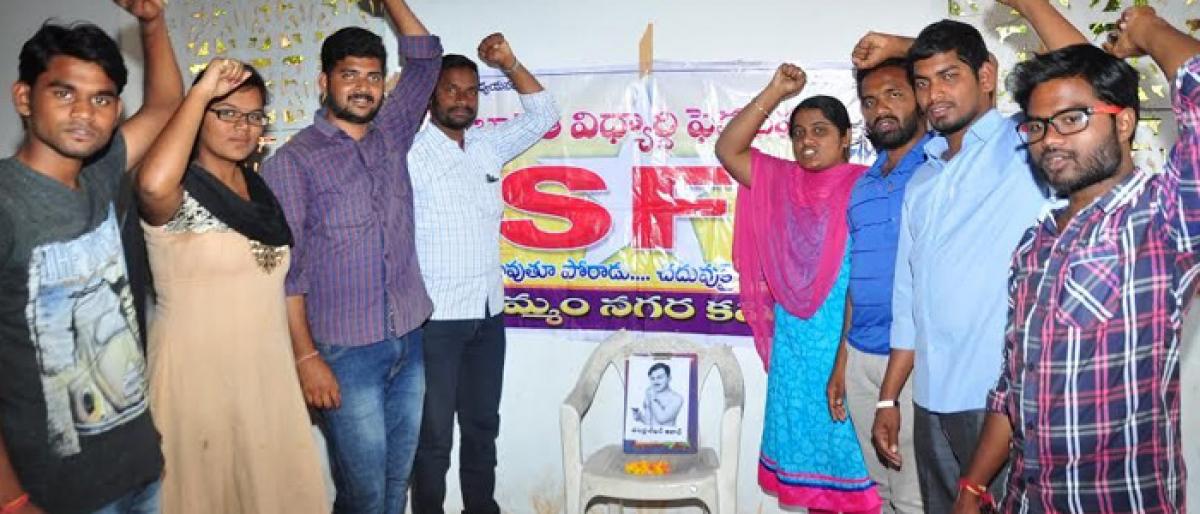 Highlights
The 87th death anniversary of freedom fighter and revolutionary leader Chandrashekar Azad was observed on a grand note by the representatives of Student Federation of India, in Khammam on Tuesday. Paying floral tributes to the photograph of Azad, Federation's District Secretary T Naga Raju said Azad was one of the greatest leaders of India who participated in freedom struggle and fought bravely ag
Khammam: The 87th death anniversary of freedom fighter and revolutionary leader Chandrashekar Azad was observed on a grand note by the representatives of Student Federation of India, in Khammam on Tuesday. Paying floral tributes to the photograph of Azad, Federation's District Secretary T Naga Raju said Azad was one of the greatest leaders of India who participated in freedom struggle and fought bravely against the British rule.
"He was the youngest leader who sacrificed his life at age of 24 for the sake of the nation and changed his name to Azad, seeking independence to the country," he reminded, adding that Azad shot himself instead of dying in the hands of British.
Taking Azad as inspiration, the youth of present generation must fight against governments which robbing the innocent people, he urged. He appealed the youth to unite to fight against Narendra Modi led BJP government which was encouraging corporates and robbing poor and middleclass of their hard-earned money.
Federation State leader Rajani, district leaders Ch Ramesh, B Hemanth, Gayatri, Sagar, Vijay, Saida were present along with others.