Open discussion on 1932 communal award on March 4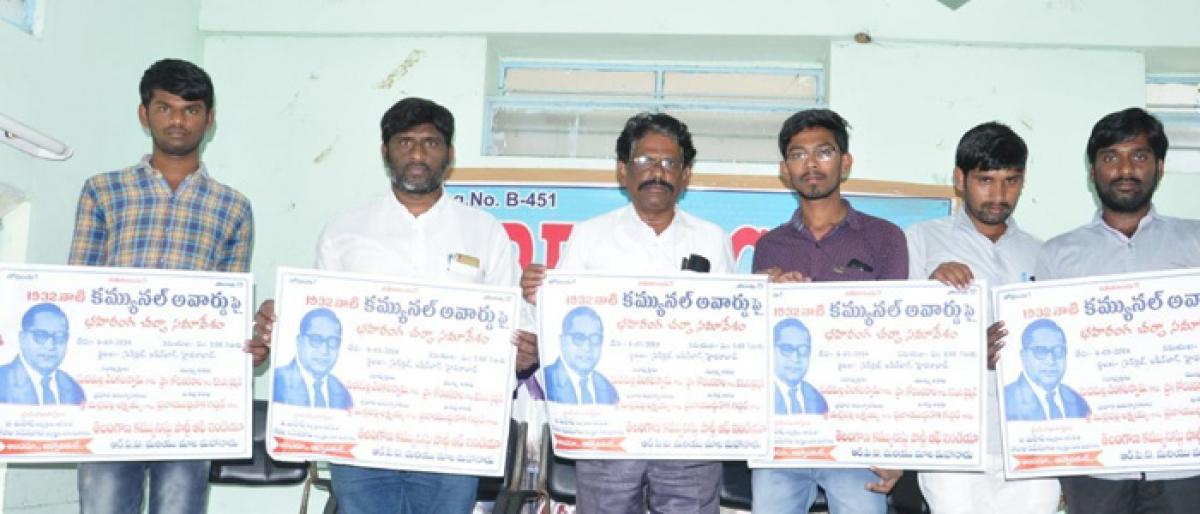 Highlights
The District general secretary of the Mala Mahanadu, Sudamalla Venkata Swamy on Friday appealed to the people belonging to Schedule Castes and Schedule Tribes community to join the movement once again for achieving 1932 communal award. He along with the District president G Ramesh Babu and the representatives of Mala Mahanadu released a poster of 'Open discussion programme' on '1932 Communal Award
Khammam: The District general secretary of the Mala Mahanadu, Sudamalla Venkata Swamy on Friday appealed to the people belonging to Schedule Castes and Schedule Tribes community to join the movement once again for achieving 1932 communal award. He along with the District president G Ramesh Babu and the representatives of Mala Mahanadu released a poster of 'Open discussion programme' on '1932 Communal Award,' to be held on March 4.
Speaking to the media persons, S Venkata Swamy said that even after 70 years of Independence, atrocities continued to be committed on the SC and ST communities. The steps that are taken for the development of SCs and STs along remained on papers only.
The leaders who belong to SCs and STs and those who had been elected on reservation quota of SC and ST are not even condemning the attacks, he said. The leaders are unable to protect the reservation rights of SCs and STs that are provided by the Indian Constitution, he alleged.
To overcome these problems and to achieve the reservations enshrined in the Constitution, all the people belonging to SCs and STs must fight united taking Dr. B R Ambedkar as an inspiration.
He said that the TJAC Chairman Prof Kondaram, Mallepalli Lakshmaiah and Gaddar along with MRPS State president Yatakula Bhaskar would attend the Open Discussion Programme to be held on March 4 at Hyderabad along with the leaders from Congress, TDP and Left parties. The representatives of Mala Mahanadu Nageshwar Rao, P Rathna Raju and Naveen were present at the press meet.