BIV demands 3 acres of land to tribals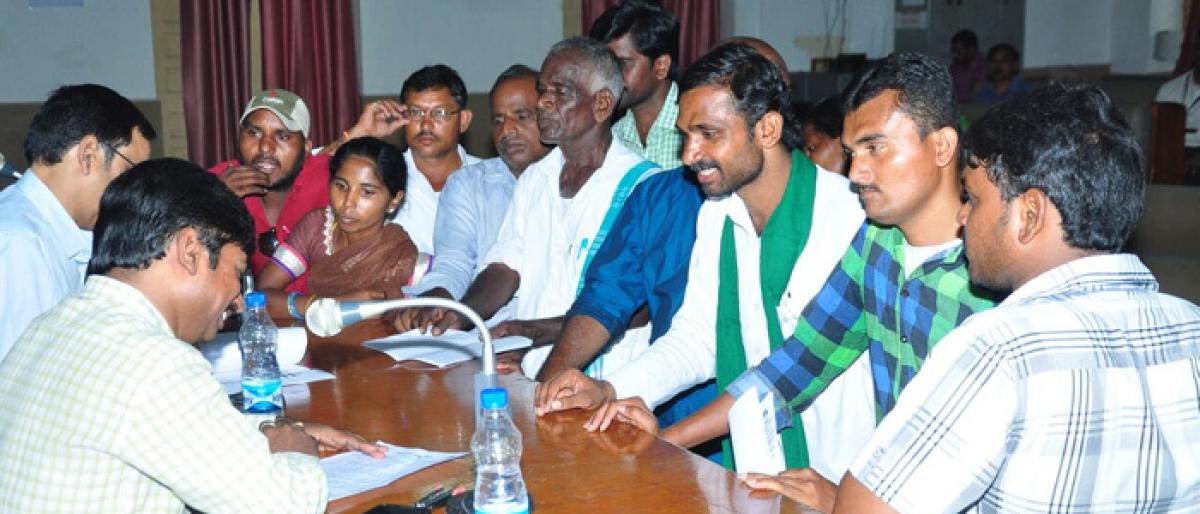 Highlights
District leader of the 'Bahujana Ikya Vedika'(BIV) Bhadru Naik urged the TRS government to fulfill its promise of distributing three acres of land to members of the tribal community. Reminding the TRS leaders of the promise that it made during electioneering in 2014, he said that the promised land should be distributed immediately. Apart from this, the government should also solve various other pr
​Khammam: District leader of the 'Bahujana Ikya Vedika'(BIV) Bhadru Naik urged the TRS government to fulfill its promise of distributing three acres of land to members of the tribal community. Reminding the TRS leaders of the promise that it made during electioneering in 2014, he said that the promised land should be distributed immediately. Apart from this, the government should also solve various other problems faced by the tribals, he added.
The representatives of the BIV submitted a memorandum to the district in-charge Collector Rajiv Gandhi Hanumanthu here at the Zilla Parishad Conference hall on the occasion of 'Grievances Day' here on Monday.
Speaking on the occasion, Bhadru Naik alleged that before coming to power in 2014, the TRS party made a promise of distribution of 3 acres of land to tribal people along with establishing of Tribal University but did not fulfill them after coming into power and forming the government.
The State government was not implementing the Forest Rights Act in the tribal regions properly and it failed to sanction the pattas to the podu farmers who were cultivating Podu lands since decades, the BIV leader alleged. He demanded the setting up of a Tribal University and tribal study centres for the tribal youth and a Banjara Bhavan (Community Hall) in the district headquarters.
Naik also demanded the government to implement the Rythu Bandhu Scheme to the Podu farmers along with Forest Rights Act in the tribal regions. The representatives of the Association, Ravinder, Saleem, Nagaraju, Ramesh, Harish, Ramu and Thota Ganesh were present along with others.