Rythu Bandhu Scheme draws enthusiastic response in Mahbubnagar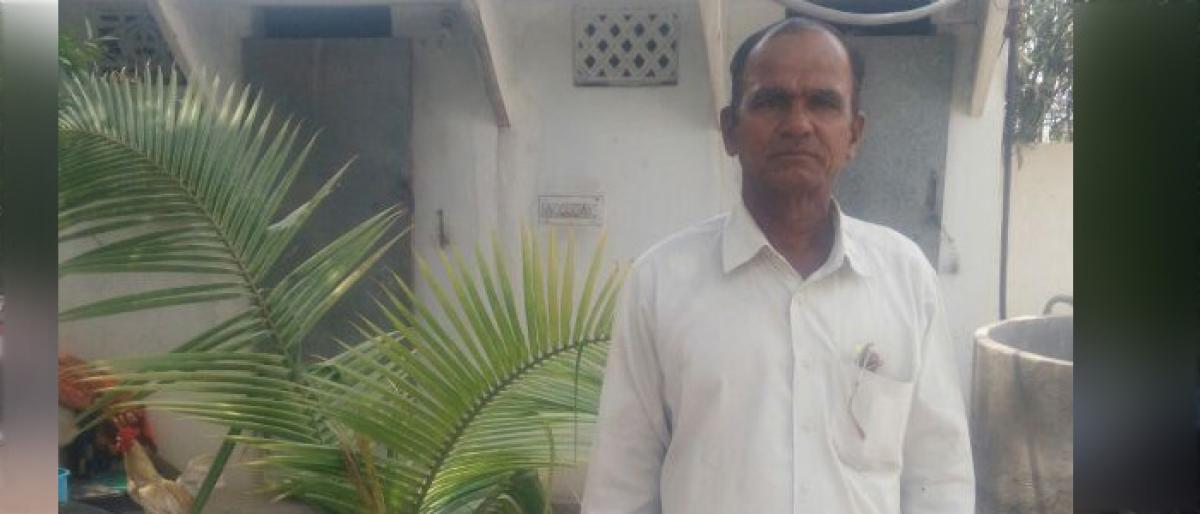 Highlights
Rythu Bhandu Scheme has provided a great succour to the farming community in Mahbubnagar district during this kharif season. The farmers feel that...
​Mahbubnagar: Rythu Bhandu Scheme has provided a great succour to the farming community in Mahbubnagar district during this kharif season. The farmers feel that they need run from place to place to borrow money to start farm operations.
With government giving Rs 4,000 per an acre, the farmers are happily preparing and making plans in advance for kharif seaso. Amgoth Chander Nayak, a farmer from Shankarayapally village under Jadcherla mandal, is jubilant as he has got Rs 40,000 for his 10 acres of land. "The Rythu Bhandu scheme is a great help being extended by the government for the farmers.
Earlier we used to approach banks for crop loans and they turn us away on one or other pretext. We were forced to borrow from moneylender at exorbitant interest. We used to pay entire money we secured after selling the produce to the moneylender," said Amgoth Chander Nayak.
Earlier, the farmers had to run for pillar to post and were forced to depend up on mneylenders and bankers, who used lend money by mortgaging the patadar passbooks and used to charge higher interests rates.
Thanks to Rythu Bhandu scheme, this has really restored the confidence of the farmers. Even those farmers who felt agriculture is a risky affair are now happily coming forward to do cultivation.
Mudavath Shanker, who has two acres of land, left it barren for the past two years and doing brick-making business. However, with government giving crop investment, he is enthused to cultivate his land during this season. "I have got Rs 8,000 cheques and I am planning to sow maize this season. This is really a great encouragement for the farmers," said Mudavath Shankar of Mangali Kunta Tanda village in Mahabubnagar district.
Earlier with no robust financial system to assist the farmers and with unpredictable monsoon, many had abandoned agriculture as a career and were either migrating to other places to work as labourers to make a living in cities or doing some other business. "Agriculture is a risky venture. It is totally dependent rains in Mahbubnagar. There are no canals and only source of water is rains, borewells and lakes.
If rainy season fails, agriculture totally collapses. Rythuy Bhandu is a great step by the government. If not fully, it is definitely helping the poor farmers who were earlier struggling a lot for input capital," said Parishya Nayak of Shankarayapally village in Jadcherla mandal.
Expressing his opinion on the newly introduced Rythu Bhandu, Amgoth Chander Nayak further added that due to lack of funds earlier he opted for agriculture only during rainy season. That too out of 10 acres he used to cultivate only three acres and the rest was left barren. However, with government providing input subsidy, this year he is planning to sow paddy as usual and along with it he is also trying to experiment with jowar, maize and pulses by expanding his area of cultivation to another three acres.
Giving his experiences Nayak said that every year he invested Rs 50,000 as input capital for cultivating three to five acres of land. That means on an average Rs 10,000 per acre is spent. However, if rains are good, he will earn returns double the investment, but if rains are not good, getting half of investment is also not guaranteed.
Thanks to Rythu Bhandu, I need not borrow from moneylenders or banks and I am hoping good returns if moons are good," observed Nayak explaining his farming owes. He appealed to the government to ensure that minimum support prices is paid for agriculture produce.
Subscribed Failed...
Subscribed Successfully...