Minting money from mangoes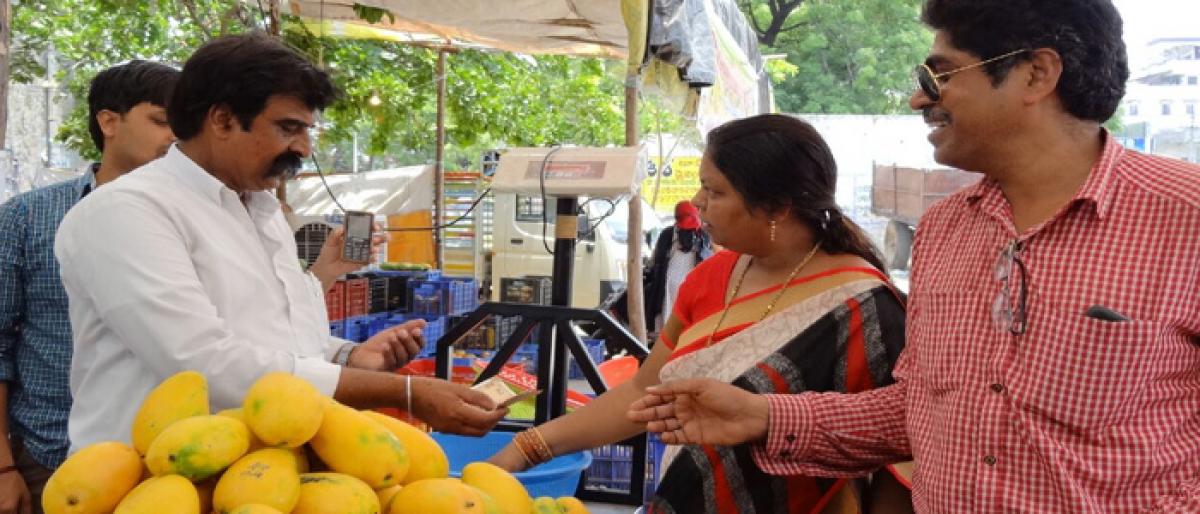 Highlights
It will never be a perfect summer in this part of the world without really tasting the mangoes of this progressive tribal farmer who fought odds to...
​Khammam: It will never be a perfect summer in this part of the world without really tasting the mangoes of this progressive tribal farmer who fought odds to scale heights of riches that cultivators rarely achieve. Banoth Laxman in his mid-50s made it possible with sheer perseverance.
Given the droughty conditions of his village Govindrala under Kamepally mandal, it is unthinkable for someone to imagine himself being a successful farmer, but this is exactly what Laxman did. Kudos to the Horticulture Department also which initially played a pivotal role in the success of Laxman.
A few years ago, Laxman was like any other farmer in his village struggling to make a living. Got wind of the subsidy offered by the government, he approached the Horticulture Department which he never had expected perhaps that it could change the fate of his life. He just did not avail all the subsidies provided by the government but made them count.
Sparing a part of his 10 acres for cultivating food grains for his family needs, Laxman took up mango farming on a large scale following the tips of the Horticulture officials. Quick to identify the huge demand for carbide-free mangoes in the market, he opened an outlet in the district headquarters Khammam with the help of officials in 2013.
Since then, he never looked back. The denizens, who are aware of the ill-effects of the artificially ripened mangoes, invariably head to his outlet on the premises of the Pavilion Grounds. The outlet has a wide variety of mangoes - Banganpally, Dashera, Himayat, Alphonso, Rasalu etc, in addition to chutney kinds – Jalalu, Mallika, Neelam, Tella Gulabilu etc.
Although he made strides financially, Laxman had never neglected the studies of his three children. While his elder son Ravinder is now in total control of farming activity, his younger son Devender is a final year medico in Gandhi Medical College in Hyderabad. His daughter Bhavani recently completed BTech.
Speaking to The Hans India, Khammam Horticulture and Sericulture Officer R Srinivasa Rao said: "Laxman is one of those rare tribal farmers who made full use of subsidies and technology assistance provided by the government and achieved tremendous success."
Ravinder, who believes that horticultural farming is best bet, said that it was unfortunate that majority of farmers stuck to their age-old practices, this despite the authorities' efforts to empower them. Farmers can at least make Rs 1 lakh per acre if they go for vegetable cultivation, he added.
His medico brother Devender who never misses an opportunity to take part in farming activity said that organising weekly markets in villages are likely to reduce the role of middlemen who were denting the income of cultivators. Both the brothers want the government to organise frequent Rythu Sadassus, so that farmers exchange the best yield practices in agriculture. Of late, this tribal family has started organic vegetable cultivation.
Subscribed Failed...
Subscribed Successfully...