Govt committed to villages' development: Minister Tummala Nageswara Rao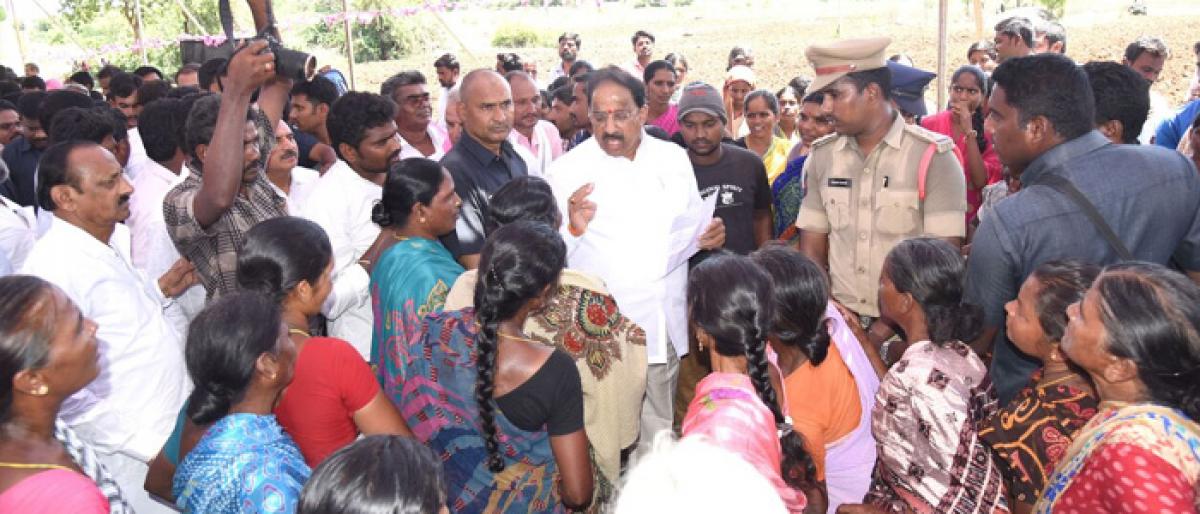 Highlights
Minister for Roads and Buildings Tummala Nageswara Rao on Wednesday that the State government was committed to ensure all-round development of villages. The Minister as part of a programme, he visited Munigepalli village under Kusumanchi mandal and participated in various development activities. He laid foundation stones for the road laying works from Jillacheruvu to Yadavalli village at a cost of
​Khammam: Minister for Roads and Buildings Tummala Nageswara Rao on Wednesday that the State government was committed to ensure all-round development of villages. The Minister as part of a programme, he visited Munigepalli village under Kusumanchi mandal and participated in various development activities. He laid foundation stones for the road laying works from Jillacheruvu to Yadavalli village at a cost of Rs 6.5 crore.
Apart from it, he laid foundation stone for Anganwadi Building to be constructed at a cost of Rs 8 lakh and Scheduled Castes community hall at a cost of Rs7.5 lakh. Speaking at a meeting on the occasion, Nageswara Rao said the State government by launched development activities and several welfare activities for all-round development of villages.
The Minister reiterated the government's determination to bring Krishna water to Khammam district through Sitarama Project. He directed Tahsildar to identify the land for the construction of double bedroom houses.
He asked the officials to ensure that all eligible farmers are enrolled in the farmer life insurance scheme. Lok Sabha member Ponguleti Srinivas Reddy said several development activities were taken up in Palair constituency after the formation of Telangana State. Restoration of around 46,000 tanks were completed in the State. He said the government was providing 24-hours free power to farmers.
Chairman of the State Industries Development Corporation Budan Baig, DCCB Chairman Muvva Vijay Babu, Municipal Commissioner Papa Lal, FCC district unit president Nallamalla Venkateshwar Rao, State Secretary Thata Madhu, CDC Chairman Gopal Rao, Mandal FCC convenor Ravi Kumar, Zilla Parishad Chief Executive Officer Marapaka Nagesh, Women and Child Development Officer Vara Lakshmi, village Sarpanch Bommagani Nagaiah, MPP Srinivas Rao and local representatives were present at the programme.