Battle-lines drawn as Cong, BJP draw swords over Vijay Mallya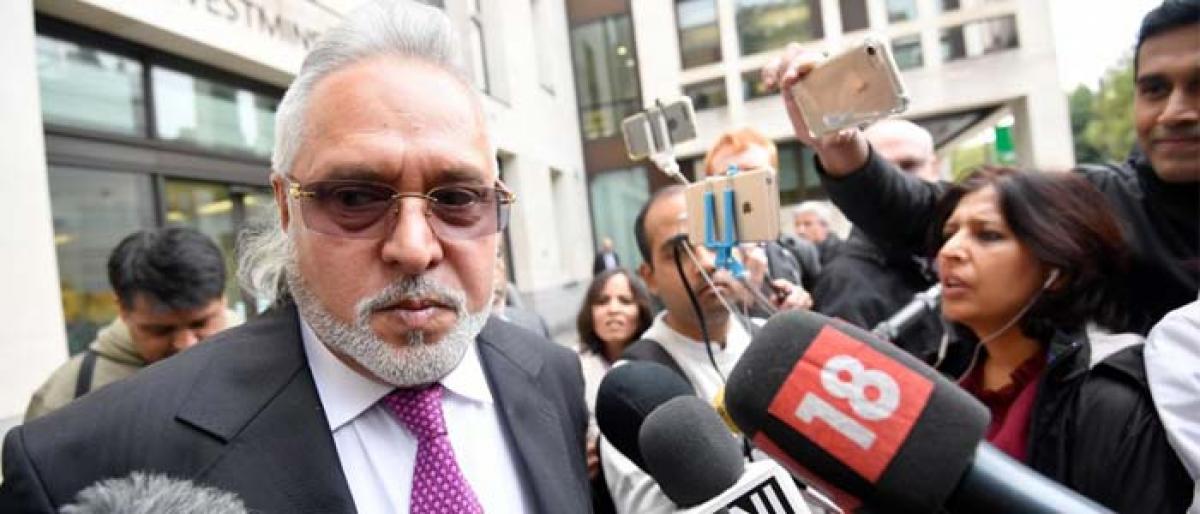 Highlights
The Congress and the BJP on Thursday were locked in a fierce war of words over the Vijay Mallya case with Rahul Gandhi openly accusing the finance minister of lying and allowing the billionaire tycoon to flee the country
The BJP threw a counter punch, claiming that the Gandhi family tried to help Mallya's floundering Kingfisher Airlines in 2011-12.
A day after the former Kingfisher Airlines boss said in London that he met Arun Jaitley before leaving India and offered to settle his dues -- a charge the finance minister denied as "false" -- the battle-lines were firmly drawn.
Seeking to back his accuThe Congress and the BJP on Thursday were locked in a fierce war of words over the Vijay Mallya case with Rahul Gandhi openly accusing the finance minister of lying and allowing the billionaire tycoon to flee the country.sation, Congress president Rahul Gandhi said party MP P L Punia saw Jaitley sitting with Mallya in Parliament's Central Hall on March 1, 2016 and held an elaborate 15-20 minute meeting with him. Punia added that he had seen Jaitley and Mallya talking discreetly when he was in the Central Hall of Parliament. "On March 3, we heard from the media that he (Mallya) fled the country on March 2. I have clearly stated about this in each of my interview with the media. There are CCTV cameras, we can all see that for proof. If I am wrong, I will resign from politics," Punia said at a press conference.
Stepping up his attack, Gandhi asked Jaitley to resign and challenged Jaitley to get CCTV footage of the day. "Mr Jaitley is lying, the government is lying on Rafale and the government is lying on Vijay Mallya. A meeting was held with Mr Arun Jaitley and Vijay Mallya. The logistics of Mr Mallya leaving the country were discussed in that meeting," Gandhi alleged, bringing in the Rafale fighter jet deal.
He went on to say that Mallya was given free passage out of the country by the finance minister.
Describing it as an "open and shut case of collusion", he alleged there was some deal between Jaitley and Mallya. "The criminal had told him, 'I am going to run away to London'. The finance minister has accepted publicly that he has been told by a criminal that he is going to run away and the finance minister has not done anything, has not informed the CBI, and has not informed the ED," Gandhi said.
The BJP hit back with equal ferocity, blaming the UPA government of giving a "sweet deal" to Kingfisher Airlines to keep it afloat and suggesting the airlines was perhaps owned by the Gandhi family.
"There is a series of letters between the RBI (Reserve Bank of India) and the SBI (State Bank of India). These letters show us how the previous dispensation under Sonia Gandhi was biased, partial and kept all norms and regulations at bay to give a sweet deal to Kingfisher Airlines," party spokesperson Sambit Patra told reporters, showing a bunch of documents.
"Sometimes it seems the airline was not owned by Mallya, but by the Gandhi family in proxy," Patra added.
Union minister Piyush Goyal joined the chorus of protest from the ruling party and said Rahul Gandhi should explain the relations between his family and Mallya.
The now-defunct Kingfisher Airlines was given loans bypassing all norms, laws and regulations, Goyal said.
Countering Rahul Gandhi's demand for Jaitley's resignation, he said the Congress president should instead quit all the posts he holds. Mallya, he asserted, had no credibility as he was under the "glare of law" and was a criminal. He could not be taken seriously, Goyal added.
His party colleague Subramanian Swamy also spoke on the issue.
"We have now two undeniable facts on the Mallya escape issue: 1. Look Out Notice was diluted on Oct 24, 2015 from 'Block' to 'Report' departure enabling Mallya to depart with 54 checked luggage items. 2. Mallya told FM in Central Hall of Parliament that he was leaving for London," he said on Twitter.
Immediately after Jaitley's sharp rebuttal Wednesday, Mallya had appeared to tone down the seriousness of his comments, saying it was "not fair" to create a controversy over this issue as it was not a "formal meeting" and he only "happened to meet" the finance minister.
The 62-year-old former liquor and aviation baron, who had appeared before a London court in the case regarding his extradition to India to face the trial on fraud and money laundering charges, was asked by reporters if he was "tipped off" to leave the country.
"I left because I had a scheduled meeting in Geneva. I met the finance minister before I left, repeated my offer to settle with the banks. That is the truth," he responded.
Jaitley, who was finance minister in 2016 when Mallya left India, said in a Facebook post that he had not given Mallya an appointment to meet him since 2014.
Jaitley said Mallya had "misused" the privilege of being a Rajya Sabha MP to catch him in corridors of Parliament on one occasion while he was walking out of the House to go to his room.