KCR pursuing 'vote bank politics', says Amit Shah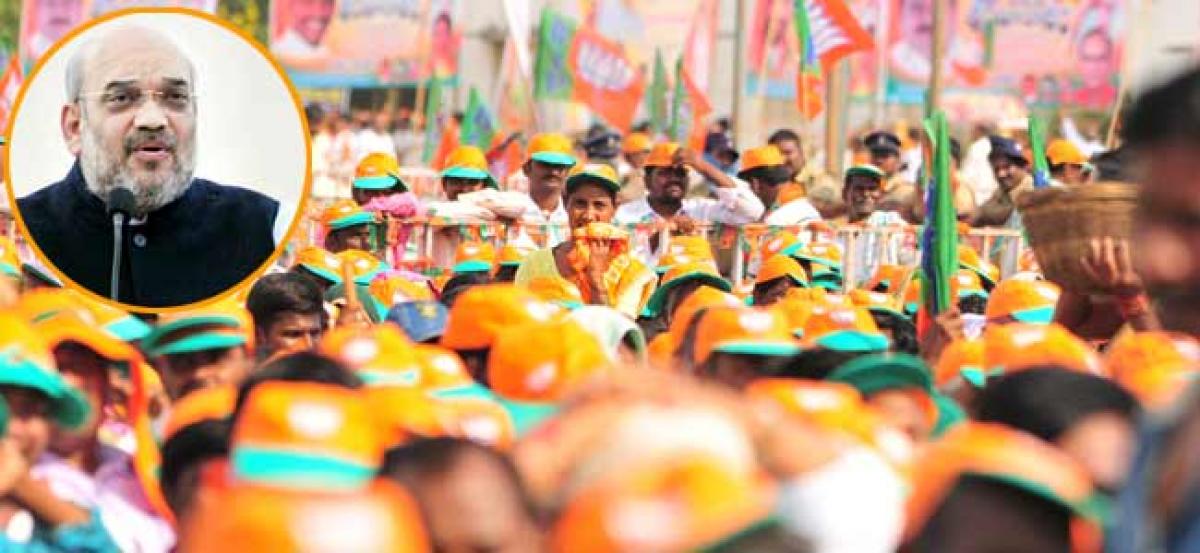 Highlights
BJP National President Amit Shah has strongly criticised caretaker Chief Minister and TRS President K Chandrasekhar Rao for advancing the Assembly elections by nine months and described it as a move to benefit own family
Hyderabad: BJP National President Amit Shah has strongly criticised caretaker Chief Minister and TRS President K. Chandrasekhar Rao for advancing the Assembly elections by nine months and described it as a move to benefit own family.

Amit Shah, who arrived here on Saturday to kick start BJP's election campaign, addressed a press conference at State BJP Headquarters covering various issues including party's plan for next elections. He expressed wonder at KCR taking a U-turn on holding simultaneous polls for Assembly and Lok Sabha. He reminded that KCR had supported the Centre's proposal for 'One Nation, One Election'. However, he said KCR had advanced the elections only to benefit his family while imposing a huge financial burden on a small State like Telangana.

The BJP President said that the way TRS Government functioned during the last four-and-a-half years it seems impossible for it to come back to power. He said that the TRS had promised to make a Dalit CM in 2014 elections. He asked TRS to clarify whether it would make a Dalit CM this time. He also accused KCR of pursuing 'politics of appeasement' by referring to the 12% reservation promised to Muslims by TRS Government. He said TRS Government passed a Bill giving 12% reservation for Muslims despite knowing the fact that the Constitution does not permit quota on the basis of religion. He said BJP Government at the Centre would never allow religion-based quota.

Amit Shah also criticised the TRS Government for not celebrating the Hyderabad Liberation Day on September 17 at official level. He said Telangana was formed on the slogan of 'Telugu Asmitha (self respect). However, he said 'Telugu Asmitha' was badly hurt by not celebrating the Hyderabad Liberation Day. Stating that the official celebrations were not organised only due to pressure from MIM, he asked whether TRS wants to hand over the State to today's 'Razakars'.

The BJP President also ridiculed the proposed alliance between Congress, TDP and CPI. He said people could not forget the manner in which the Congress had humiliated late Chief Minister T. Anjaiah and also Prime Minister P V Narasimha Rao after his death. Further, he said there were no complains when BJP created three smaller States. But Congress created enmity among Telugus by taking up division of Andhra Pradesh in an unscientific manner.

Amit Shah also listed out various failures of TRS Government. He said major promises like one lakh jobs, double-bedrooms houses for the poor or upgrading Osmania and Gandhi Hospitals to medical institutions remained unfulfilled. He said KCR was apparently the only Chief Minister who did not visit Secretariat due to some superstitious beliefs. He said 4,200 farmers committed suicide under TRS regime and farmers in Khammam were arrested and chained for demanding minimum prices for their crops. He said Dalits in Sircilla were tortured for opposing the sand mafia. He said several welfare schemes launched by the Narendra Modi Government for the poor, backward classes and farmers were not implemented by the State Government. He said that the BJP Government had given Rs. 2.3 lakh crore to Telangana under the 14th Finance Commission. He said the previous Congress-led UPA regime had sanctioned only Rs. 16,597 crore under the 13th Finance Commission.

Stating that the BJP was very strong in Telangana, Amit Shah announced that the party would contest on all seat alone. He completely dismissed the reports of BJP having tactical understanding with the TRS.

Amit Shah also denied allegations of BJP and Prime Minister Narendra Modi playing "vendetta politics" against AP Chief Minister N. Chandrababu Naidu. He said BJP Government had no role in the Non-Bailable Warrants issued to Chandrababu Naidu and others in the Babli Project case of 2010. He said the case was registered when Congress party was in power both at the Centre and in Maharashtra. Further, he said that the court had served 25 notices were served to Naidu in the last so many years and finally a NBW was issued. He said it was wrong to hold BJP responsible for a decision taken by the court.

The BJP president also announced that the Central Government was coming up a new policy to tackle rising prices of petrol and diesel. He admitted that the increase in petrol and diesel prices was badly hitting the middle and poor classes. Describing the situation as unfortunate, he said a new policy was being framed to resolve the problem on permanent basis.