CM announces compensation and house site at Visakhapatnam to the family members of Siveri Somu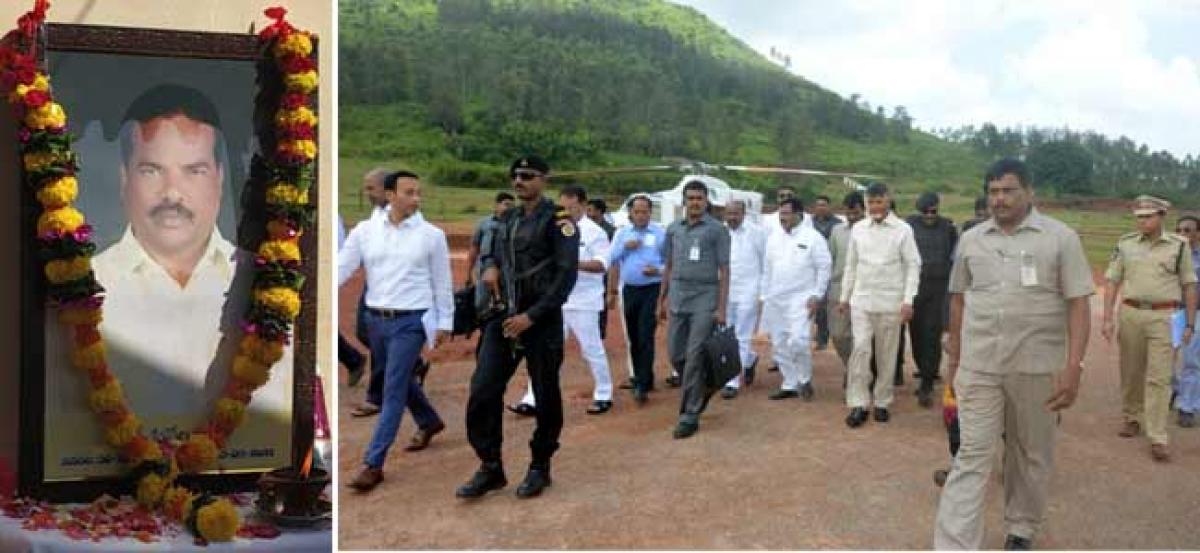 Highlights
Andhra Pradesh Chief Minister Nara Chandra Babu Naidu reached to Araku agency area in Visakhapatnam district and paid floral tribute to the Former MLA Siveri Somu at his residence in the Visakha agency and later interacted with his family members
Visakhapatnam: Andhra Pradesh Chief Minister Nara Chandra Babu Naidu reached to Araku agency area in Visakhapatnam district and paid floral tribute to the Former MLA Siveri Somu at his residence in the Visakha agency and later interacted with his family members.
Just to recall thes two TDP tribal leaders who represented tribes in the agency were gunned down by Maoist in between Livuraputtu and Tottangi (semi affected Maoist area) under Dumbriguda Mandal in Visakha Agency on Sunday. Kidari Sarveswar Rao, present MLA of Araku Constituency died on the spot while former MLA of Araku Siveri Soma lost his final breath at the spot with bullet injuries.
During his visit Chief minister Chandra Babu Naidu here on Friday announced that state government will pay Rs 10 lakhs for each family member among the seven family members of Siveri Somu and also Telugu Desam party will pay Rs 5 lakhs to the each family members of Severi Somu,the state government will also provide Housing patta for the constructing house at Araku and assured to sanction a house site at Visakhapatnam for the family members.
The following were identified as the family members of Siveri Somu who would be benefited under AP CM announced benefits. Siveri Itchavathi (wife of Siveri Somu), S Abraham(Elder Son) and working as TDP Telugu Youth President, S Suresh Kumar(Younger Son, he is preparing for Civils at Delhi),S Chinna Babu (Youngest son, working at Girijan Co operative Corporation ), S Sujatha (Elder Daughter), S Santhi(Younger Daughter who is preparing for DIET and for S Jaya Chandra (fourth son of Siveri Somu).