Attack on Defence Minister for her 'attitude' by Congress, CM HDK says its 'small differences'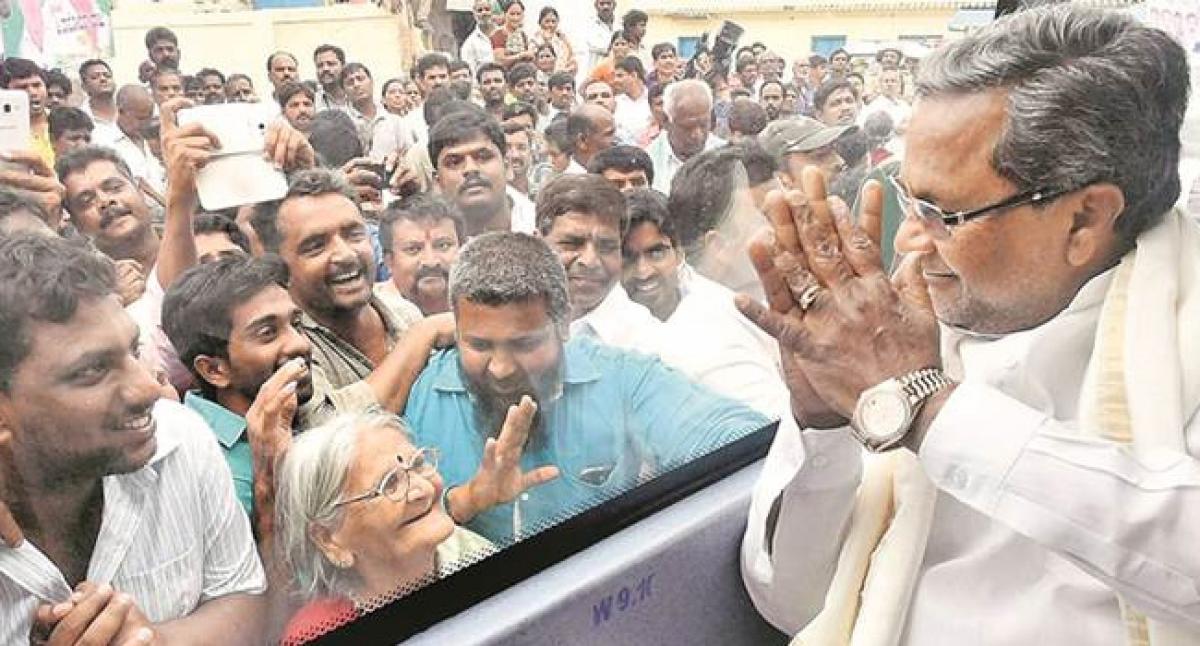 Highlights
BENGALURUMYSURU While Congress leaders excoriate the Union minister for her behaviour, JDS chief minister HD Kumaraswamy refused to find fault with Sitharaman and even attempted to smooth over the issue
BENGALURU/MYSURU: While Congress leaders excoriate the Union minister for her behaviour, JD(S) chief minister HD Kumaraswamy refused to find fault with Sitharaman and even attempted to smooth over the issue.Former Chief Minister Siddaramaiah, in Mysore on Sunday, attacked Sitharaman saying the Union Minister had behaved inappropriately."The attitude of the Defence Minister was not in the right spirit and uncalled for," Siddaramaiah said.
The expectorate between Union defence minister Nirmala Sitharaman and Karnataka Tourism Minister over her visit to flood-hit and landslide-ravaged Kodagu district took a turn with leaders of the coalition government in the state singing from different hymn books. "Being a Rajya Sabha member elected from Karnataka assembly, Nirmala Sitharaman should not have spoken like that." Siddaramaiah's comments came a day after deputy chief minister G Parameshwara, in posts on Twitter, had decried Sitharaman's war of words with Mahesh.
Though Mahesh is a JD(S) legislator, he failed to get "outright" support from Kumaraswamy."Though the government and district administration have ensured and followed protocol despite the tough situation in the region during her visit, it was unfortunate that the Hon'ble Defence Minister had to go through certain inconveniences, which we regret," Kumaraswamy said in a statement released on social media. "I also spoke to her over the phone on the matter."Kumaraswamy said it was time for all to forget the "small differences", "forgive each other" and join hands to rehabilitate the flood-affected people of Kodagu."The grave situation in the district warrants it. Let us not colour such incidents and be distracted," Kumaraswamy said.Kumaraswamy made a concealed— if feeble — effort to back his minister."Tourism and Kodagu district incharge minister Sa Ra Mahesh is with the rescue and relief team at the affected areas, coordinating their operations from day one," the statement read. "He has tirelessly worked to oversee rescue and relief operations on the ground."The CM went on to add that he was looking forward to the continued support of the central government and the defence minister in particular.
Siddaramaiah in Mysore questioned the Centre's "step motherly" treatment accorded to Kodagu in releasing funds."The defence minister came, visited the flood affected regions and left," said the former CM, who urged the Centre to declare a Rs 1,000 crore relief package for the district. "Nowhere did she speak of any kind of relief for the district. Why should the Centre wait for a memorandum to declare relief?" he asked.