Five member gang busted on the charges of playing cricket betting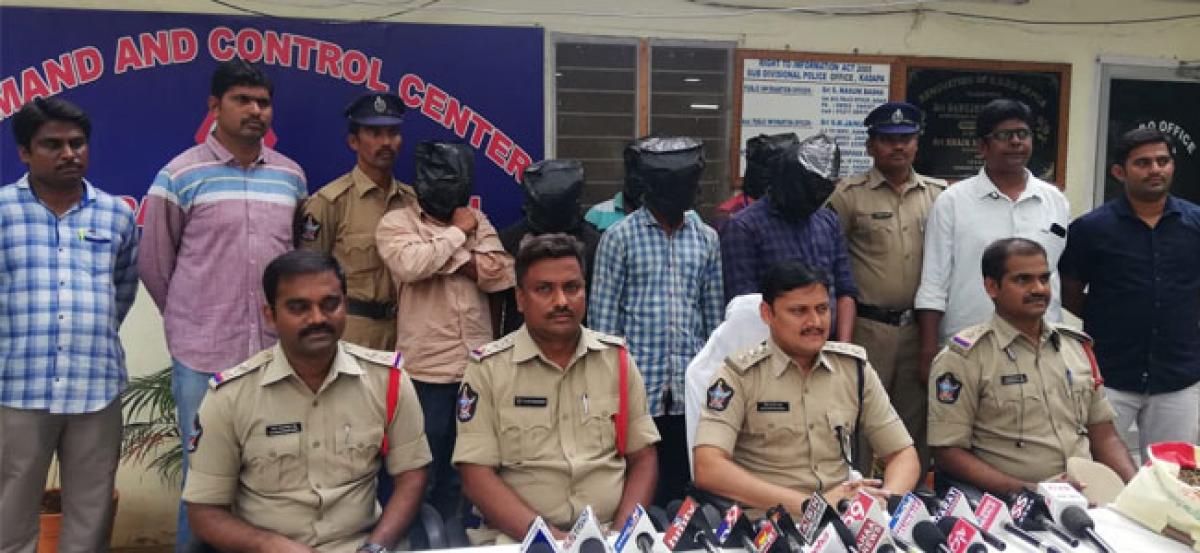 Highlights
October in a separate two incidents police arrested 5 memebr gang on the charges of playing cricket betting in Kadapa city and Pendlimarri mandal related to the cricket match between South AfricaZimbabwe and recovered Rs 250lakh cash, 1 TV, 9 mobile phones, 2kgs Ganja from them on Thuraday
Kadapa: October in a separate two incidents police arrested 5 memebr gang on the charges of playing cricket betting in Kadapa city and Pendlimarri mandal related to the cricket match between South Africa-Zimbabwe and recovered Rs 2.50lakh cash, 1 TV, 9 mobile phones, 2kgs Ganja from them on Thuraday.
The accused were identified as 1. G V Samrat industrial estate,2. Sheik Mahammodh,3. G.Mahesh Reddy, 4. P.Konda Reddy Akkayapalli of kadapa city,5. K.Ravi Sankar Pendlimarri mandal of Kadapa district.
Speaking to media persons here on Thuraday Kadapa city DSP SK Masum Basha said that following tip off Kadapa Taluq in charge SI G.Amarnath Reddy, Pendlimarri police station SI N.Rajarajeswara Reddy along with his men conducted raids in Sastri nagar in Kadapa city arrested the accused while indulging in the crime. The DSP lauded cops of their initiation in nabbing the accused.