KCR has derailed Telangana's economy by supporting demonitisation: Gudur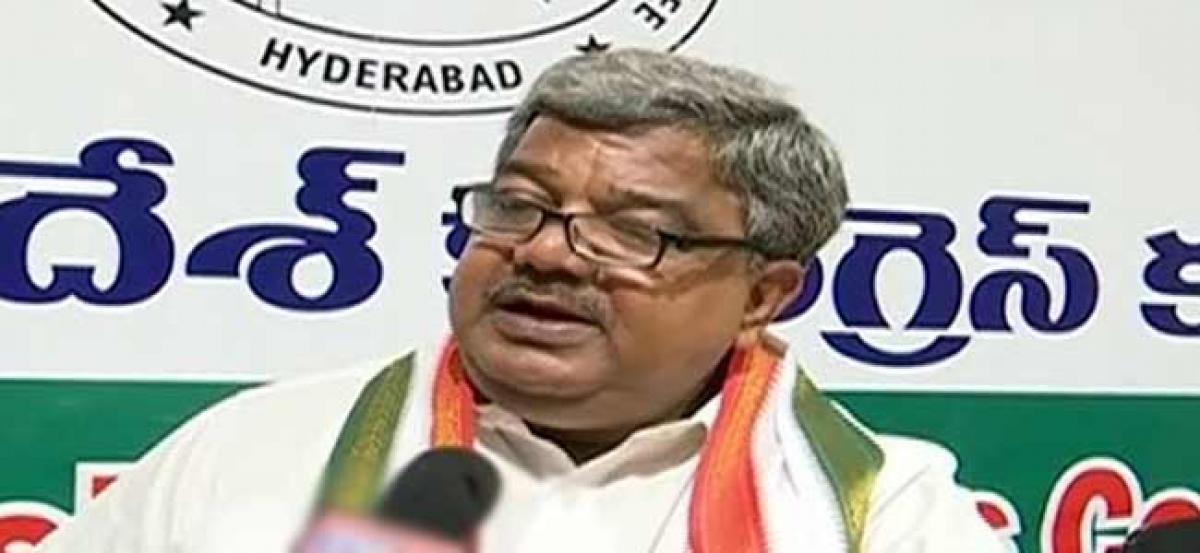 Highlights
Telangana Pradesh Congress Committee TPCC Treasurer Gudur Narayana Reddy has alleged that caretaker Chief Minister K Chandrashekhar Rao has derailed the States economy by supporting the demonitisation move of BJP Government at the Centre two years ago
Hyderabad: Telangana Pradesh Congress Committee (TPCC) Treasurer Gudur Narayana Reddy has alleged that caretaker Chief Minister K. Chandrashekhar Rao has derailed the State's economy by supporting the demonitisation move of BJP Government at the Centre two years ago.

Gudur Narayana Reddy, in a statement on Friday, slammed KCR had supported the demonitisation decision only to please Prime Minister Narender Modi without even trying to understand its implications on the economy and common people. "Telangana had a revenue surplus of over Rs. 7,500 crore at the time of its formation in June 2014. But today, Telangana is in huge debts of over Rs. 2.50 lakh crore. Besides the wrong economic policies of TRS Government, the demonitisation move had a great impact on Telangana's economy," he said.

The Congress leader said that almost all sections of the society including farmers, small traders, daily wage earners and salaried people were yet to recover from the shock of demonitisation. Lakhs of jobs which were lost due to demonitisation two years ago were never restored. Thousands of small industries in Telangana, which were closed after demonitisation, could not be revived. He slammed the TRS Government for not commissioning any survey or study to know how many industries, especially medium and small, were compelled to shut down. No attempt was made to know the impact of note ban in a geographical area or on a socio-economic group. He said no measures were taken to bail out the victims of demonitisation.

Gudur Narayana Reddy alleged that in the name of weeding out black money from the economy, BJP and TRS Government have ruined the entire economy. "While the entire country was mourning the completion of two years of demonitisation, both PM Modi and KCR were hiding from the people to evade questions on note ban. If demonitisation has really improved the country's economy, then why Modi and KCR were afraid of speaking on the issue? Why BJP and TRS Governments could not come up with relevant fact to justify their ill-conceived and badly implemented move," he said.

The Congress leader reminded that more than 200 innocent people were killed while standing in bank queues to withdraw their own money or to exchange old notes. "Neither the Central Government nor State Government even consoled the families of those innocents who were killed in those long queues. Their only sin was that they had deposited their money in a bank. Demonitisation was a financial emergency imposed by BJP-TRS Governments on the common people. Modi Government never consulted any expert before taking such a drastic move and both Modi and KCR are still on denial-mode and refusing to accept the reality that demonitisation has shattered the entire economy beyond repair," he said.

Gudur Narayana Reddy also dispute the claims being made by KCR on Telangana's growth crossing 17%. He said as on September 30, 2018, Telangana had a revenue deficit of (-) Rs. 1333.91 Crore and Fiscal Deficit of (-) Rs. 15,317.79 Cr, as per the latest report of the Comptroller and Auditor General of India (CAG). He said KCR Government was using inflated and fake figures to claim that the State's economy was in good shape. But in reality, the backbone of Telangana's economy was broken first due to demonitisation and then the Goods & Services Tax (GST). He pointed out that the CAG, in its report on State Finance for the year ended March 2016, had described the budget figures of Telangana Government as overstated and unrealistic wherein off-budget borrowings and loans were also showns as revenue.

The Congress leader said that the people of Telangana would punish KCR and TRS in next elections for their support to Modi's demonitisation move which was later proved as be an 'organised loot'.