Modi's second term seems unsure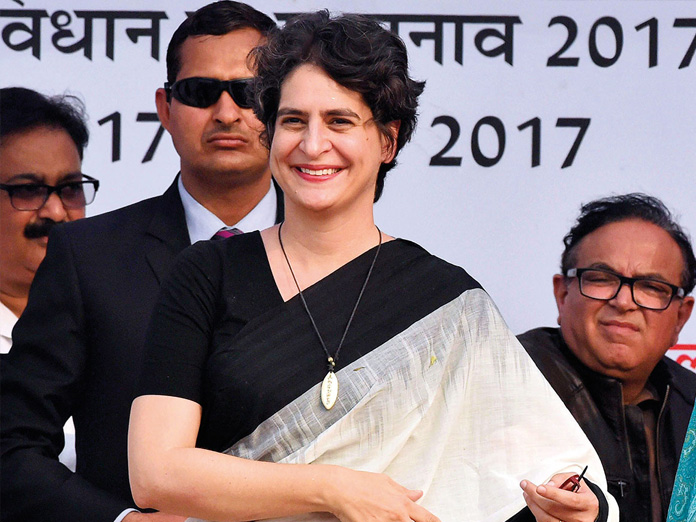 Highlights
IYR column Time to end dynastic politics was broadly objective and hatefree unlike the essays of other BJP leaders who miss no opportunity to spew...
IYR column 'Time to end dynastic politics' was broadly objective and hate-free unlike the essays of other BJP leaders who miss no opportunity to spew venom at Gandhi-Nehru family. He laments the publicity given to Priyanka Gandhi on her recent entry into active politics. However, the media doesn't go gaga over any issue unless it is newsworthy. Priyanka's entry in to politics had sparked off lot of interest and debate. Naturally the media lapped it.
The fact that PM himself reacted shows that it is an important event with possible political ramifications. The BJP leaders seem to be of the opinion that the Nehru-Gandhi family should entirely retire from politics and handover the reins to them. I see no point in their having any reservations about her entry unless they are afraid that it may reduce their chances of coming back to power. If she is perceived as a trustworthy and capable leader, people may give her the mandate.
Otherwise they will reject her. There is no point in discounting her candidature just because her parents, grandparents and great grandparents happened to be in politics. Yes! She bears a strong resemblance to our late PM Indira Gandhi. Genetically she had inherited her looks and may be her grit as well. Let us give her a fair chance and try not to write her off even before she had begun her journey. It is an undeniable and proven fact that Congress enjoys nationwide presence and it is making a remarkable comeback as can be seen from the results in the three states in North India.
Earlier it was taken as impregnable fortress of BJP. it is no longer so. to brand recent victories of Congress as 'transient phenomenon' is being blind to reality. In south, BJP is not likely to win anything significant. In UP, the formidable combination of SP and BSP is going to make its life tough. For us, development is primary. Whoever can herald an era of development should get the chance to rule. Modi had not succeeded in his first term, hence no justification in asking for renewal. Once Modi's prospects looked imminent but now they look faint.
- Vinay Bhushan Bhagwaty, Hyderabad
---
Nehru started it all
Sri IYR Krishna Rao wonders: "Did Jawaharlal Nehru desire that Indira Gandhi should become the Prime Minister of India" and then poses the question: "We may not get a straight answer for this question". Well, there is more than a straight answer for this, coming from someone who was a famous member of the same Congress party - late Nijalingappa!
The former Congress stalwart and the Chief Minister of Karnataka had this to write in his autobiography "My Life and Politics", with palpable pain about how he lost his candidacy for the post of Congress President at the last moment, in spite of unanimous support: "In the year 1962 in Nagpur at the working committee meeting the next day, my name was proposed and was unanimously accepted...I reached madras the next morning and a couple of people were waiting for me to take me to Kamaraj Nadar.
When I went to him he told me, 'After you left Nagpur, at Pt. Nehru's request, Y B Chavan said at an emergency meeting that while he had an objection to Nijalingappa, he would propose that this time a woman should be president, and that Indira Gandhi should be the next president....When her name was suggested at the emergency working committee meeting, Pt. Govind Ballabh Pant protested and said, 'Indu's health is not good. Nijalingappa is all right. He has been in the Congress for a long time and deserves to be the Congress president'.
To this Pt. Nehru protested and said, 'Indu (Indira) is all right. There is nothing wrong with her, her health is not good because she has no work. So, she is not well.' Once other members came to know Nehru's mind, they fell in line and it was agreed that."!! Poor Nijalingappa, not wanting to spark off an unnecessary north-south competition, magnanimously withdrew from the contest and made way for Indira Gandhi.
But if you thought that was the end, just hold on, for, there is a more startling revelation that Nijalingappa has to make, following his personal meeting with President Sarvepalli Radhakrishnan in Delhi: "One day, when I went to him he said, 'Nijalingappa, today I put my foot down. Do you know why?' He then continued, 'Pandit Nehru comes to me and wants me to make his sister, Vijay Lakshmi Pandit, vice-president of India.
I had to tell him, 'You are the prime minister of India, your daughter is the President of Indian National Congress and you want your sister to be vice-president. What would people say? I cannot have it. I put my foot down and sent him away.'"!!! So much for our cherishing the notion that Jawaharlal Nehru was at least commendably free from dynastic politics!
Some exemplary politicians of the past never thrust their progeny on people. Tanguturi Prakasam gave up his lucrative legal career and joined the freedom movement on Gandhiji's call but ultimately he and his sons died in penury. He did not build a proprietary family business in politics like the Gandhis, Marans et al!
- C V Krishna Manoj, Hyderabad
---
Wait till summer of 2019
Dynasty is a term associated with monarchy and a myth in a matured democracy like India.(Time to end dynastic politics, The Hans India 30 Jan ).In this regard, it is humbly submitted that the "dynastic rule" in Indian democracy , is a catchy political phrase, invented by the stalwarts of Indian" political right" ,out of their deep allergy and political jealousy for the Gandhian ideology, represented by the Indian National Congress, and it's charismatic leaders like Jawahar Lal Nehru, Indira Gandhi, etcetera.
It is an indisputable fact that, the people of India, be it older or young generation, respect the INC as a party that represents the values and spirit of freedom movement , led by father of the Nation. However, the people of India have never hesitated to punish the INC, whenever it chose to deviate from the cherished values of secular democracy preached and practiced by Mahatma Gandhi.
In this regard , the two watershed years , 1977 and 2014, are the classic example , which essentially support the above argument. The INC strayed from the Gandhian path on both the occasions and betrayed the trust of the people . Hence the intelligent voters of India, have rejected the erring INC and inflicted ignominious defeats in 1977 and 2014.
At this juncture, the resurgence of INC under the leadership of Rahul Gandhi is causing heart-burn to the RSS/BJP/ Sangh Parivar. The recent victory of Congress in the three states in Hindi heartland, has further rattled the ruling dispensation as it reflects the drastic change in the mood of the nation.
Now, with the entry of Priyanka Gandhi, the self- righteous Right wing has started preaching the gospel of Dynastic politics, to the people of India., which is going to be counter-productive for them politically, as it is hypocritical and there is no truth in the accusation. In fact the rule of BJP/RSS/Sangh Parivar , is going to be under the scrutiny of the people and appropriate judgement will be delivered in the forthcoming elections , that is being projected as mother of all battles in Indian democracy.
- P H Hema Sagar, Secunderabad
---
Introduce eligibility criteria for politics
This year has begun with huge expectations mounting on the General Elections scheduled this May. Federal fronts did happen all over the country to make the best use/abuse of political power than to do good for the voters. Main players in the political field have been showing inclined affinity towards dynasty politics. This can be seen with much recently phenomenal entry of Priyanka Gandhi into politics.
The present generation wish to see a new Indian system of politics where people from different fronts come up voluntarily with fundamental approach to politics and with a profound insight. Most importantly any candidate willing to join or put up a party, has to be a post graduate in politics.
The constitution of India needs to be amended properly to restrict switching between parties and one of its objectives being-rule sans corruption and caste/communal bigotry. Though this remains a pipe dream, yet it can be visualised for a better India.
- Madhulika N, Hyderabad
Subscribed Failed...
Subscribed Successfully...