Art inspired by Omar Khayyam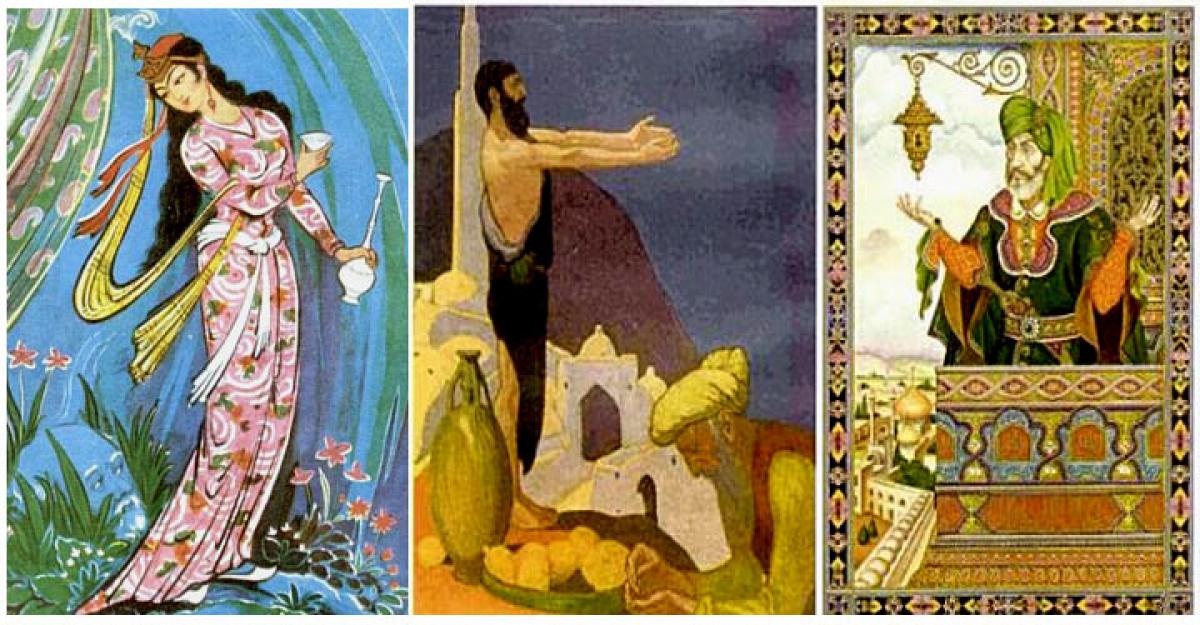 Highlights
Aiyana Gunjan has done what very few would ever succeed in. Her transition from the corporate world to that of an artist is as inspiring as her work.
New Delhi:Aiyana Gunjan has done what very few would ever succeed in. Her transition from the corporate world to that of an artist is as inspiring as her work.

Gunjan specialises in the highly complex medium of calligraphy with abstraction and her first solo exhibition, titled "The Moving Finger" will run at the India Habitat Centre's Visual Arts Gallery from October 23 to 27, with Pakistani High Commissioner Abdul Basit doing the honours at the inaugural.

Gunjan's transition from the corporate world to soul-searching happened when she came face-to-face with death in her early 30s.

"I took to Nicheren Diashonin Buddhism and got connected to Mother and Sri Aurobindo's Integral Yoga. These experiences brought me closer to the depth and expanse of life beyond the limits of the logical mind. It's my spiritual training rather than an art degree that has empowered me as an artist. My art has been a very meditative and spontaneous process. It's my joy and sanity quotient and it centres my being," Gunjan said.

Curated by eminent art historian Alka Pande, the show will include more than 100 works.

"Aiyana is a self-taught artist who took up the calligraphy pen and explored it in its myriad manifestations. She has taken calligraphy to the level of fine art and created a body of work which is deeply spiritual, secular and inward-looking. Her works speak the language of a meditative silence and move along the contours of her personal space. The title of the show is inspired by Omar Khayyam's Rubaiyat and captures the essence of Aiyana's highly introspective work," Pande said.

For instance, in a work titled Aspiration (2012), Gunjan has created bold strokes inspired by the Arabic script. "This is the first time where my two loves - calligraphy pen and watercolour - came together. It opened a new path of synergy. The triangle in the work depicts aspiring for a higher self and going beyond the barriers of social conditioning," Gunjan said.

"Day And Night", a vertical watercolour and ink created in 2011, depicts the Buddhist concept of "Ichinen Sanzen" - meaning past, present and future in one single moment.

One of the most introspective works is "I AM" (2015) where she has transcribed the entire Shivoham song in the English script in the shape of a circle or bindi using a calligraphy pen.

"I am a Shiva devotee and Shiva is the energy behind all creation, destruction and recreation. The work is about coming a full circle of life and getting closer to an unbounded consciousness of what life and death are about", she said.

Gunjan started her corporate career with advertising biggies like O&M and HTA/JWT, went on to become the head of planning at companies like Mudra and Dentsu and then pioneered the concept of Semiotics - the study of signs and symbols - in India.

"I ventured to explore new avenues beyond a salaried job. Semiotics is all about decoding the visual cultural landscape - how culture subconsciously impacts the consumer behavior and attitude. Semiotics has always inspired me and I am working on several international projects," Gunjan concluded.