India's biggest animal rescue shelter at Vizag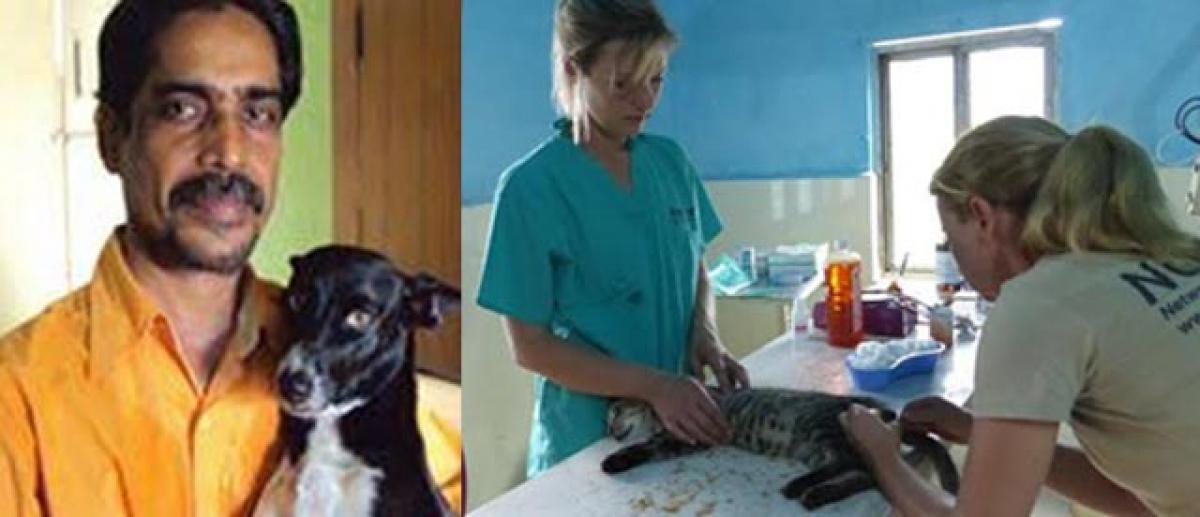 Highlights
He constantly gets technical help from Net –AP of  Switzerland and Animal Angels of  Germany
Visakhapatnam: 57- year old Pradeep Nath, whose family migrated to Visakhapatnam decades ago, left his lucrative job in State Bank of India and a career in legal profession, , just for his love for animals.
As a child he loved stray dogs and puppies and brought them home for feeding. The hobby continued till he attained his youth and while in college, he thought of taking up rescue for stray animals as a serious job.
After obtaining a gold medal in BL from Andhra University, he joined State Bank of India to eke out a living and support his hobby of helping animals.
But his mind was fully occupied with the stray animals and their protection. It was during late 90s, when he was deeply concerned after Visakhapatnam Municipal Corporation (VMC) hired a professional to shoot down stray dogs and pigs in the city.
Nath lost no time and immediately formed Visakha Society for Protection and Cruelty Against Animals in 1996. Years later he renamed it as Visakha Society for Protection and Care of Animals. He resigned his bank job in 2007. But he enrolled in Bar Council of India at AP High Court to fight cases himself.
As he was a law graduate and a good academician, Nath delved into legal aspects of animal slaughter, their protection and care. He carefully studied various Supreme Court judgments with regard to slaughter and tied up with similar organisations all over the world to learn how animals were protected and loved in various countries.
He shot into limelight when he challenged the VMC's proposal of shooting stray dogs and pigs in 1997. He lodged a complaint with Animal Welfare Board to stop killing of pigs but lodged a petition in AP High Court in 1998 against killing of stray dogs. In the same year, after the high court rapped the Corporation, the authorities entrusted his organization VSPCA to organize animal birth control program for sterilising the dogs and administering anti-rabies vaccine.
``Since then there was no looking back. VSPCA conducted sterilization on over one lakh stray dogs since 1998 and administered anti rabies vaccine to over 1.5 lakh dogs in Visakhapatnam, Vizianagaram and Rajahmundry. The programme is still continuing,'' Nath told this correspondent.
To enrich himself with more knowledge on animal care, Nath visited US twice, New Zealand, Switzerland, London, Hongkong, Singapore and China and gained immense knowledge from similar organizations operating there.
But he constantly gets technical help from Net –AP of Switzerland and Animal Angels of Germany. Nath, the great animal lover ever to live in this part of the country, boats of sheltering 710 cows, 330 stray dogs, 155 stray cats, 48 parrots, 45 pigeons, 82 star turtles, 14 rabbits, 7 monkeys, 6 horses, 93 emu birds, 15 ducks, 11 crows and 8 sparrows in his three premises. The organization spends over Rs 1 lakh per day to feed these animals.
He has appointed two veterinary doctors who had performed some rare surgeries on the animals and over 55 staff to manage three premises of VSPCA. The shelter has two fully air conditioned operation theaters for small and big animals.
``In addition to these we are into outreach programmes which include tracking and protection of migratory birds and endangered Olive Ridley turtles. Recently we released Olive Ridley turtle siblings into the sea with the help of forest department,'' Nath added. The VSCPA is also running a bio-gas plant and plated over 55,000 fruit bearing trees over the last few years.
Appreciating his work, the district administration has allocated him 2.5 acres of land near Marikavalasa under the GVMC limits, incidentally very close to modern abattoir where thousands of animals would be killed every day in front of his eyes.